Membrane Characterization
1st Edition
Editors:
Nidal Hilal
Ahmad Fauzi Ismail
Takeshi Matsuura
Darren Oatley-Radcliffe
eBook ISBN: 9780444637918
Paperback ISBN: 9780444637765
Published Date: 20th February 2017
---
Membrane Characterization provides a valuable source of information on how membranes are characterized, an extremely limited field that is confined to only brief descriptions in various technical papers available online.
For the first time, readers will be able to understand the importance of membrane characterization, the techniques required, and the fundamental theory behind them. This book focuses on characterization techniques that are normally used for membranes prepared from polymeric, ceramic, and composite materials.
Features specific details on many membrane characterization techniques for various membrane materials of industrial and academic interest
Contains examples of international best practice techniques for the evaluation of several membrane parameters, including pore size, charge, and fouling
Discusses various membrane models more suitable to a specific application
Provides examples of ab initio calculations for the design, optimization, and scale-up of processes based on characterization data
Membrane scientists involved in membrane preparation for various applications; chemical engineers and material scientists; students at the upper undergraduate and graduate levels; post-doctoral researchers; and professors; Membrane manufacturers
Part 1. Spectroscopy Methods for Membrane Characterization
Chapter 1. Fourier Transform Infrared (FTIR) Spectroscopy
1. Introduction
2. FTIR Principle and Analysis Process
3. Sample Preparation Methods
4. Techniques of Sample Handling
5. Membrane Surface Functionalization Monitoring by FTIR
6. Stability and Durability Monitoring in Various Membrane Application by FTIR
7. Conclusion
Chapter 2. Raman Spectroscopy
1. Introduction
2. Principle of Raman Spectroscopy
3. Raman Spectroscopy for Polymer Characterization
4. Raman Spectroscopy for Polymeric Membrane Characterization
5. Conclusion
List of Abbreviation
Chapter 3. Electron Paramagnetic Resonance (EPR) Spectroscopy
1. Introduction
2. Fundamentals of EPR
3. EPR Applications for the Synthetic Polymeric Membranes
4. Other Examples of EPR Applications
5. Conclusions
Chapter 4. Nuclear Magnetic Resonance (NMR) Spectroscopy
1. Introduction
2. Basics of NMR Spectroscopy
3. Prediction of Molecular Structure, Blend Miscibility, Phase Morphology of the Polymers
4. Determination of Pore Structure and Pore Radius of the Polymeric Membrane
5. Determination of Stability and Degradation of Polymeric Membranes
6. Conclusion
List of Abbreviations
List of Symbols
Chapter 5. X-Ray Photoelectron Spectroscopy (XPS)
1. Introduction
2. Basics of XPS
3. Determination of Atomic Concentration in Polymer Membranes
4. Prediction of Crosslinking and Hydrophilicity of the Polymer Membranes
5. Conclusion
Chapter 6. Small-Angle Scattering Techniques (SAXS/SANS)
1. Introduction
2. Analysis of Small-Angle Scattering Profile
3. Scattering Profile of Cross-Linked Polymer
4. Study of the TFC Membrane
5. Small-Angle Scattering From Dilute Polymer Solution or Colloidal Solution Systems
6. Probing Polymer–Nanoparticle Interaction in Dilute Solution
7. Structure of Polymer Nanocomposite Membrane
8. Understanding Form and Structure Factor in Rubbery Polydimethylsiloxane Membrane
9. Conclusions
Part 2. Microscopy Methods for Membrane Characterization
Chapter 7. Atomic Force Microscopy (AFM)
1. Introduction
2. AFM Imaging Modes
3. Interaction Force Measurements
4. Membrane Surface Imaging and Characterization
5. Fouling Characterization of Filtration Membranes Using AFM
6. Concluding Remarks
Chapter 8. Transmission Electron Microscopy (TEM)
1. Introduction
2. Basics of TEM
3. Bright-Field and Dark-Field Images
4. Specimen Preparation
5. Characterization of Membrane Building Block
6. Membrane Characterization
7. Conclusion
List of Abbreviations
List of Symbols
Chapter 9. Scanning Electron Microscopy (SEM) and Energy-Dispersive X-Ray (EDX) Spectroscopy
1. Introduction
2. Fundamentals of Electron Microscopy
3. Applications in Membrane Characterization
4. Conclusion
Part 3. Physical and Chemical Characterization Methods for Membrane Characterization
Chapter 10. Pore Size Measurements and Distribution for Ceramic Membranes
1. Introduction
2. Typical Method for Pore Size Measurements and Distribution
3. Comparisons Between Measurements
4. Conclusion
Notation
Greek Letters
Subscripts
Chapter 11. The Bubble Gas Transport Method
1. Introduction
2. Principle of Bubble Gas Transport Method
3. Experimental Setup and Procedure
4. Critical Aspects of Bubble Gas Transport Method
5. Conclusion
Abbreviations and Symbols
Chapter 12. Contact Angle Measurements
1. Introduction
2. Theoretical Background
3. Method of Contact Angle Measurement
4. Factors Affecting Contact Angle Measurements
5. Hydrophilicity/Hydrophobicity Analysis
6. The Membrane Characterization by Contact Angle
7. Conclusion
List of Symbols
Part 4. Mechanical Properties Characterization of Membranes
Chapter 13. Mechanical Characterization of Membranes
1. Introduction
2. Mechanical Characterization Techniques
3. Mechanical Degradation of Polymeric Membranes
4. Stress-State of Polymeric Membrane Under Actual Condition
5. Advanced Techniques for Mechanical Properties Testing
6. Conclusions
List of Abbreviations
Part 5. Mass Transport, Modeling and Feed Solution Characterization
Chapter 14. Gas and Vapor Transport in Membranes
1. Introduction
2. Gas and Vapor Transport in Membranes
3. Application
4. Conclusion
List of Abbreviations
List of Symbols
Chapter 15. Mass Transport in Porous Liquid Phase Membranes
1. Introduction
2. Mass Transfer From the Bulk Feed to the Membrane Surface
3. Separation of Solutes at the Membrane Surface
4. Transport of Solutes Through the Membrane
5. Solute Transfer From the Membrane Interface to the Bulk Permeate
6. Liquid Phase Membrane Applications
7. Conclusions
Chapter 16. The Use of Modeling for Characterization of Membranes
1. Introduction
2. Background Information
3. Simple Models for Basic Membrane Characterization
4. Advanced Models for Structural and Electrical Properties Characterization
5. Conclusions
Chapter 17. Feed Solution Characterization
1. Introduction
2. Particle Size and Shape
3. Methods of Particle Size Measurement
4. Particle Charge and Zeta Potential
5. Viscosity
6. Conclusions
Chapter 18. Electrokinetic Phenomena for Membrane Charge
1. Introduction
2. Electrophoresis
3. Electro-Osmosis
4. Sedimentation Potential
5. Streaming Potential
6. Conclusions
No. of pages:

458
Language:

English
Copyright:

© Elsevier

2017
Published:

20th February 2017
Imprint:

Elsevier
eBook

ISBN:

9780444637918
Paperback

ISBN:

9780444637765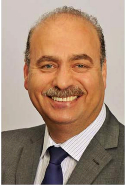 Professor Nidal Hilal is the Director of Centre for Water Advanced Technologies and Environmental Research (CWATER) at Swansea University in the United Kingdom. His research interests lie broadly in the identification of innovative and cost-effective solutions within the fields of nano-water, membrane technology, and water treatment including desalination, colloid engineering and the nano-engineering applications of AFM. His internationally recognized research has led to the use of AFM in the development of new membranes with optimized properties for difficult separations. He has published 6 handbooks, 43 invited book chapters and around 450 articles in refereed scientific literature. He has chaired and delivered lectures at numerous international conferences. In 2005 he was awarded Doctor of Science (DSc) from the University of Wales and the Kuwait Prize for applied science "Water resources development". He is the Editor-in-Chief for the international journal Desalination. He sits on the editorial boards of a number of international journals, is an advisory board member of several multinational organizations and has served on/consulted for industry, government departments, research councils and universities on an international basis.
Affiliations and Expertise
Centre for Water Advanced Technologies and Environmental Research (CWATER,) Swansea University, UK
Ahmad Fauzi Ismail is the Founding Director of Advanced Membrane Technology Research Center (AMTEC) at Universiti Teknologi, Malaysia. He received the Malaysian Young Scientist Award in 2000 and was the first Malaysian recipient for the ASEAN Young Scientist and Technologist Award in 2001. He has been the recipient of several other prestigious awards and most recently received the Merdeka Award for Outstanding Scholastic Achievement and the IChemE (Malaysia) Innovator of The Year Award (both 2014), the National Academics Award for Product Commercialization, National Intellectual Property Awards, the Malaysia Research Star Award, and the Toray Science and Technology Award. He is a Fellow of the Academy of Sciences Malaysia, the Chartered Chemical Engineer in the UK (CEng.), and a Fellow of the Institution of Chemical Engineers (FIChemE). At present he is the Editor of Emergent Materials journal, Associate Editor of Arabian Journal for Science and Engineering, and Editor of the Journal of Applied Membrane Science and Technology. He has served as an Editorial Board Member of Separation and Purification Technology, Journal of Membrane Science and Research, International Journal of Engineering, and Journal of Rubber Research and Advisory Editorial Board Members of Journal of Chemical Technology and Biotechnology and Biofuel Research Journal. Dr. Ismail's areas of expertise include the development of membrane technology for reverse osmosis, nanofiltration, ultrafiltration, membrane contactors, gas separation, and development of nanofibers and carbon nanostructured materials for energy related applications. He has been highly successful in attracting major funding in these areas, and he has several patents and more than 600 technical or scientific papers in high impact factor journals. He has authored and co-authored six books and has edited six books.
Affiliations and Expertise
Advanced Membrane Technology Research Center (AMTEC), Universiti Teknologi Malaysia, Johor, Malaysia
Professor Takeshi Matsuura is a senior academic with a career spanning more than 50 years and has held several distinguished posts in many countries including the USA, Canada, Japan, Germany and Singapore. Most recently he joined the University of Ottawa (1992) as the British Gas/NSERC Industrial Research Chair. He served as professor of the Department of Chemical Engineering and the director of the Industrial Membrane Research Institute (IMRI) until he retired in 2002 and was appointed as professor emeritus in 2003. He received the Research Award of International Desalination and Environmental Association in 1983. He is a fellow of the Chemical Institute of Canada and a member of the North American Membrane Society. He has delivered plethora of invited lectures and presentations to many of the world's foremost scientific events and conferences. He has published over 400 papers in refereed journals, authored and co-authored 6 books and edited 8 books. A special symposium was held at the Eighth Annual Meeting of the North American Membrane Society to honour Prof. Matsuura (together with Dr. S. Sourirajan) for life-long contributions to membrane research and a similarly the International Conference on Membrane Science and Technology 2013 was held in his honour. In addition, he has received the George S. Glinski Award for Excellence in Research and the occasion of his 75th birthday was marked with a special edition of the journal Desalination.
Affiliations and Expertise
Professor, Faculty of Engineering, Chemical and Biological Engineering, The University of Ottawa, Ottawa ON, Canada
Dr Darren Oatley-Radcliffe holds a degree in Chemical and Biological Process Engineering from the University of Wales in 2000, receiving a commendation in the IChemE PENCE prize and the BOC Shuftan memorial prize. Following graduation, he proceeded to read for a Ph.D within the same department under the supervision of Prof. W. Richard Bowen FREng FIChemE. He specialised in membrane separation processes, in particular the complex micro-hydrodynamics and interfacial phenomena associated with aqueous nanofiltration. In the fall of 2004, Darren accepted the post of Senior Process Engineer with GlaxoSmithKline R&D Ltd and developed expertise in cGMP batch production of pharmaceuticals and developed as an industrial process engineer. He received several awards and promotions and was asked to aid in the Innovative Manufacturing Initiative (IMI) (the development of the world's first fully continuous primary pharmaceutical processing facility). Having successfully completed the inaugural campaigns in this landmark facility, he was awarded the title of 'Vanguard' at the GSK CEO Sustainability Awards 2009 and was further promoted to Investigator. In the spring of 2010, he returned to academia and joined Centre for Water Advanced Technologies and Environmental Research (CWATER) at Swansea University, UK. He has led several research projects and has published over 20 refereed papers in the fields of membrane technology, algal processing and pharmaceutical manufacture.
Affiliations and Expertise
College of Engineering, Swansea University, UK
Tax Exemption
We cannot process tax exempt orders online. If you wish to place a tax exempt order please
contact us
.