Current Developments in Biotechnology and Bioengineering
1st Edition
Crop Modification, Nutrition, and Food Production
Editors:
Suresh Dubey
Ashok Pandey
Rajender Sangwan
eBook ISBN: 9780444636720
Hardcover ISBN: 9780444636614
Published Date: 15th September 2016
---
Current Developments in Biotechnology and Bioengineering: Crop Modification, Nutrition, and Food Production provides extensive coverage of new developments, state-of-the-art technologies, and potential future trends, presenting data-based scientific knowledge on agribiotechnology and describing world agriculture and the role biotechnology can play in ensuring food security over the next fifty years.
The book discusses the effects of climate change in agriculture and the resultant emergence of new crops, including drought tolerant and more nutritious plants. In addition, the book discusses insect and virus resistance in plants and outlines plant metabolic engineering for agriculture, genetically engineered plants, and microbial diseases.
Highlights recent developments in agriculture due to biotechnology
Relates the effect of climate change in agriculture to the development of new crops
Describes the application of metabolic engineering in the development of new genetically modified plants
Postgraduate, PhD students and researchers in academia, government and corporate research in the area of bioengineering/biochemical engineering, biomedical/biological engineering and industrial biotechnology
1. World Agriculture and the Impact of Biotechnology
2. Effect of Climate Change on Agricultural Crops
3. Insect-Resistant Plants
4. Engineering Resistance to Plant Viruses
5. Drought-Tolerant Plants
6. Genetically Engineered Plants Against Bacterial and Fungal Diseases
7. Chloroplast Metabolic Engineering for Sustainable Agriculture
8. Transgenic Plants and Soil Microbes
9. Marker-Assisted Selection in Disease Resistance Breeding
10. Abiotic Stress in the Production of Food Grains and Methods to Alleviate the Impact of Stress
11. Novel Technologies for Plant Functional Genomics/
12. Biotechnological Intervention for Therapeutic Molecules Through Hairy Root Cultures of Medicinal Plants
No. of pages:

308
Language:

English
Copyright:

© Elsevier

2017
Published:

15th September 2016
Imprint:

Elsevier
eBook

ISBN:

9780444636720
Hardcover

ISBN:

9780444636614
Suresh Kumar Dubey is Associate Professor in the Molecular Ecology Lab at the Department of Botany, Banaras Hindu University, India. His interests include structure and function of microbial community involved in controlling the methane emission, screening and utilization of microbes for their potential role in bioremediation, studies on prevalence of some pathogenic microbes in clinical and food samples and their response for drug resistance. He has been the editor of the Indian Journal of Microbiologysince 2009 and has won multiple awards for his work, including Biotech Research Society of India Young Scientist Medal 2004, DST- BOYSCAST Govt of India fellowship 2006, INSA visiting fellowship 2012, and JSPS Invitation fellowship 2012 among others.
Affiliations and Expertise
Associate Professor in the Molecular Ecology Lab at the Department of Botany, Banaras Hindu University, India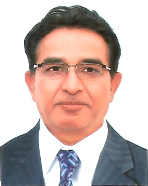 Professor Ashok Pandey is currently Distinguished Scientist at CSIR-Indian Institute for Toxicology Research, Lucknow, India and Honorary Executive Director at the Centre for Energy and Environmental Sustainability- India; he was the former Deputy Director for CSIR's National Institute for Interdisciplinary Science and Technology at Trivandrum, where he head the Centre for Biofuels and Biotechnology Division. Professor Pandey's research interests are on bio-based economy for the production of fuels and chemicals. He has over 1000 publications and communications, which include 14 patents and design copyright, 34 books, 99 book chapters, and 391 original and review papers. Professor Pandey is the recipient of many national and international awards and fellowships, including Fellow of International Society for Energy, Environment and Sustainability, National Academy of Science (India), Biotech Research Society, India, and the International Organization of Biotechnology and Bioengineering. He was Chairman of the International Society of Food, Agriculture and Environment, Finland (Food & Health) from 2003-2004. He is Founder President of the Biotech Research Society, India (www.brsi.in); International Coordinator and General Secretary of International Forum on Industrial Bioprocesses, France (www.ifibiop.org), and Vice-President of the International Society for Energy, Environment & Sustainability (www.isees.org) and All India Biotech Association (www.aibaonline.com). Professor Pandey is Editor-in-chief of Bioresource Technology, Honorary Executive Advisors of Journal of Water Sustainability and Journal of Energy and Environmental Sustainability and editorial board member of several international and Indian journals. Prof. Pandey was also recently honoured as the Most Cited Author as per the Shanghai Ranking's Global Ranking of Academic Subjects 2016.
Affiliations and Expertise
CSIR-Indian Institute of Toxicology Research, Lucknow, India
Dr. Rajender Singh Sangwan is Founder Chief Executive Officer (CEO) of Center of Innovative and Applied Bioprocessing (CIAB), a national institute at Mohali (Punjab) under Department of Biotechnology (Govt. of India). Also, he continues to be co-affiliated with CSIR-Central Institute of Medicinal and Aromatic Plants, Lucknow (India), as Chief Scientist.
Dr. Sangwan (M.Sc., 1981; Ph.D., 1987, from Haryana Agricultural University, Hisar, India) has worked as a faculty at CSIR-Central Institute of Medicinal and Aromatic Plants (CIMAP) at Lucknow since 1986 at various levels upto Chief Scientist as well as Founder Head of Department of Metabolic and Structural Biology. His profile of project/program/mission leadership include NMITLI Program on Ashwagandha at CSIR-CIMAP, CSIR's Inter-Laboratory Network Programme on Chemical and Biological Transformations for Value-Addition, CSIR's Inter-Institutional Network Research Program on 'Plants and Animals as Bioreactor'.
As a founder head of CIAB, he leads translational research and innovation programmes on bioprocessing of agri-food and other bioresources. CIAB represents the first institutionalized Secondary Agriculture Initiative in India for R&D on value added products of edible and non-edible nature through integration of chemical and biological processes. His current research interests pertain to Translational Research and Innovations for Secondary Agriculture Biotechnology, covering Primary and Secondary Phytochemicals/Metabolites, Edible and Non-Edible Value-Added Products from Bioresources, Secondary Agriculture Technology Applications, Nutritional and Nutraceutical Products, Alternate Bio/Production Approaches including Synthetic Biology. He has more than 125 publications in leading international journals and books attracting more than 3000 citations with a H-index of 33 and an i10-Index of 71. He has several patents and elite medicinal and aromatic plant varieties to his credit. He members several academic and governing bodies of scientific organizations.
He has been awarded with several scientific and academic honours and recognitions including IUBMB Young Scientist (Travel) Award (1992), CSIR Young Scientist (1994), Prof. Umakant Sinha Memorial Award of Indian Science Congress (1997), Fellow, National Academy of Agricultural Sciences, Fellow, National Academy of Sciences (India), CSIR Technology Award in Life Sciences (2015).
Affiliations and Expertise
Founder and CEO of the Center of Innovative and Applied Bioprocessing (CIAB), India, and Chief Scientist at the CSIR-Central Institute of Medicinal and Aromatic Plants, Lucknow, India.
Tax Exemption
We cannot process tax exempt orders online. If you wish to place a tax exempt order please
contact us
.