Cannabinoids in Neurologic and Mental Disease
1st Edition
Hardcover ISBN: 9780124170414
eBook ISBN: 9780124171244
Published Date: 21st January 2015
Secure Checkout
Personal information is secured with SSL technology.
Free Shipping
Free global shipping
No minimum order.
---
The application of cannabis sativa for the treatment of neurologic and mental disease is expanding. Cannabinoids in Neurologic and Mental Disease collects and presents for the first time recent research involving the use of pharmacological cannabinoids for the treatment of neurodegenerative and neuroinflammatory disease. The neurologic application of cannabinoid therapy builds upon psychiatric and psychological use for the treatment of a variety of core mental disorders. This comprehensive reference on the known uses of cannabinoids will be useful for clinical neurologists, neuroscience and clinical neuroscience researchers, clinical psychologists and psychiatrists and the general medical community.
A comprehensive reference on the clinical uses of cannabinoids for treating major neurologic and mental diseases
Detailed coverage of cannabinoid use for neuroinflammatory and neurodegenerative disease including Multiple Sclerosis, Epilepsy, Huntington's disease, Parkinson's disease, and Alzheimer's disease
Detailed coverage of cannabinoid use for major psychiatric and psychological diseases and disorders including schizophrenia, bipolar disorders, Tourette's syndrome, and post-traumatic stress disorder (PTSD)
Clinical neurologists, neuroscience and neurology researchers, neuro-pharmacology researchers, general medical practitioners
Dedication
Preface
List of Contributors
The ever-expanding world of the endocannabinoids: A concise introduction

The Endocannabinoid System: Discovery and Early Definitions
Redundancy and Complexity in Endocannabinoid Targets and Metabolic Enzymes
Endocannabinoid-Related Mediators and their Targets
Conclusions: The "Endocannabinoidome" and How to Manage it

Part 1: Role of the endocannabinoids in neuroinflammatory and neurodegenerative disorders

Chapter 1. Cannabinoids for the treatment of neuroinflammation

Neuroinflammation
Endocannabinoid System Elements in Glial Cells
Glial Functions and Their Modulation by Cannabinoids
Concluding Remarks
Acknowledgments
References

Chapter 2. Endocannabinoids and Alzheimer's disease

Introduction
Alzheimer's Disease
The Endocannabinoid System as a Therapeutic Target
The Endocannabinoid System in Alzheimer's Disease
Conclusions
References

Chapter 3. Cannabinoids in Parkinson's disease

Parkinson's Disease
The Endocannabinoid System in the Normal Basal Ganglia
Endocannabinoid System Dysregulation in PD
Clinical Trials of Cannabinoid Drugs in PD Patients
Potential of the Endocannabinoid System as a Target for Alleviation of Motor Symptoms
Potential of the Endocannabinoid System as a Target for Alleviation of Drug-Induced Side Effects
Potential of the Endocannabinoid System as a Disease Modifying Target
Concluding Remarks
References

Chapter 4. Cannabinoids and Huntington's disease

The Endocannabinoid System
Endocannabinoid Signaling and Huntington's Disease
Therapeutic Potential of Endocannabinoids in HD
Relevance of Molecular Imaging of the ECS in HD
PET Imaging of CB1 and CB2 Receptors in HD
General Conclusion
References

Chapter 5. Endocannabinoids and amyotrophic lateral sclerosis

Amyotrophic Lateral Sclerosis
Cannabinoids and ALS
Concluding Remarks and Future Perspectives
Acknowledgments
References

Chapter 6. Endocannabinoids and epilepsy

Introduction
ECS Regulates Excitatory Neuronal Synaptic Transmission
Alterations in the ECS in Seizures and Epilepsy
Alterations in the ECS in Human Temporal Lobe Epilepsy
Therapeutic Potential of Modulating the ECS in Seizures and Epilepsy
Conclusion and Future Directions
Acknowledgments
References

Chapter 7. Endocannabinoids and migraine

Endocannabinoid System and Migraine
Migraine Pathogenesis
Endocannabinoids and Migraine
Potential Sites and Mechanisms of Action of ECs
Limitations
New Potential Therapeutic Approaches
Conclusions
References

Part 2: Role of the endocannabinoids in psychological and psychiatric disorders

Chapter 8. Cannabinoids and schizophrenia

Introduction
Endocannabinoid System and Schizophrenia
Cannabis and Schizophrenia
Cannabidiol and Schizophrenia
Conclusions
References

Chapter 9. Cannabinoids and bipolar disorder

Introduction
Prevalence of Cannabis use in Bipolar Disorder
Clinical Correlates of Cannabis Use in Bipolar Disorder
Cannabis Use and Neurocognition in Bipolar Disorder
Impact on Diagnosis and Treatment
Conclusions
References

Chapter 10. Cannabinoids and the Tourette syndrome

Tourette Syndrome
Medicinal Use of Cannabinoid-Based Medicines
Effects of Cannabis Sativa L. in Patients with Tourette Syndrome
Effects of Δ9-Tetrahydrocannabinol in Patients with Tourette Syndrome
The Neurochemistry of Tourette Syndrome: Which Role Does the CB1 Receptor System Play?
Adverse Effects
Practical Aspects for the Treatment of Patients with TS with CBM
Conclusions
References

Chapter 11. The role of endocannabinoid function in posttraumatic stress disorder: Modulating the risk phenotype and rendering effects of trauma

Introduction
Overview of the Endocannabinoid System
Endocannabinoid Function in PTSD
Negative Emotionality: A Key Role for Endocannabinoid Signaling in PTSD
An Emerging Focus on Reward Dysfunction in PTSD
PTSD and Externalizing: Endocannabinoid Function and Control
Experience-Dependent Changes in PTSD: Endocannabinoids and Synaptic Plasticity
Rendering Acute Trauma Into Symptoms: Animal Models of Fear
Long-Term Endocannabinoid Adaptations: The Legacy of Early Life Adversity
PTSD and Cannabis Use: Endocannabinoid Function in an Interdependent Trajectory
Self-Medicating with Cannabis
The Endocannabinoid System in the Treatment of PTSD: A Cautionary Tale
Future Directions
References

Chapter 12. Cannabinoids and drug addiction

Drug Abuse and Addiction
The Modulating Role of the Endocannabinoid System in Drug-Induced Reward
The Endocannabinoid System in Human Drug Addiction
Conclusions
References

Chapter 13. Cannabinoids and appetite (dys)regulation

Introduction
Early Clinical and Preclinical Evidence for Cannabis as a Modulator of Feeding
The Role of Endogenous Cannabinoids in Feeding Behavior
Overview of Clinical Eating Disorders
Neuroimaging of Reward and Cannabinoids
Conclusions
References

Part 3: Role of the endocannabinoids in impulsive and compulsive disorders

Chapter 14. The cannabinoid system and impulsive behavior

Background on Impulsivity
Cannabinoid Modulation of Human Impulsive Behavior
Translational Evidence for Cannabinoid Modulation of Impulsivity
Concluding Remarks
Acknowledgments
References

Chapter 15. Cannabinoids and obsessive-compulsive disorder

Introduction
Neurobiology of OCD
Neurochemical Changes Associated with OCD
Endocannabinoid System in OCD
The Effects of Drugs that Act on the Endocannabinoid System in OCD
Conclusions
Acknowledgments
References

Chapter 16. The endocannabinoid system: Anorexia nervosa and binge eating disorder

Introduction
Eating Disorders
Implication of the Endocannabinoid System in Food Intake Regulation
Implication of the Endocannabinoid System in AN and BED
Conclusions
References

Chapter 17. The endocannabinoid system and trichotillomania: A promising target for treatment?

Introduction to Trichotillomania
The Cannabinoid System in Tourette's Syndrome and OCD
Neuroimaging in Trichotillomania
The Cannabinoid System and Trichotillomania
Conclusions
References

Chapter 18. Future perspectives: Cannabinoid CB2 receptor ligands and their therapeutic potential in mental diseases

Framework on the Molecular Basis for the Therapeutic Potential of Cannabinoids
CB2 Cannabinoid Receptors as a Potential Therapeutic Target in Neurological and Mental Diseases
Summary of the Role of Endocannabinoids in Neuroinflammatory and Neurodegenerative Disorders
Summary of the Role of Endocannabinoids in Psychological and Psychiatric Disorders
Summary of the Role of Endocannabinoids in Impulsive and Compulsive Disorders
References

Index
No. of pages:

496
Language:

English
Copyright:

© Academic Press

2015
Published:

21st January 2015
Imprint:

Academic Press
Hardcover

ISBN:

9780124170414
eBook

ISBN:

9780124171244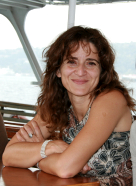 Liana Fattore is Senior Researcher at the Institute of Neuroscience, National Research Council of Italy (IN-CNR). She received a BSc in Biology in 1994, in Life Sciences in 1997 and a PhD in Neuroscience in 2003. From 2001 to 2002, she was Visiting Research Fellow at the Department of Experimental Psychology, University of Cambridge (UK).
She currently leads preclinical research on the neurobiology of drug abuse and behavioral dependences at the Department of Biomedical Sciences, Division of Neuroscience and Clinical Pharmacology, University of Cagliari, Italy. Her main fields of research focus primarily on addictive disorders, pathological dependences and behavioral dyscontrol, with special attention given to sex- and gender-dependent differences. Other research interests include neuropsychopharmacology, behavioral pharmacology, neurobiology of natural and drug reward, psychiatric disorders and comorbidity, new designer and internet drugs.
Dr. Fattore has (co)authored over 80 scientific peer-reviewed publications (research articles, reviews, commentaries, perspective articles, book chapters); she serves as referee for more than 20 International Journals and as external and independent Expert Evaluator of Research Project Proposals for several European Agencies.
She is Council Member of the Mediterranean Neuroscience Society (MNS) since 2012 and of the Italian Society of Neuroscience (SINS) since 2013. She heads the IN-CNR Laboratory of Behavioural Neuropharmacology in Cagliari that is home to young scientists from different backgrounds and academic levels wishing to experience a training period in behavioral neuroscience. She is strongly dedicated to increase awareness among high school students on the consequences of excessive drinking and substance abuse on health and brain functioning.
Affiliations and Expertise
Neuroscience Institute - Cagliari, National Research Council (CNR) - Italy
Tax Exemption
We cannot process tax exempt orders online. If you wish to place a tax exempt order please
contact us
.
Elsevier.com visitor survey
We are always looking for ways to improve customer experience on Elsevier.com.
We would like to ask you for a moment of your time to fill in a short questionnaire, at the end of your visit.

If you decide to participate, a new browser tab will open so you can complete the survey after you have completed your visit to this website.

Thanks in advance for your time.
Accept
Decline