Women and Health
2nd Edition
Editors:
Marlene Goldman
Rebecca Troisi
Kathryn Rexrode
Hardcover ISBN: 9780123849786
eBook ISBN: 9780123849793
Published Date: 17th December 2012
---
Women and Health is a comprehensive reference that addresses health issues affecting women of all ages — from adolescence through maturity. It goes far beyond other books on this topic, which concentrate only on reproductive health, and has a truly international perspective. It covers key issues ranging from osteoporosis to breast cancer and other cancers, domestic violence, sexually transmitted diseases, occupational hazards, eating disorders, heart disease and other chronic illnesses, substance abuse, and societal and behavioral influences on health.
In this second edition of Women and Health, chapters thoughtfully explore the current state of women's health and health care, including the influences of sex and gender on the occurrence of a wide variety of diseases and conditions. All chapters have been extensively updated and emphasize the epidemiology of the condition — the etiology, occurrence, primary and secondary prevention (screening), risk factors, surveillance, changing trends over time, and critical analysis of the diagnostic and treatment options and controversies. Treatment sections in each chapter have been expanded to create a stronger dialogue between epidemiologists and women's health practitioners.
Saves researchers and clinicians time in quickly accessing the very latest details on a broad range of women's health issues, as opposed to searching through thousands of journal articles
Provides a common language for epidemiologists, public health practitioners, and women's health specialists to discuss the behavioral, cultural, and biological determinants of women's health
Researchers and medical specialists will learn how the gender-specific risks and features of one organ system's diseases affect the health of other organ systems

For example: Hormone replacement therapy used to treat imbalance within the endocrine system is also being used to prevent and treat cardiovascular disease; Drugs developed for type 2 diabetes are now being used in chemoprevention

Orients the non-gerontologist about the importance of considering the entire life cycle of women within research designs and treatment plans
Professors teaching courses in women's health will use slides and additional materials to structure lectures/courses; students will use slides as a unique resource to study for exams
Professionals and graduate students in epidemiology and public health; fellows, internists, physicians in public health, general practice, family medicine, gerontology, and those specializing in women's health.
Dedication
Preface to the Second Edition
Preface to the First Edition
List of Contributors
Introduction
20th Century Achievements
21st Century Challenges
In Closing
Part I: Women, Health, and Medicine
Section 1: Introduction to Women's Health
Chapter 1. Women's Health in the 21st Century
Why Women's Health?
The Second Edition
An Overview of the Health of Women
Future Directions in the Study of Women's Health
References
Chapter 2. The Mutability of Women's Health with Age: The Sometimes Rapid, and Often Enduring, Health Consequences of Injustice
Sex, Gender and Survival
Age, Health and Weathering
Stress Physiology and Aging
Global Application of Weathering
References
Chapter 3. Current Approaches to Women's Health Care
Women's Health through a Health Services Lens
Changes in the Paradigm of Women's Health
Women's Interactions with the Health Care System
New Models for Women's Health Services and Research
Future Considerations and Challenges
Women Become Active Stakeholders in their Care
Acknowledgment
References
Chapter 4. The Impact of Health Coverage on Women's Access to Care in the US
Introduction
Health Coverage for Women Today
Insurance Regulations Affecting Services of Importance to Women
How Coverage Affects Use of Health Care Services
Costs and Other Barriers to Care
Coverage Concerns for Older Women
Health Reform and Women's Coverage
Conclusion
References
Chapter 5. Complementary, Alternative, and Integrative Medicine and Women's Health
Introduction/Background
CAM Modalities in Women
Clinical Conditions Difficult to Manage Solely with Conventional Medicine
Epidemiologic Issues, Including Research Metho
No. of pages:

1632
Language:

English
Copyright:

© Academic Press

2013
Published:

17th December 2012
Imprint:

Academic Press
eBook

ISBN:

9780123849793
Hardcover

ISBN:

9780123849786
Dr. Goldman is a reproductive epidemiologist and Director of Clinical Research in the Department of Obstetrics and Gynecology and of Community and Family Medicine at Dartmouth-Hitchcock Medical Center. She specializes in research and teaching related to women's health. Her research program includes several large randomized clinical trials evaluating optimal infertility treatment for younger and older women seeking to conceive and a prospective cohort study investigating the role of preconception nutrition and oxidative stress on implantation and early pregnancy loss. She is co-editor of Women and Health, a comprehensive reference textbook for researchers, teaching faculty, and clinicians on the role of gender in understanding disease occurrence, diagnosis, treatment, and priority-setting in health care.
Affiliations and Expertise
Professor, Obstetrics & Gynecology and Community & Family Medicine, Dartmouth Medical School; Director of Clinical Research, OB/GYN, Dartmouth-Hitchcock Medical Center, Lebanon, New Hampshire, USA
Dr. Troisi is a cancer epidemiologist in the Division of Cancer Epidemiology and Genetics, at the National Institutes of Health's Cancer Institute and an associate member of the Norris Cotton Cancer Center at Dartmouth College.. Her research has focused on the hormonal etiologies of reproductive cancers and the role of maternal, gestational, neonatal and early life factors in breast cancer risk, including endocrine disruptors such as diethylstilbestrol, a drug previously given to pregnant women. She is a Principal Investigator on multiple national and international collaborations and has led a project in Mongolia to attempt to learn more about international differences in cancer incidence rates.
Affiliations and Expertise
Staff Scientist, Division of Cancer Epidemiology and Genetics, National Cancer Institute, Bethesda, MD; Assistant Professor of Epidemiology, Department of Community and Family Medicine, Dartmouth University Medical School, Lebanon, New Hampshire, USA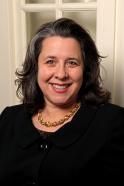 Dr. Rexrode is an Associate Professor of Medicine, Harvard Medical School and Associate Physician, Division of Preventive Medicine and Faculty Director, Office for Women's Careers, Brigham and Women's Hospital, Boston, MA. Dr. Rexrode's research examines risk factors for heart disease and stroke. She has a particular interest in the role of obesity and hormonal factors, as well as understanding sex differences. She has studied the effects of endogenous sex hormones, such as estrogen and testosterone, and related genetic variants, and risk of cardiovascular disease. She is Principal Investigator of a grant examining risk factors for ischemic stroke in women and Principal Investigator of a grant examining long term cardiovascular outcomes among early stage breast cancer survivors. She is also active in several large studies of women's health, including the Nurses' Health Study, the Kronos Early Estrogen Prevention Study, and the Women's Health Initiative.
Affiliations and Expertise
Associate Professor of Medicine, Harvard Medical School; Associate Physician, Division of Preventive Medicine, Brigham and Women's Hospital, Faculty Director, Office for Women's Careers, Brigham and Women's Hospital, Boston, MA, USA
"This reference for the medical and scientific community is also accessible to health care consumers, with a readable style, a clear layout, and a visual orientation, offering b&w images, photos, data charts, and summary tables on almost every page. The reference provides overview articles highlighting the latest research on biological as well as behavioral and societal determinants of the health of women throughout the life span."--Reference and Research Book News, August 2013
"This revised work updates the authoritative, exhaustively referenced, thoroughly documented…handbook published over ten years ago…this is an advanced textbook suitable for graduate medical and nursing students and health care professionals…Summing Up: Highly recommended."--CHOICE, August 2013
"Women and Health is a comprehensive reference that addresses health issues affecting women of all ages - from adolescence through maturity. It goes far beyond other books on this topic that concentrate only on reproductive health, and has a truly international perspective."--Doody.com, April 24, 2013
Reviews of the First Edition:

"This book is an unparalleled and valuable compendium of data for anyone interested in women's health. The editors have done a superb job... the book is one of the most useful I have yet seen in the emerging field of women's health."-- THE NEW ENGLAND JOURNAL OF MEDICINE (2000)
"The chapters are uniformly well researched and written, with extensive bibliographies and relevant Web sites. ...The book could serve well as the key text for a graduate or medical school course on women's health. It is also an excellent guide for planning and developing women's health curricula for medical students and residents in internal medicine, family medicine, and obstetrics and gynecology."--ANNALS OF INTERNAL MEDICINE (2001)
"T