The Mouse Nervous System
1st Edition
Editors:
Charles Watson
George Paxinos
Luis Puelles
eBook ISBN: 9780080919188
Hardcover ISBN: 9780123694973
Published Date: 23rd November 2011
---
The Mouse Nervous System provides a comprehensive account of the central nervous system of the mouse. The book is aimed at molecular biologists who need a book that introduces them to the anatomy of the mouse brain and spinal cord, but also takes them into the relevant details of development and organization of the area they have chosen to study. The Mouse Nervous System offers a wealth of new information for experienced anatomists who work on mice. The book serves as a valuable resource for researchers and graduate students in neuroscience.
Systematic consideration of the anatomy and connections of all regions of the brain and spinal cord by the authors of the most cited rodent brain atlases
A major section (12 chapters) on functional systems related to motor control, sensation, and behavioral and emotional states
A detailed analysis of gene expression during development of the forebrain by Luis Puelles, the leading researcher in this area
Full coverage of the role of gene expression during development and the new field of genetic neuroanatomy using site-specific recombinases
Examples of the use of mouse models in the study of neurological illness
Neuroscientists, neuropathologists, neurologists, graduate students in neuroscience, and medical students.
Dedication
List of Contributors
Preface
Acknowledgments
Chapter 1. Molecular Regionalization of the Developing Neural Tube
Chapter 2. Gene Targeting
Chapter 3. Genetic Neuroanatomy
Chapter 4. Neocortex
Chapter 5. Hippocampus
Chapter 6. Piriform Cortex and Amygdala
Chapter 7. Subpallial Structures
Chapter 8. Hypothalamus
Chapter 9. Diencephalon
Chapter 10. Midbrain
Chapter 11. Cerebellum
Chapter 12. Hindbrain
Chapter 13. Spinal Cord
Chapter 14. Vascular Supply
Chapter 15. Magnetic Resonance Imaging of the Mouse Brain
Chapter 16. Motor Nuclei of the Cranial Nerves
Chapter 17. Visceral Motoneurons
Chapter 18. Neurosecretory Nuclei of the Hypothalamus and Preoptic Area
Chapter 19. Motor Cortex
Chapter 20. Hypothalamic Goal-directed Behavior – Ingestive, Reproductive and Defensive
Chapter 21. The Somatosensory System
Chapter 22. Gustatory
Chapter 23. Pain
Chapter 24. Auditory System
Chapter 25. Visual System
Chapter 26. The Olfactory System
Chapter 27. Vestibular System
Chapter 28. The Basal Forebrain Cholinergic Projection System in Mice
Chapter 29. An Introduction to the Neurobiology of Emotions and Social Behavior
Chapter 30. Prefrontal Cortex
Chapter 31. Overview of Mouse Models for Psychiatric and Neurologic Disorders
Chapter 32. Mouse Models of Mental Illness and Neurological Disease
Chapter 33. The Neuroanatomy of Addictive Processes
Index
No. of pages:

814
Language:

English
Copyright:

© Academic Press

2012
Published:

23rd November 2011
Imprint:

Academic Press
eBook

ISBN:

9780080919188
Hardcover

ISBN:

9780123694973
Charles Watson is a specialist in the area of brain and spinal cord mapping. He graduated in medicine from the University of Sydney in 1967 and was awarded a research doctorate (MD) by the University of New South Wales in 1974. He lectured in anatomy at the UNSW from 1970 to 1982, when he took up a career in public health in the Health Department of Western Australia, being appointed Chief Health Officer for WA in 1993.
He returned to university life in 1994, holding the position of Dean of Health Sciences at the University of Wollongong and Curtin University until 2006. Since then he has held research positions at Curtin and at Neuroscience Research Australia. Since 2006 he has published 11 books and over 40 journal articles.
Watson was made a member of the Order of Australia (AM) in 2004. He earned a DSc (by thesis) from the University of Sydney in 2012.
In his spare time he swims in the ocean, and he is an enthusiastic but mediocre player of the baritone saxophone. His musical favourites are Frank Zappa, Brian Eno, and Beethoven.
Affiliations and Expertise
John Curtin Distinguished Professor of Health Science, Curtin University of Technology, Perth, Australia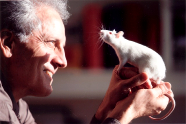 Professor George Paxinos, AO (BA, MA, PhD, DSc) completed his BA at The University of California at Berkeley, his PhD at McGill University, and spent a postdoctoral year at Yale University. He is the author of almost 50 books on the structure of the brain of humans and experimental animals, including The Rat Brain in Stereotaxic Coordinates, now in its 7th Edition, which is ranked by Thomson ISI as one of the 50 most cited items in the Web of Science. Dr. Paxinos paved the way for future neuroscience research by being the first to produce a three-dimensional (stereotaxic) framework for placement of electrodes and injections in the brain of experimental animals, which is now used as an international standard. He was a member of the first International Consortium for Brain Mapping, a UCLA based consortium that received the top ranking and was funded by the NIMH led Human Brain Project. Dr. Paxinos has been honored with more than nine distinguished awards throughout his years of research, including: The Warner Brown Memorial Prize (University of California at Berkeley, 1968), The Walter Burfitt Prize (1992), The Award for Excellence in Publishing in Medical Science (Assoc Amer Publishers, 1999), The Ramaciotti Medal for Excellence in Biomedical Research (2001), The Alexander von Humbolt Foundation Prize (Germany 2004), and more.
Affiliations and Expertise
Neuroscience Research Australia and The University of New South Wales, Sydney, Australia
Dr. Puelles has held various positions teaching human anatomy and conducting research in neuroembryology and comparative neuroanatomy at the Universities of Granada, Sevilla, Badajoz, Cadiz and Murcia in Spain. Since 1983 he has been Full professor of Neuroanatomy at the University of Murcia. He is author of ~230 works, notably the first edition of Chick Brain in Stereotaxic Coordinates, and co-editor of Elsevier's The Mouse Nervous System.
Affiliations and Expertise
Instituto de Neurociencias, UMH-CSIC, San Juan, Alicante, Spain
A mouse may appear insignificant due to its small size, but its complex nervous system has played a significant role in neuroscience studies. Such a system is intricate enough for a book, the thickness of 4 adult mice lying on top of one another, to be written about it. There were three main reasons for such a book: it would serve as an introductory guide to neuroscience for molecular biologists, provide insight on the new discoveries of gene expression, and highlight that mice are unique as compared to the more commonly studied rats. The Mouse Nervous System, edited by Charles Watson, George Paxinos, and Luis Puelles, does just that by thoroughly venturing through the crevices of the central nervous system of the mouse.
To the general public, the mouse brain may appear to be a simple chunk of mass, but neurologists and anatomists would beg to differ. This book, having been composed by professionals in the fields of neurology and anatomy, shows how complicated the mouse brain actually is. Of the 33 chapters devoted to the anatomy of the mouse brain, the first three are about its stages of development. These earlier chapters also include past experiments which provide support for the facts about development. For more than half of the book, from chapter four until chapter fifteen, the structure of the brain is presented as a whole and then as individual parts. Thus, the text and real life anatomy figures both serve as dissections of the mouse brain. Furthermore, images throughout the book are useful and relevant not only to those who learn from viewing pictures but also serve as supplemental information for those who learn from reading text.
After introducing the reader to the fundamentals of the mouse brain, the systems and their respective functions are presented in chapters 16 through 27. With most important information already provided in the first half of the book, these later chapters serve to assist the reader in connecting the dots
Tax Exemption
We cannot process tax exempt orders online. If you wish to place a tax exempt order please
contact us
.