Polyvinyl Fluoride
1st Edition
Technology and Applications of PVF
Hardcover ISBN: 9781455778850
eBook ISBN: 9781455778935
Published Date: 14th December 2012
---
Preface
1. Introduction and History

1.1 Introduction
1.2 Fluorine: A Unique Element
1.3 Polyvinyl Fluoride
References

2. Production and Market Statistics

2.1 Applications of PVF
2.2 Capacity Expansion
2.3 Film Types
References

3. Preparation and Properties of Vinyl Fluoride

3.1 Introduction
3.2 Synthesis of Vinyl Fluoride
3.3 Commercial Manufacturing of Vinyl Fluoride
3.4 Properties of Vinyl Fluoride
3.5 Applications of Vinyl Fluoride
References

4. Polymerization and Finishing Polyvinyl Fluoride

4.1 Background
4.2 Suspension Polymerization
4.3 Bulk Polymerization
4.4 Emulsion Polymerization
4.5 Radiation-Induced Polymerization
4.6 Graft Polymerization
4.7 Vinyl Fluoride Polymerization Development
4.8 Continuous Polymerization
4.9 Effect of Polymerization Variables
References
Further Reading

5. Manufacturing of Oriented Polyvinyl Fluoride Film

5.1 Introduction
5.2 PVF Dispersion in Latent Solvent
5.3 Film Extrusion
5.4 Extrusion and Orientation of Polyvinyl Fluoride Films
5.5 Commercial Processes
References

6. Manufacturing of Unoriented Polyvinyl Fluoride Films and Coatings

6.1 Cast Film Technology
6.2 Unoriented PVF Films
6.3 Preparation of Unoriented PVF Films
6.4 Manufacturing Process
References

7. Properties of Commercial Polyvinyl Fluoride Films

7.1 Introduction
7.2 Polymer Properties
7.3 Characteristics of Commercial PVF Films
7.4 Chemical Properties
7.5 Optical Properties
7.6 Thermal Properties
7.7 Electrical Properties
7.8 Weathering Performance
7.9 Description of Available Product and Properties of Unoriented PVF Films
7.10 Effect of Radiation
7.11 NMR Spectrum of Polyvinyl Fluoride
References

8. Surface Treatment of Polyvinyl Fluoride Films and Coatings

8.1 Introduction
8.2 Chemical Treatment Method
8.3 Corona Treatment
8.4 Plasma Treatment
8.5 Atmospheric Plasma Treatment
8.6 Flame Treatment
References

9. Adhesive Coating and Lamination of Polyvinyl Fluoride Films

9.1 Introduction
9.2 Priming the PVF Film Surface
9.3 Polyvinyl Fluoride Adhesives
9.4 Liquid Adhesive Characteristics
9.5 Commercial Liquid Adhesives
9.6 Lamination of PVF Films
9.7 Film and Shrinkage
9.8 Continuous Lamination of Fiberglass Panels
9.9 Painting and Repair of PVF Film Surfaced FRP
9.10 Lamination of Tedlar® SP Polyvinyl Fluoride Films
References

10. Thermoforming of Polyvinyl Fluoride Films and Laminates

10.1 Description of Thermoforming Process
10.2 Formability of Oriented Polyvinyl Fluoride Films
10.3 Thermoforming Unoriented (SP) Polyvinyl Fluoride Films
References

11. Release Film Applications

11.1 Release Film Types and Applications
11.2 Manufacturing Printed Circuit Boards
References

12. Aerospace Applications

12.1 Introduction
12.2 Insulation Bags
12.3 Interior Panels
12.4 Improvements of the Flammability Resistance of Aircraft Interiors
12.5 Ohio State University Heat Release Test
References

13. Construction Applications

13.1 Comparative Architectural Study
13.2 Vinyl Wall Covering Clad with Tedlar® SP PVF Film
13.3 Flexible Signs and Awning
13.4 PVF Clad Plastic Films and Sheets
References

14. Polyvinyl Fluoride Films for Photovoltaic Modules

14.1 History of Tedlar® PVF before Photovoltaic Modules
14.2 Conversion of Solar Energy into Electricity
14.3 Introduction to Solar Cells
14.4 Tedlar® Usage in PV Modules in the 1980s
14.5 Three Most Common PV Backsheets Made with Tedlar® Film
14.6 Allocation of Tedlar® Film and the Development of Alternate Backsheets
14.7 Status of Tedlar® PVF Film
References

15. Other Applications

15.1 Transit Vehicle Interiors
15.2 Passenger Train Interiors
15.3 Gas Sampling Bags
15.4 Transfer Print
References

16. Safety, Disposal, and Recycling of Vinyl Fluoride and Polyvinyl Fluoride

16.1 Vinyl Fluoride Health and Exposure
16.2 Flammability of Vinyl Fluoride
16.3 Environmental Fate of Vinyl Fluoride
16.4 Polyvinyl Fluoride Products
References

Appendix I
Appendix II
Index
---
The commercial PVF film Tedlar® was first trademarked by DuPont 50 years ago. Since that time it has established itself as a polymer with excellent resistance to sunlight degradation (UV resistance), thermal stability, chemical attack, water absorption, and solvents. These properties, together with a high solar energy transmittance rate, have led to it becoming established worldwide as the number one choice for the backsheets of photovoltaic solar panels, and a fire-retardent coating used in aircraft.
This book is the first and only handbook that describes polyvinyl fluoride preparation, technology, processing, fabrication and applications – making it essential reading for engineers and scientists working in industry sectors where PVF is utilized.
Complete guide to the applications of polyvinyl fluoride in photovoltaics, aerospace, signage, etc.
Technology guide for processing and fabrication of PVF films
Reference for properties and characteristics of PVF films
The only book available that focuses on PVF – properties, processing and applications
Design engineers, manufacturing engineers. Sectors: coatings, microelectronics, aerospace, construction and architecture, solar energy, automotive, packaging industry, environmental, signs and awnings, graphics
---
No. of pages:

400
Language:

English
Copyright:

© William Andrew

2013
Published:

14th December 2012
Imprint:

William Andrew
Hardcover

ISBN:

9781455778850
eBook

ISBN:

9781455778935
---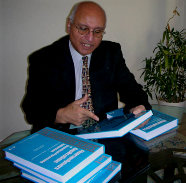 Sina Ebnesajjad is the series editor of Plastics Design Library (PDL) published in the William Andrew imprint of Elsevier. This Series is a unique series, comprising technology and applications handbooks, data books and practical guides tailored to the needs of practitioners. Sina was the editor-in-chief of William Andrew Publishing from 2005 to 2007, which was acquired by Elsevier in 2009.
He retired as a Senior Technology Associate in 2005 from the DuPont fluoropolymers after nearly 24 years of service. Sina founded of FluoroConsultants Group, LLC in 2006 where he continues to work. Sina earned his Bachelor of Science from the School of Engineering of the University of Tehran in 1976, Master of Science and PhD from the University of Michigan, Ann Arbor, all in Chemical Engineering.
He is author, editor and co-author of fifteen technical and data books including five handbooks on fluoropolymers technology and applications. He is author and co-author of three books in surface preparation and adhesion of materials, two of which are in their second editions. Sina has been involved with technical writing and publishing since 1974.
His experiences include fluoropolymer technologies (polytetrafluoroethylene and its copolymers) including polymerization, finishing, fabrication, product development, failure analysis, market development and technical service. Sina holds six patents.
Affiliations and Expertise
Fluoroconsultants Group, Chadds Ford, PA, USA
Tax Exemption
We cannot process tax exempt orders online. If you wish to place a tax exempt order please
contact us
.