Oxygen Sensing, Volume 381
1st Edition
Serial Volume Editors:
Gregg Semenza
Chandan Sen
Hardcover ISBN: 9780121827854
eBook ISBN: 9780080497198
Published Date: 26th March 2004
---
LUNG AND THE AIRWAYS
Assessment of oxygen sensing by model airway and arterial chemoreceptors P. J. Kemp, C.Peers

Methods to study neuroepithelial bodies as airway oxygen sensors. E. Cutz, X.W. Fu, H. Yeger

Role of glutathione redox state in oxygen sensing by carotid body chemoreceptor cells. C. Gonzalez, G. Sanz-Alfayate, A. Obeso, M. T. Agapito

Determination of signaling pathways responsible for hypoxic pulmonary vasoconstriction: use of the small vessel myograph J. P.T. Ward, V. A. Snetkov

Oxygen-dependent regulation of pulmonary circulation R.M. Tuder, S. McGrath, N. F. Voelkel, M. W. Geraci

Detection of oxygen sensing during intermittent hypoxia N. R. Prabhakar,Y.J. Peng, J. L. Overholt, G K. Kumar

Functional analysis of the role of HIF-1 in the pathogenesis of hypoxic pulmonary hypertension G. L. Semenza, L. A. Shimoda
CARDIOVASCULAR AND BLOOD
Perceived hyperoxia: oxygen regulated signal transduction pathways in the heart S. Roy, S. Khanna, C. K. Sen

Evaluation of Cytochrome P450-4A omega-Hydroxylase and 20-HETE as an O2 Sensing Mechnism in the Microcirculation

Assessment of roles for oxidant mechanisms in vascular oxygen sensing M. S. Wolin, P. M. Kaminski, M. Ahmad, S. A. Gupte Department of Physiology, New York Medical College, Valhalla, USA.

Survival surgery for coronary occlusion and reoxygenation in a rodent model W. A. Wallace, A. J. Cardounel, S. Khanna, C. K. Sen

Measurement of in vivo oxidative stress regulated by the Rac1
---
The ability of cells to sense and respond to changes in oxygenation underlies a multitude of developmental, physiological, and pathological processes. This volume provides a comprehensive compendium of experimental approaches to the study of oxygen sensing in 48 chapters that are written by leaders in their fields.
Biochemists, cell biologists, molecular biologists, and geneticists
---
No. of pages:

824
Language:

English
Copyright:

© Academic Press

2004
Published:

26th March 2004
Imprint:

Academic Press
eBook

ISBN:

9780080497198
Hardcover

ISBN:

9780121827854
---
About the
Serial Volume Editors
Gregg Semenza Serial Volume Editor
Affiliations and Expertise
John Hopkins University School of Medicine, Baltimore, Maryland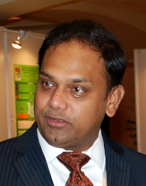 Chandan Sen Serial Volume Editor
Dr. Chandan K Sen is a tenured Professor of Surgery, Executive Director of The Ohio State University Comprehensive Wound Center and Director of the Ohio State University's Center for Regenerative Medicine & Cell Based Therapies. He is also the Associate Dean for Research at The Ohio State University Wexner Medical Center. After completing his Masters of Science in Human Physiology from the University of Calcutta, Dr. Sen received his PhD in Physiology from the University of Kuopio in Finland. Dr. Sen trained as a postdoctoral fellow at the University of California at Berkeley's Molecular and Cell Biology department. His first faculty appointment was in the Lawrence Berkeley National Laboratory in California. In fall of 2000, Dr. Sen moved to The Ohio State University where established a program on tissue injury and repair. Currently, Dr. Sen is a Professor and Vice Chair of Research of Surgery. Dr. Sen serves on the editorial board of numerous scientific journals. He is the Editor in Chief of Antioxidants & Redox Signaling(www.liebertpub.com/ars) with a current impact factor of 8.456. He is the Section Editor of microRNA of Physiological Genomics, a journal of the American Physiological Society. Dr. Sen and his team have published over 250 scientific publications. He has a H-index of 64 and is currently cited 2000 times every year.
Affiliations and Expertise
The Ohio State University, Wexner Medical Center, Columbus, Ohio, USA