Oxygen Sensing, Volume 381
1st Edition
Serial Volume Editors:
Gregg Semenza
Chandan Sen
Hardcover ISBN: 9780121827854
eBook ISBN: 9780080497198
Published Date: 26th March 2004
Secure Checkout
Personal information is secured with SSL technology.
Free Shipping
Free global shipping
No minimum order.
---
LUNG AND THE AIRWAYS
Assessment of oxygen sensing by model airway and arterial chemoreceptors P. J. Kemp, C.Peers

Methods to study neuroepithelial bodies as airway oxygen sensors. E. Cutz, X.W. Fu, H. Yeger

Role of glutathione redox state in oxygen sensing by carotid body chemoreceptor cells. C. Gonzalez, G. Sanz-Alfayate, A. Obeso, M. T. Agapito

Determination of signaling pathways responsible for hypoxic pulmonary vasoconstriction: use of the small vessel myograph J. P.T. Ward, V. A. Snetkov

Oxygen-dependent regulation of pulmonary circulation R.M. Tuder, S. McGrath, N. F. Voelkel, M. W. Geraci

Detection of oxygen sensing during intermittent hypoxia N. R. Prabhakar,Y.J. Peng, J. L. Overholt, G K. Kumar

Functional analysis of the role of HIF-1 in the pathogenesis of hypoxic pulmonary hypertension G. L. Semenza, L. A. Shimoda
CARDIOVASCULAR AND BLOOD
Perceived hyperoxia: oxygen regulated signal transduction pathways in the heart S. Roy, S. Khanna, C. K. Sen

Evaluation of Cytochrome P450-4A omega-Hydroxylase and 20-HETE as an O2 Sensing Mechnism in the Microcirculation

Assessment of roles for oxidant mechanisms in vascular oxygen sensing M. S. Wolin, P. M. Kaminski, M. Ahmad, S. A. Gupte Department of Physiology, New York Medical College, Valhalla, USA.

Survival surgery for coronary occlusion and reoxygenation in a rodent model W. A. Wallace, A. J. Cardounel, S. Khanna, C. K. Sen

Measurement of in vivo oxidative stress regulated by the Rac1 GTPase K. Irani, M. Ozaki

Proteomic analysis of the mammalian cell nucleus A. K. Tewari, S. Roy, S. Khanna, Chandan K. Sen

Oxygen-dependent regulation of erythropoiesis J. T. Prchal, J. Jelinek

Physiological responses to chronic anemia in fetal sheep L. Davis, R. Hohimer

Hypoxia-Inducible Factor 1 alpha-Deficient Chimeric Mice as a Model to Study Abnormal B Lymphocyte Development and Autoimmunity
ION CHANNELS
Molecular strategies for studying oxygen-sensitive K+ channels E. Honore, K. Buckler

Oxygen sensing by human recombinant K(+) channel: assessment of the use of stable cell lines P. J. Kemp, D. Iles, C. Peers

Methods to study oxygen-sensing sodium channels A. K. M. Hammarstrom, P. W. Gage

Analysis of oxygen-sensitive human cardiac L-type Ca(2+) channel alpha(1C) subunit (hHT isoform) C. Peers, J. L. Scragg, I. M. Fearon, S. G. Ball, A. Schwartz, G. Varadi
TUMOR BIOLOGY
Analysis of von Hippel-Lindau tumour suppressor as mediator of cellular oxygen sensing P. J. Ratcliffe, N. Masson

Analysis of the von Hippel-Lindau hereditary cancer syndrome: implications of oxygen sensing W. G. Kaelin Jr., H. Yang, M. Ivan, J-H. Min, W. Kim

Tumor hypoxia and malignant progression P. Vaupel, A. Mayer, M. Hockel
METABOLISM
Oxygen dependent regulation of hepatic glucose metabolism T. Kietzmann

Assessing oxygen sensitivity of the multiple drug resistance (MDR1) gene S. P. Colgan, K. M. Comerford

Oxygen-dependent regulation of adipogenesis A. J. Giaccia, L. M. Swiersz, Z. Yun
NERVOUS SYSTEM
Methods to detect hypoxia-induced ischemic tolerance in the brain F. R. Sharp, M. Bernaudin

Proximal middle cerebral artery occlusion surgery for the study of ischemia-reoxygenation injury in the brain A.J. Cardounel, W. A. Wallace, C. K. Sen

Carotid chemodenervation approach to study oxygen sensing in brainstem O. Pascual, J-C. Roux, C. Soulage, M-P. Morin-Surun, M. Denavit-Saubie, J-M. Pequignot

Discovery of oxygen responsive genes in pheochromocytoma cells D. E. Millhorn, K. A. Seta, T. K. Ferguson
GENERAL
Oxygen-dependent asparagines hydroxylation J. Gorman, D. J. Peet, D. Lando, D. A. Whelan, M. L. Whitelaw

Deciphering of the oxygen sensing pathway by microscopy H. Acker, C. Huckstorf, H. Sauer, T. Streller, M. Wartenberg

Identification of CREB-dependent transcriptional responses in hypoxia by microarray analysis C. T. Taylor, M. O. Leonard, S. O'Reilly, K. M. Comerford
WOUND HEALING
Determination of the role of HIF-1 in wound healing J. E. Albina, J. S. Reichner

Measuring oxygen in wounds H. W. Hopf, T. K. Hunt, H. Scheuenstuh., J. M. West, L. M. Humphrey, M.D. Rollins

Regulatory role of lactate in wound repair M. Z. Hussain, Q. P. Ghani, S. Wagner, H. D. Becker, T. K. Hunt

Protocols for Topical and Systemic Oxygen Treatments in Wound Healing G. M. Gordillo, R. Schlanger, W. A. Wallace, V. Bergdall, R. Bartlett
UNICELLULAR SYSTEMS
Measurement of oxidative stress in cells exposed to hypoxia or other changes in oxygen concentration R. O. Poyton, R. Dirmeier, K. O'Brien, M. Engle, A. Dodd, E. Spears

Evaluation of oxygen response involving differential gene expression in Chlamydomonas reinhardtii J. del Campo, J. M. Quinn, S. Merchant

Resonance Raman and ligand binding analysis of the oxygen-sensing signal transducer protein HemAT from Bacillus subtilis S. Aono, H. Nakajima, T. Ohta, T. Kitagawa

Analysis of FNR as oxygen sensor in Escherichia coli R. A. Schmitz, S. Achebach, G. Unden

Experimental strategies for analyzing oxygen sensing in yeast R.O. Poyton, R. Dirmeier, K. O'Brien, P. David, A. Dodd
PHYSICAL DETECTION OF OXYGEN
Measuring tissue pO2 with microelectrodes D. G. Buerk

Identifying oxygen sensors by their photochemical action spectra D. F. Wilson

Fabrication and in vivo evaluation of NO-releasing electrochemical oxygen sensing catheters M. E. Meyerhoff, M. C. Frost

Methods in optical oxygen sensing: protocols and critical analyses D. B. Papkovsky

Concurrent 31P NMR spectroscopy and fiber-optic oxygen consumption measurements in perfused rat hearts P. Pantano, P. Zhao, Y. Zhao, A. D. Sherry

MICROXYMETRY: An EPR Spectroscopy Based Method for Simultaneous Measurements of Oxygen Utilization and Free Radicals Production in Enzymatic Reactions G. Ilangovan, J. L. Zweier, P. Kuppusamy
---
The ability of cells to sense and respond to changes in oxygenation underlies a multitude of developmental, physiological, and pathological processes. This volume provides a comprehensive compendium of experimental approaches to the study of oxygen sensing in 48 chapters that are written by leaders in their fields.
Biochemists, cell biologists, molecular biologists, and geneticists
---
No. of pages:

824
Language:

English
Copyright:

© Academic Press

2004
Published:

26th March 2004
Imprint:

Academic Press
Hardcover

ISBN:

9780121827854
eBook

ISBN:

9780080497198
---
About the
Serial Volume Editors
Affiliations and Expertise
John Hopkins University School of Medicine, Baltimore, Maryland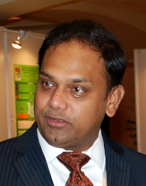 Dr. Chandan K Sen is a tenured Professor of Surgery, Executive Director of The Ohio State University Comprehensive Wound Center and Director of the Ohio State University's Center for Regenerative Medicine & Cell Based Therapies. He is also the Associate Dean for Research at The Ohio State University Wexner Medical Center. After completing his Masters of Science in Human Physiology from the University of Calcutta, Dr. Sen received his PhD in Physiology from the University of Kuopio in Finland. Dr. Sen trained as a postdoctoral fellow at the University of California at Berkeley's Molecular and Cell Biology department. His first faculty appointment was in the Lawrence Berkeley National Laboratory in California. In fall of 2000, Dr. Sen moved to The Ohio State University where established a program on tissue injury and repair. Currently, Dr. Sen is a Professor and Vice Chair of Research of Surgery. Dr. Sen serves on the editorial board of numerous scientific journals. He is the Editor in Chief of Antioxidants & Redox Signaling(www.liebertpub.com/ars) with a current impact factor of 8.456. He is the Section Editor of microRNA of Physiological Genomics, a journal of the American Physiological Society. Dr. Sen and his team have published over 250 scientific publications. He has a H-index of 64 and is currently cited 2000 times every year.
Affiliations and Expertise
Wexner Medical Center, The Ohio State University, Columbus, Ohio, USA
Tax Exemption
We cannot process tax exempt orders online. If you wish to place a tax exempt order please
contact us
.
Elsevier.com visitor survey
We are always looking for ways to improve customer experience on Elsevier.com.
We would like to ask you for a moment of your time to fill in a short questionnaire, at the end of your visit.

If you decide to participate, a new browser tab will open so you can complete the survey after you have completed your visit to this website.

Thanks in advance for your time.
Accept
Decline