Neuroeconomics
1st Edition
Decision Making and the Brain
Editors:
Paul W. Glimcher
Ernst Fehr
Colin Camerer
Russell Poldrack
Hardcover ISBN: 9780123741769
eBook ISBN: 9780080921068
Published Date: 3rd October 2008
---
Neuroeconomics is a new highly promising approach to understanding the neurobiology of decision making and how it affects cognitive social interactions between humans and societies/economies. This book is the first edited reference to examine the science behind neuroeconomics, including how it influences human behavior and societal decision making from a behavioral economics point of view. Presenting a truly interdisciplinary approach, Neuroeconomics presents research from neuroscience, psychology, and behavioral economics, and includes chapters by all the major figures in the field, including two Economics Nobel laureates.
An authoritative reference written and edited by acknowledged experts and founders of the field
Presents an interdisciplinary view of the approaches, concepts, and results of the emerging field of neuroeconomics relevant for anyone interested in this area of research
Full-color presentation throughout with carefully selected illustrations to highlight key concepts
Researchers and graduate students in: neuroeconomics, cognitive neuroscience, cognitive psychology, systems neuroscience, behavioral neuroscience, cognitive psychology, neuropsychology, as well as behavioral and theoretical economics.
Editor in Chief: Paul W. Glimcher, New York University Associate Editors: Colin Camerer, CalTech Ernst Fehr, University of Zurich Russ Poldrak, UCLA Wolfram Schultz: Dopamine and Decision Camillo Padua-Schioppa and John Assad: Coding Reward Value in the Orbitofrontal Cortex Russ Poldrak and Craig Fox: Prospect Theory, Decision and Risk Brian Knutson and Maricio Delgado: Neural Representations of Value Elke Weber: Neural Representations of Risk and Risk Aversion David Laibson: Decisions in Time: Temporal Discounting George Loewenstein and Jon Cohen: Multiple-Selves Approaches to the Study of Decision Paul Glimcher: A Generalized Theory of Neural Decision Elizabeth Phelps: Fear, Emotion and Decision Michael Platt: The Neurobiology of Social Decision in Non-Human Primates Read Montague: 2-person games and decision Kevin McCabe and Vernon Smith: Cooperation and Social Decision Making Ernst Fehr: Social Decision making, Trust and Inequity Aversion Aldo Rustichini and Andrew Caplin: Axiomatic Approaches to Neuroeconomics Colin Camerer: Games and Decision, a Neurocognitive Approach
No. of pages:

556
Language:

English
Copyright:

© Academic Press

2009
Published:

3rd October 2008
Imprint:

Academic Press
eBook

ISBN:

9780080921068
Hardcover

ISBN:

9780123741769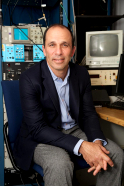 Paul W. Glimcher, Julius Silver Professor of Neural Science, Economics and Psychology at New York University. Director, Center for Neuroeconomics, NYU. A.B. - Princeton University, Magna cum Laude. Ph.D. -University of Pennsylvania, Neuroscience. Fellow of the American Association for the Advancement of Science, The Association for Psychological Science and the McKnight, Whitehall, Klingenstein and McDonnell Foundations. Investigator of the National Eye Institute, The National Institute of Mental Health, the National Institute of Neurological Disorders and Stroke and the National Institute on Aging. Founding President of the Society for Neuroeconomics. Winner of the Margaret and Herman Sokol Faculty Award in the Sciences, 2003. Winner of NYU's Distinguished (Lifetime Accomplishment) Teaching Award, 2006. Member of the Dana Alliance for Brain Initiatives. Publications in Nature, Science, Neuron, Journal of Neurophysiology, American Economic Review, Quarterly Journal of Economics, Games and Economic Behavior, Vision Research, Experimental Brain Research, MIT Encyclopedia of Cognitive Science, International Encyclopedia of Social and Behavioral Science and numerous edited volumes. He is the author of: Decisions, Uncertainty and, the Brain: The Science of Neuroeconomics, 2003 from MIT Press. Winner of the American Association of Publishers Medical Sciences Book of the Year, 2003. Neuroeconomics. Decision Making and the Brain, 2009 from Academic Press. Winner of the American Association of Publishers Economics and Social Sciences Book of the Year Awards, 2009. Foundations of Neuroeconomic Analysis, 2011 from Oxford University Press. Neuroeconomics. Decision Making and the Brain 2nd ed. 2013. Professor Glimcher's work has been covered by the popular press in the Wall Street Journal, Time, Newsweek, The Los Angeles Times, Money Magazine, New Scientist, and on National Public Radio, The BBC, Le Monde, Die Welt, Frankfurter Allgemeine, La Vanguardia, Fox News, and NOVA amongst others. http://www.neuroeconomics.nyu.edu http://www.cns.nyu.edu/~glimcher
Affiliations and Expertise
New York University, Center for Neural Sciences, NY, USA
Affiliations and Expertise
University of Zurich, Department of Economics, Laboratory for the Study of Social and Neural Systems
Affiliations and Expertise
CalTech, Division of the Humanities and Social Sciences, Pasadena, USA
Affiliations and Expertise
University of California, Los Angeles, USA
'Neuroeconomics is a timely collection of papers by leading researchers from both sides of the border between economics and neuroscience. The papers reflect a high level of focused communication between scholars in fields that until recently studied decision-making at different levels using different methods, with little fruitful interaction. The book should be of interest to anyone who would like to know how a deeper understanding of process can enrich and refine economic theories of decision-making; to anyone who would like to know how economic theory can inform research in neuroscience; or simply to anyone who has ever wondered about the mechanics of how decisions are made in the brain, and what it means about human nature.' – Vince Crawford, Distinguished Professor of Economics, University of California, San Diego, USA
'Neuroeconomics: Decision Making and the Brain is a landmark publication in the rapidly expanding field of neuroeconomics. The list of contributors is exceptional. The content is completely up to date and forward looking. For the foreseeable future, this will be the standard reference for newcomers and experienced researchers alike.' – David Laibson, Professor of Economics, Harvard University, USA
'Economists pride themselves of rigorous parsimony. By taking the neural correlates of behavior into account, potentially explanatory variables explode. This book shows when digging deeper nonetheless pays for economics, and how to do it well.' - Christoph Engel, Director, Max Planck Institute for Research on Collective Goods, Bonn, Germany
'This collection of chapters on neuroeconomics provides an integrated introduction to how brains compute value, make choices, interact socially and collectively create economics. Neuroeconomics is also a fascinating story of how a new paradigm emerged from the collision of two parent disciplines and is continuing to evolve in often surprising directions.' - Terrence Sejnowski, Professor and Director,
Computational Neurobiology Laboratory, Howard Hughes Medical Institute, Salk Institute for Biological Studies, University of California, San Diego, USA
'For those onlookers who can't quite accept that neuroscience may provide insight into how we decide what course of action to follow, the contributors to this comprehensive volume offer some very compelling, and very serious experimental and theoretical insights. Highly recommended, and enormously provocative.' - Floyd Bloom, Professor Emeritus, Molecular and Integrative Neuroscience Department, The Scripps Research Institute, La Jolla, USA
'Paul Glimcher is one of the founders of and most distinguished contributors to the emerging science of neuroeconomics. He has edited a volume that offers a clear view into the brains of some of the field's most active investigators.' – Alvin E. Roth, George Gund Professor of Economics and Business Administration, Harvard University, USA