Modern Computational Approaches to Traditional Chinese Medicine
1st Edition
Editors:
Zhaohui Wu
Huajun Chen
Xiaohong Jiang
eBook ISBN: 9780123985194
Hardcover ISBN: 9780123985101
Paperback ISBN: 9780323282727
Published Date: 13th July 2012
---
Recognized as an essential component of Chinese culture, Traditional Chinese Medicine (TCM) is both an ancient medical system and one still used widely in China today. TCM's independently evolved knowledge system is expressed mainly in the Chinese language and the information is frequently only available through ancient classics and confidential family records, making it difficult to utilize. The major concern in TCM is how to consolidate and integrate the data, enabling efficient retrieval and discovery of novel knowledge from the dispersed data. Computational approaches such as data mining, semantic reasoning and computational intelligence have emerged as innovative approaches for the reservation and utilization of this knowledge system. Typically, this requires an inter-disciplinary approach involving Chinese culture, computer science, modern healthcare and life sciences. This book examines the computerization of TCM information and knowledge to provide intelligent resources and supporting evidences for clinical decision-making, drug discovery, and education. Recent research results from the Traditional Chinese Medicine Informatics Group of Zhejiang University are presented, gathering in one resource systematic approaches for massive data processing in TCM. These include the utilization of modern Semantic Web and data mining methods for more advanced data integration, data analysis and integrative knowledge discovery. This book will appeal to medical professionals, life sciences students, computer scientists, and those interested in integrative, complementary, and alternative medicine.
Interdisciplinary book bringing together Traditional Chinese Medicine and computer scientists
Introduces novel network technologies to Traditional Chinese Medicine informatics
Provides theory and practical examples and case studies of new techniques
Researchers and professionals working in medical fields and computer science
Preface
List of Contributors
1. Overview of Knowledge Discovery in Traditional Chinese Medicine
1.1 Introduction
1.2 The State of the Art of TCM Data Resources
1.3 Review of KDTCM Research
1.4 Discussions and Future Directions
1.5 Conclusions
REFERENCES
2. Integrative Mining of Traditional Chinese Medicine Literature and MEDLINE for Functional Gene Networks
2.1 Introduction
2.2 Connecting TCM Syndrome to Modern Biomedicine by Integrative Literature Mining
2.3 Related Work on Biomedical Literature Mining
2.4 Name Entity and Relation Extraction Methods
2.5 MeDisco/3S System
2.6 Results
2.7 Conclusions
REFERENCES
3. MapReduce-Based Network Motif Detection for Traditional Chinese Medicine
3.1 Introduction
3.2 Related Work
3.3 MapReduce-Based Pattern Finding
3.4 Application to Prescription Compatibility Structure Detection
3.5 Conclusions
REFERENCES
4. Data Quality for Knowledge Discovery in Traditional Chinese Medicine
4.1 Introduction
4.2 Key Data Quality Dimensions in TCM
4.3 Methods to Handle Data Quality Problems
4.4 Conclusions
REFERENCES
5. Service-Oriented Data Mining in Traditional Chinese Medicine
5.1 Introduction
5.2 Related Work
5.3 System Architecture and Data Mining Service
5.4 Case Studies
5.5 Conclusions
REFERENCES
6. Semantic E-Science for Traditional Chinese Medicine
6.1 Introduction
6.2 Results
6.3 Discussion
6.4 Conclusions
6.5 Methods
REFERENCES
7. Ontology Development for Unified Traditional Chinese Medical Language System
7.1 Introduction
7.2 The Principle and Knowledge System of TCM
7.3 What Is an Ontology?
7.4 Protégé 2000: The Tool We Use
7.5 Ontology Design and Development for UTCMLS
7.6 Results
7.7 Conclusions
REFERENCES
8. Causal Knowledge Modeling for Traditional Chinese Medicine Using OWL 2
8.1 Introduction
8.2 Causal TCM Knowledge Modeling
8.3 Causal Reasoning
8.4 Evaluation
8.5 Conclusions
REFERENCES
9. Dynamic Subontology Evolution for Traditional Chinese Medicine Web Ontology
9.1 Introduction
9.2 TCM Domain Ontology
9.3 Subontology Model
9.4 Ontology Cache for Knowledge Reuse
9.5 Dynamic Subontology Evolution
9.6 Experiment and Evaluation
9.7 Related Work
9.8 Conclusions
REFERENCES
10. Semantic Association Mining for Traditional Chinese Medicine
10.1 Introduction
10.2 Related Work
10.3 Methods
10.4 Evaluation
10.5 Use Cases
10.6 Conclusions
REFERENCES
11. Semantic-Based Database Integration for Traditional Chinese Medicine
11.1 Introduction
11.2 System Architecture and Technical Features
11.3 Semantic Mediation
11.4 TCM Semantic Portals
11.5 User Evaluation and Lesson Learned
11.6 Related Work
11.7 Conclusions
REFERENCES
12. Probabilistic Semantic Relationship Discovery from Traditional Chinese Medical Literature
12.1 Background
12.2 Related Work
12.3 Methods
12.4 Results and Discussions
12.5 Conclusions
REFERENCES
13. Deriving Similarity Graphs from Traditional Chinese Medicine Linked Data on the Semantic Web
13.1 Introduction
13.2 Related Work
13.3 SST Approach
13.4 Experiments and Results
13.5 Conclusions
REFERENCES
No. of pages:

250
Language:

English
Copyright:

© Elsevier

2012
Published:

13th July 2012
Imprint:

Elsevier
eBook

ISBN:

9780123985194
Hardcover

ISBN:

9780123985101
Paperback

ISBN:

9780323282727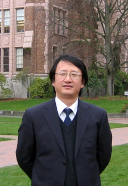 Department of Computer Science, Zhejiang University, Hangzhou, China
Affiliations and Expertise
Department of Computer Science, Zhejiang University, Hangzhou, China
Department of Computer Science, Zhejiang University, Hangzhou, China
Affiliations and Expertise
Department of Computer Science, Zhejiang University, Hangzhou, China
"This book examines the computerization of TCM information and knowledge to provide intelligent resources and supporting evidences for clinical decision-making, drug discovery, and education...This book will appeal to medical professionals, life sciences students, computer scientists, and those interested in integrative, complementary, and alternative medicine."--Zentralblatt MATH 1286-1