Laboratory Manual of Biomathematics
1st Edition
Authors:
Raina Robeva
James Kirkwood
Paperback ISBN: 9780123740229
eBook ISBN: 9780080565040
Published Date: 28th August 2007
---
Designed as supplemental material to the textbook An Invitation to Biomathematics, this laboratory manual expertly aids students who wish to gain a deeper understanding of solving biological issues with computer programs. This manual provides hands-on exploration of model development, model validation, and model refinement, enabling students to truly experience advancements made in biology by mathematical models. Each of the projects offered can be used as individual module in traditional biology or mathematics courses such as calculus, ordinary differential equations, elementary probability, statistics, and genetics.
This manual is a companion to the textbook, An Invitation of Biomathematics (sold separately ISBN: 0120887711; or as a set ISBN: 0123740290).
Can be used as a computer lab component of a course in biomathematics or as homework projects for independent student work
Biological topics include: Ecology, Toxicology, Microbiology, Epidemiology, Genetics, Biostatistics, Physiology, Cell Biology, and Molecular Biology
Mathematical topics include: Discrete and continuous dynamical systems, difference equations, differential equations, probability distributions, statistics, data transformation, risk function, statistics, approximate entropy, periodic components, and pulse-detection algorithms
Includes more than 120 exercises derived from ongoing research studies
Courses in mathematical biology, undergraduate biology majors, as well as general mathematics. The reader is not expected to have any extensive background in either math or biology.
Preface Laboratory 1 Exploring Berkeley Madonna in the Context of Single-Species Population Dynamics Laboratory 2 Logistic Models of Single-Species Population Dynamics, Equilibrium States, and Long-Term Behavior Laboratory 3 Physiological Mechanisms of Drug Elimination from the Bloodstream and Optimal Drug Intake Regimens Laboratory 4 Epidemic Models Laboratory 5 Predator–Prey Models Laboratory 6 Selection in Genetics: The Effect of A Maladaptive or Lethal Gene Laboratory 7 Quantitative Genetics and Statistics Laboratory 8 Blood Glucose Fluctuation Characteristics in Type I versus Type II Diabetes Mellitus Laboratory 9 Using Heartbeat Characteristics and Patterns to Predict Sepsis in Neonates Laboratory 10 Hormone Pulsatility in Reproductive Endocrinology Laboratory 11 Endocrine Oscillators: Modeling and Analysis of the Growth Hormone Network Laboratory 12 Chemical Perturbation on the Operations of Circadian Clocks
No. of pages:

192
Language:

English
Copyright:

© Academic Press

2008
Published:

28th August 2007
Imprint:

Academic Press
eBook

ISBN:

9780080565040
Paperback

ISBN:

9780123740229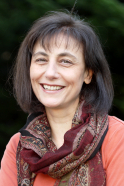 Raina Robeva was born in Sofia, Bulgaria. She has a PhD in Mathematics from the University of Virginia and has led multiple NSF-funded curriculum development projects at the interface of mathematics and biology. She is the lead author of the textbook An Invitation to Biomathematics (2008) and the lead editor of the volume Mathematical Concepts and Methods in Modern Biology: Using Modern Discrete Models (2013), both published by Academic Press. Robeva is the founding Chief Editor of the research journal Frontiers in Systems Biology. She is a professor of Mathematical Sciences at Sweet Briar College and lives in Charlottesville, Virginia.
Affiliations and Expertise
Professor of Mathematical Sciences, Sweet Briar College, Sweet Briar, VA, USA
Affiliations and Expertise
Sweet Briar College, Virginia, U.S.A.