Immunoglobulin Genes
2nd Edition
Editors:
Tasuku Honjo
Frederick Alt
eBook ISBN: 9780080534510
Published Date: 27th September 1995
---
The immunoglobulin gene complex is responsible for generating an extraordinarily wide range of antibodies, each possessing a unique antigen specificity. The Second Edition of Immunoglobulin Genes brings the reader up to date with the rapid progress in our understanding of this system. Firmly established as the definitive book on the topic, it provides a fully comprehensive account of the organization, function, rearrangement and expression of these and related genes. Since the publication of the first edition, the work has been extensively revised and updated to cover new research data on human immunoglobulin genes as well as mammalian and lower vertebrate systems. New chapters include "Somatic mutation and B cell Maturation", "Antigen receptors" and "B lymphocyte tolerance in the mouse." For the immunologist, there are detailed descriptions of the molecular mechanisms which generate this diverse range of antibodies and the tight regulation of the genes encoding them. Molecular biologists will find discussions of important phenomena including gene rearrangement, differential splicing and deletion in the context of immunoglobulin genes. The excitement of research on immunoglobulin genes is conveyed by the range and complexity of issues discussed here; the book contains invaluable information for clinicians and research scientists with an interest in the immune response.
Conveys the excitement of research on immunoglobulin genes by the range and complexity of issues
Contains invaluable information for clinicians and research scientists with an interest in the immune response
For the Immunologist
Detailed descriptions of the molecular mechanisms generating this diverse range of antibodies and the regulation of genes encoding them
For the Molecular Biologist
Discusses important phenomena including gene rearrangement, differential splicing, and deletion in the context of immunoglobulin genes.
B Cells: Human B-Cell Differentiation. Murine B-Cell Differentiation. Somatic Mutation and B-Cell Maturation. Development of B-Cell Subsets. Regulation of B-Cell Differentiation By Stroma Cells. Antigen Receptors. Organization and Rearrangement of Immunoglobulin Genes: Immunoglobulin Heavy Chain Loci in Mouse and Men. The Human Immunoglobulin Genes. Organization of Lambda Chain Genes. VDJ Recombination. Regulation of Class Switch Recombination of the Immunoglobulin Heavy Chain Genes. Organization and Expression of Chicken and Sheep Ig Genes. Immunoglobulin Heavy Chain Genes of Rabbit. The Structure and Organization of Immunoglobulin Genes in Lower Vertebrates. Immunoglobulin Gene Expression: Ig Gene Expression and Regulation in Ig Transgenic Mice. B-Lymphocyte Tolerance in the Mouse. Auto Antibodies. Regulation of Ig H and L Chain Gene Transcription. Subject Index.
No. of pages:

443
Language:

English
Copyright:

© Academic Press

1995
Published:

27th September 1995
Imprint:

Academic Press
eBook

ISBN:

9780080534510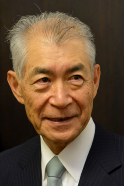 Dr. Tasuku Honjo graduated from Kyoto University Faculty of Medicine in 1966 (M.D.). After obtaining his Ph.D. in Biochimistry (Dr. O. Hayaishi), he spent 4 years in the U.S.A. as a postdoctoral fellow first in Carnegie Institution of Washington (Dr. D. Brown), and then in NIH (Dr. P. Leder) where he initiated studies on immunoglobulin genes. He returned to Tokyo University as an assistant professor in 1974, and then moved to Osaka University School of Medicine as Professor of Genetics in 1979. He succeeded to Dr. O. Hayaishi after his retirement at the Department of Medical Chemistry in Kyoto University. He also served as Dean of Medical School (1996-2000 and 2004-2005), and Executive Member of Council for Science and Technology Policy, Cabinet Office (2006-2012). Currently, he is Professor of Department of Immunology and Genomic Medicine, Kyoto University, and also Chairman of Board of Directors, Shizuoka Prefectural University Corporation.
Dr. Honjo is well known for his discovery of activation-induced cytidine deaminase that is essential for class switch recombination and somatic hypermutation. He has established the basic conceptual framework of class switch recombination starting from discovery of DNA deletion (1978) and S regions (1980), followed by elucidation of the whole mouse immunoglobulin heavy-chain locus. His contribution further extended to cDNA cloning of IL-4 and IL-5 cytokines involved in class switching and IL-2 receptor alpha chain. Aside from class switching recombination, he discovered PD-1 (program cell death 1), a negative coreceptor at the effector phase of immune response and showed that PD-1 modulation contributes to treatments of viral infection, tumor and autoimmunity. In addition, he is known to be a discoverer of RBP-J, a nuclear protein that interacts with the intracellular domain of Notch in the nucleus. Notch/RBP-J signaling has been shown to regulate a variety of cell lineage commitment including T and B cells.
For these contributions, Dr. Honjo has received many awards, including the Noguchi Hideyo Memorial Prize for Medicine (1981), Imperial Prize, Japan Academy Prize (1996), Robert Koch Prize (2012), and Order of Culture (2013). He is an honorary member of the American Association of Immunologists. He has been honored by the Japanese Government as a person of cultural merits (2000). He has also been elected as a foreign associate of National Academy of Sciences, USA in 2001, as a member of Leopoldina, the German Academy of Natural Scientists in 2003, and as a member of Japan Academy in 2005.
Affiliations and Expertise
Frederick W. Alt is a Howard Hughes Medical Institute (HHMI) Investigator and Director of the Program in Cellular and Molecular Medicine (PCMM) at Boston Children's Hospital (BCH). He is the Charles A. Janeway Professor of Pediatrics and Professor of Genetics at Harvard Medical School. He works on elucidating mechanisms that generate antigen receptor diversity and, more generally, on mechanisms that generate and suppress genomic instability in mammalian cells, with a focus on the immune and nervous systems. Recently, his group has developed senstive genome-wide approaches to identify mechanisms of DNA breaks and rearrangements in normal and cancer cells. He has been elected to the U.S. National Academy of Sciences, the U.S. National Academy of Medicine, and the European Molecular Biology Organization. His awards include the Albert Szent-Gyorgyi Prize for Progress in Cancer Research, the Novartis Prize for Basic Immunology, the Lewis S. Rosensteil Prize for Distinugished work in Biomedical Sciences, the Paul Berg and Arthur Kornberg Lifetime Achievement Award in Biomedical Sciences, and the William Silan Lifetime Achievement Award in Mentoring from Harvard Medical School.
Affiliations and Expertise
Howard Hughes Medical Institute Research Laboratories, The Children's Hospital, Boston, MA, USA
@From:Reviews of the First Edition: @qu:"An enormous amount of material is condensed in this book... it is useful for advanced students or postdocs who want to gain access to the field, as well as for researchers in the field who wish to check up on a particular aspect and/or find a quick way into the corresponding literature." @source:--IMMUNOLOGY TODAY @qu:"Compelling reading... the best available account of this fascinating and important subject." @source:--CELL BIOCHEMISTRY AND FUNCTION @qu:"As a celebration of the molecular achievements of the field, Immunoglobulin Genes is a benchmark reference." @source:--CANCER CELLS: A MONTHLY REVIEW @qu:"All chapters in the book are written by authorities in the field and it gives a thorough and accessible overview on a wide range of topics related to the lg genes... An excellent book." @source:--MOLECULAR IMMUNOLOGY @qu:"The editors and contributing authors of the book, all highly respected within the field, are to be congratulated on providing such a variety of informative and interesting articles... this volume is well-written and well-presented. This book will be of great use to those just beginning a career in immunology or to those in other fields wishing to familiarize themselves with the subject." @source:--TRENDS IN BIOCHEMICAL SCIENCES @qu:"Each chapter will bring the reader up to date. It summarizes the experiments and theories in a field with a solid foundation. It should be an important reference book." @source:--SCIENCE
Tax Exemption
We cannot process tax exempt orders online. If you wish to place a tax exempt order please
contact us
.