Idiotypes in Medicine: Autoimmunity, Infection and Cancer
1st Edition
Editors:
R.C. Kennedy
S. Ferrone
Yehuda Shoenfeld
Hardcover ISBN: 9780444828071
eBook ISBN: 9780080534435
Imprint: Elsevier Science
Published Date: 19th November 1997
---
This is the most comprehensive review of the idiotypic network available. All the current knowledge of idiotypes of the various antibodies is incorporated in this volume. The pathogenic role of idiotypes in autoimmunity and cancer is reviewed in depth. The therapeutic part focusses on harnessing anti-idiotypes for treating autoimmunological disorders, and on the employment of idiotypes for vaccines in cancer and infectious diseases, as well as explaining the manipulation of the idiotypic network in autoimmunity and cancer idiotypes and vaccines.
List of Contributors.
General Section
Anti-idiotypes as Vaccines: Theoretical Considerations ( A. Nisonoff)
Anti-idiotypes ( C.A. Bona)
X-ray Crystallographic Studies of the Idiotypic Cascade (N. Ban and A. McPherson)
The Structure and Thermodynamics of Antibody-Protein Antigen Interactions (B.C. Braden and R.J. Poljak)
Autoimmunity Section

Introduction - Idiotypes and Anti-idiotypes (M. Abu-Shakra, D. Buskila and Y. Shoenfeld)
Cross-Reactive Idiotypes in Human Lupus Families (P. Youinou)
Idiotypes of Anti-DNA Antibodies (D. Buskila, M. Abu-Shakra and Y. Shoenfeld)
Idiotypes of Anti-Sm Antibodies (H. Dang and N. Talal)
Idiotypes of anti-Ro and anti-La (Y.B. Dayan, H. Amital and Y. Shoenfeld)
Idiotypes on autoantibodies in myasthenia gravis (A.K. Lefvert)
Idiotypes of ANCA (E. Csernok and W.L. Gross)
Ig Genes and Idiotype of Anti-Mitochondrial Antibodies in Primary Biliary Cirrhosis (P.S.C. Leung and M.E. Gershwin)
Idiotypes of anti-Phospholipid Antibodies (R. Bakimer and Y. Shoenfeld)
Anti-Idiotypic antibodies Against Human Insulin autoantibodies (IAA) (S. Kyurkchiev, M. Stamenova, V. Manolova, V. Tsvetkova, L. Dakovska and I. Kehayov)
Molecular and cellular aspects of human rheumatoid factor production and idiotypes (R.A. Mageed, S.P. Moyes, K.M. Thompson and J.B. Natvig)
Idiotypes of anti-Thyroglobulin Antibodies (Y. Tomer)
Idiotypes of Human Platelet-Specific Antibodies (T.J. Kunicki and D.J. Nugent)
Idiotypes of platelet associated antibodies (Autoimmune thrombocytopenia) (M. Abu-Shakra, D. Bus
No. of pages:

540
Language:

English
Copyright:

© Elsevier Science

1997
Published:

19th November 1997
Imprint:

Elsevier Science
eBook

ISBN:

9780080534435
Hardcover

ISBN:

9780444828071
Affiliations and Expertise
Department of Microbiology and Immunology, The University of Oklahoma, Health Science Center, Oklahoma City, OK 73190, USA
Affiliations and Expertise
Department of Microbiology and Immunology, New York Medical College, Valhalla, NY 10595, USA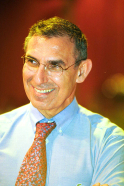 Prof. Yehuda Shoenfeld is the founder and head of the Zabludowicz Center for Autoimmune Diseases, at the Sheba Medical Center which is affiliated to the Sackler Faculty of Medicine in Tel-Aviv University, in Israel. Dr. Shoenfeld is the Incumbent of the Laura Schwarz-Kipp Chair for Research of Autoimmune Diseases at the Tel-Aviv University. His clinical and scientific works focus on autoimmune and rheumatic diseases, and he has published more than 1750 papers in journals such as New Eng J Med, Nature, Lancet, Proc Nat Acad Scie, J Clin Invest, J Immunol, Blood, FASEB, J Exp Med, Circulation, Cancer and others. His articles have had over 35,000 citations. He has written more than three hundred and fifty chapters in books, and has authored and edited 25 books, some of which became cornerstones in science and clinical practice, such as "The Mosaic of Autoimmunity", "Infections and Autoimmunity" and the textbook "Autoantibodies" and "Diagnostic criteria of autoimmune diseases", all of which were published by Elsevier and sold by the thousands. He is on the editorial board of 43 journals in the field of rheumatology and autoimmunity and is the founder and the editor of the IMAJ (Israel Medical Association Journal) the representative journal of science and medicine in the English language in Israel, and also is the founder and Editor of the "Autoimmunity Reviews" (Elsevier) (Impact factor 7.9) and Co-Editor of "Journal of Autoimmunity" (Impact factor 8.1). He has organized over 20 international congresses in autoimmunity. Prof. Shoenfeld received the EULAR prize in 2005, in Vienna, Austria: "The infectious etiology of anti-phospholipid syndrome". He has received a gold medal from the Slovak Society of Physicians for his contribution to Israel – Slovakia collaboration (March 2006), and is honorary member of the Hungarian Association of Rheumatology. In UC Davis, USA, Dr. Shoenfeld received the Nelson's Prize for Humanity and Science for 2008. In 2009 he was honore
Affiliations and Expertise
Zabludowicz Center for Autoimmune Diseases,Sheba Medical Center, Affiliate of Tel-Aviv University, Israel