Handbook of Statistics, Volume 27
1st Edition
Epidemiology and Medical Statistics
Series Volume Editors:
C.R. Rao
J. Miller
D.C. Rao
Hardcover ISBN: 9780444528018
eBook ISBN: 9780080554211
Published Date: 6th November 2007
---
Statistical Methods and Challenges in Epidemiology and Biomedical Research (Ross Prentice)
Statistical Inference for Causal Effects, with Emphasis on Applications in Epidemiology and Medical Statistics (Donald Rubin)
Epidemiological Study Designs (Kenneth Rothman, Sander Greenland, Timothy Lash)
Statistical Methods for Assessing Biomarkers and Analyzing Biomarker Data (Stephen Looney and Joseph Hagan)
Linear and Nonlinear Regression Methods in Epidemiology and Biostatistics (Charles McCulloch, David Glidden, Stephen Shiboski, Eric Vittinghoff)
Logistic Regression (Ed Spitznagel)
Count Response Regression Models (Joseph Hilbe and William Greene)
Mixed Models (Matthew Gurka and Lloyd Edwards)
Survival Analysis (John Klein and Meijie Zhang)
A Review of Statistical Analysis for Competing Risks (Melvin Moeschberger, Kevin Tordoff, Nidhi Kochar)
Cluster Analysis (Bill Shannon)
Factor Analysis and Related Methods (Carol Woods and Michael Edwards)
Structural Equations Modeling (Kentaro Hayashi, Peter Bentler, Ke-Hai Yuan)
Statistical Modeling in Biomedical Research: Longitudinal Data Analysis (Chengjie Xiong, Kejun Zhu, Kai Yu, Phil Miller)
Design and Analysis of Cross-Over Trials (Michael Kenward and Byron Jones)
Sequential and Group Sequential Designs in Clinical Trials: Guidelines for Practitioners (Madhu Mazumdar and Heejung Bang)
Early Phase Clinical Trials: Phase I and II (Feng Gao, Kim Trinkaus, Phil Miller)
Definitive Phase III and Phase IV Clinical Trials (Barry Davis and Sarah Baraniuk)
Incomplete Data in Epidemiology and Medical Statistics (Susanne Rassler, Donald Rubin, Elizabeth Zell)
Meta-Analysis (Ed Spitznagel)
The Multiple Com
---
This volume, representing a compilation of authoritative reviews on a multitude of uses of statistics in epidemiology and medical statistics written by internationally renowned experts, is addressed to statisticians working in biomedical and epidemiological fields who use statistical and quantitative methods in their work. While the use of statistics in these fields has a long and rich history, explosive growth of science in general and clinical and epidemiological sciences in particular have gone through a see of change, spawning the development of new methods and innovative adaptations of standard methods. Since the literature is highly scattered, the Editors have undertaken this humble exercise to document a representative collection of topics of broad interest to diverse users. The volume spans a cross section of standard topics oriented toward users in the current evolving field, as well as special topics in much need which have more recent origins. This volume was prepared especially keeping the applied statisticians in mind, emphasizing applications-oriented methods and techniques, including references to appropriate software when relevant.
· Contributors are internationally renowned experts in their respective areas · Addresses emerging statistical challenges in epidemiological, biomedical, and pharmaceutical research · Methods for assessing Biomarkers, analysis of competing risks · Clinical trials including sequential and group sequential, crossover designs, cluster randomized, and adaptive designs · Structural equations modelling and longitudinal data analysis
researchers graduate students consultants
Also: pharmaceutical companies (theoretical and applied statisticians) statisticians FDA, EPA, etc libraries
---
No. of pages:

870
Language:

English
Copyright:

© North Holland

2008
Published:

6th November 2007
Imprint:

North Holland
eBook

ISBN:

9780080554211
Hardcover

ISBN:

9780444528018
---
About the
Series Volume Editors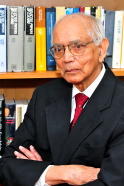 C.R. Rao Series Volume Editor
C. R. Rao, born in India, is one of this century's foremost statisticians, and received his education in statistics at the Indian Statistical Institute (ISI), Calcutta. He is Emeritus Holder of the Eberly Family Chair in Statistics at Penn State and Director of the Center for Multivariate Analysis. He has long been recognized as one of the world's top statisticians, and has been awarded 34 honorary doctorates from universities in 19 countries spanning 6 continents. His research has influenced not only statistics, but also the physical, social and natural sciences and engineering. In 2011 he was recipient of the Royal Statistical Society's Guy Medal in Gold which is awarded triennially to those "who are judged to have merited a signal mark of distinction by reason of their innovative contributions to the theory or application of statistics". It can be awarded both to fellows (members) of the Society and to non-fellows. Since its inception 120 years ago the Gold Medal has been awarded to 34 distinguished statisticians. The first medal was awarded to Charles Booth in 1892. Only two statisticians, H. Cramer (Norwegian) and J. Neyman (Polish), outside Great Britain were awarded the Gold medal and C. R. Rao is the first non-European and non-American to receive the award. Other awards he has received are the Gold Medal of Calcutta University, Wilks Medal of the American Statistical Association, Wilks Army Medal, Guy Medal in Silver of the Royal Statistical Society (UK), Megnadh Saha Medal and Srinivasa Ramanujan Medal of the Indian National Science Academy, J.C.Bose Gold Medal of Bose Institute and Mahalanobis Centenary Gold Medal of the Indian Science Congress, the Bhatnagar award of the Council of Scientific and Industrial Research, India and the Government of India honored him with the second highest civilian award, Padma Vibhushan, for "outstanding contributions to Science and Engineering / Statistics", and also instituted a cash award in honor of C R Rao, "to b
Affiliations and Expertise
The Pennsylvania State University, University Park, PA, USA
J. Miller Series Volume Editor
Affiliations and Expertise
Washington University School of Medicine, St. Louis, MO, USA
D.C. Rao Series Volume Editor
Affiliations and Expertise
Washington University School of Medicine, St. Louis, MO, USA