Fluoroplastics, Volume 1
2nd Edition
Non-Melt Processible Fluoropolymers - The Definitive User's Guide and Data Book
Hardcover ISBN: 9781455731992
eBook ISBN: 9781455732005
Published Date: 3rd November 2014
Secure Checkout
Personal information is secured with SSL technology.
Free Shipping
Free global shipping
No minimum order.
---
Dedication
Series
Copyrigrht
2nd edition Acknowledgments
1st edition Acknowledgments
2nd edition Preface
1st edition Preface
Part I

1. Discovery and History of Fluoropolymers

1.1. Coming of Age of Polymer Science
1.2. Roy Plunkett's Story
1.3. Commercialization of PTFE
1.4. Developmental History of Fluoropolymers

2. Production and Market Statistics

2.1. Growth of Fluoropolymers
2.2. Regional Consumption of Fluoropolymers
2.3. Consumption of Fluoropolymers and PTFE
2.4. Trends

3. From Fundamentals to Applications

3.1. Introduction
3.2. Uniqueness of Fluorine
3.3. Fluorine Characteristics
3.4. What are Fluoropolymers?
3.5. Fundamental Properties of Fluoropolymers
3.6. Developmental History of Fluoropolymers
3.7. Examples of Uses of Fluoropolymers

4. Fluoropolymers: Properties and Structure

4.1. Introduction
4.2. Impact of F and C–F Bond on the Properties of Polytetrafluoroethylene
4.3. Distruping the Linear PTFE Chain: Perfluorinated Ethylene–Propylene Copolymer and Polychlorotrifluoroethylene
4.4. Reaction Mechanism
4.5. Effect of Solvents on Fluoropolymers
4.6. Molecular Interaction of Fluoropolymers: Low Friction and Low Surface Energy
4.7. Conformations and Transitions of PTFE
4.8. Conformations and Transitions of PCTFE

5. Operational Classification of Fluoropolymers

5.1. Introduction
5.2. TFE Homopolymers
5.3. TFE Copolymers
5.4. CTFE Polymers
5.5. VDF Polymers
5.6. VF Polymers
5.7. Process Classification

6. Preparation of Tetrafluoroethylene and Other Monomers

6.1. Introduction
6.2. TFE Preparation
6.3. Purification of TFE
6.4. Properties of TFE
6.5. Synthesis of HFP
6.6. Properties of HFP
6.7. Synthesis of PAVE
6.8. Properties of PAVE
6.9. Synthesis of CTFE
6.10. Properties of CTFE

7. Polymerization Surfactants

7.1. Introduction
7.2. Perfluorooctane Sulfonate
7.3. Issues with PFOS
7.4. Problems with PFOA
7.5. EPA Action
7.6. Alternative Surfactants for Fluoropolymer Polymerization
7.7. Summary

8. Polymerization and Finishing of Tetrafluoroethylene

8.1. Introduction
8.2. Polymerization Mechanism
8.3. TFE Polymers
8.4. Evolution of Suspension Polymerization of TFE
8.5. Preparation of PTFE by Emulsion Polymerization
8.6. Preparation of Dispersion Grade PTFE
8.7. Preparation of Fine Powder PTFE
8.8. CTFE Polymers and Polymerization
8.9. Characterization of PTFE
8.10. Characterization of PCTFE

9. Commercial Grades of Fluoropolymers

9.1. Introduction
9.2. Granular PTFE
9.3. PTFE Dispersions
9.4. Fine Powder PTFE
9.5. Polychlorotrifluoroethylene Polymers

Part II

10. Fabrication and Processing of Granular Polytetrafluoroethylene

10.1. Introduction
10.2. Resin Selection
10.3. Compression Molding
10.4. Automatic Molding
10.5. Isostatic Molding
10.6. Ram Extrusion

11. Fabrication and Processing of Fine Powder Polytetrafluoroethylene

11.1. Introduction
11.2. Resin Handling and Storage
11.3. Paste Extrusion Fundamentals
11.4. Extrusion Aid or Lubricant
11.5. Wire Coating
11.6. Extrusion of Tubing
11.7. Unsintered Tape
11.8. Expanded PTFE Manufacturing
11.9. Fine Powder Resin Selection

12. Fabrication and Processing of Polytetrafluoroethylene Dispersions

12.1. Introduction
12.2. Applications
12.3. Storage and Handling
12.4. Surfactants
12.5. Principles of Coating Technology
12.6. Dispersion Formulation and Characteristics
12.7. Glass Cloth Coating
12.8. Impregnation of Flax and Polyaramide
12.9. Coating Metal and Hard Surfaces
12.10. PTFE Yarn Manufacturing
12.11. Film Casting
12.12. Anti-drip Applications
12.13. Filled Bearings
12.14. Dedusting Powders
12.15. Other Applications

13. Processing of Polychlorotrifluoroethylene

13.1. Introduction
13.2. Processing Considerations
13.3. Compression Molding
13.4. Injection Molding
13.5. Extrusion
13.6. Machining and Joining

14. Fluorinated Additives

14.1. Introduction
14.2. PTFE Additives
14.3. Applications of PTFE Additives
14.4. Feedstock for PTFE Additives
14.5. Manufacturing PTFE Additives
14.6. PTFE-Modified Waxes

15. Surface Treatment of Polytetrafluoroethylene for Adhesion

15.1. Introduction
15.2. Sodium Etching of Fluoroplastics
15.3. Plasma Treatment of Fluoropolymers and PTFE
15.4. Atmospheric Pressure Plasma Treatment

16. Filled Fluoropolymer Compounds

16.1. Introduction
16.2. Granular-Based Compounds
16.3. Fine Powder-Based Compounds
16.4. Co-coagulated Compounds
16.5. Processing Compounds
16.6. Typical Properties of Filled Fluoropolymers
16.7. Nanocomposites of PTFE
16.8. Commercial Products

Part III

17. Chemical Properties of Fluoropolymers—Polytetrafluoroethylene and Polychlorotrifluoroethylene

17.1. Introduction
17.2. Chemical Compatibility of PTFE
17.3. Chemical Compatibility of Polychlorotrifluoroethylene
17.4. Permeation Fundamentals
17.5. Environmental Stress Cracking
17.6. Solubility Parameters

18. Properties of Tetrafluoroethylene Homopolymers

18.1. Introduction
18.2. Crystallinity
18.3. Molecular Weight
18.4. Influence of Processing
18.5. Microstructure and Fracture of PTFE
18.6. Mechanical Properties
18.7. Fatigue Properties
18.8. Electrical Properties
18.9. Thermal Behavior
18.10. Flammability Characteristics
18.11. Irradiation Behavior
18.12. Surface Properties
18.13. Refractive Index
18.14. Standard Measurement Methods

19. Properties of Polychlorotrifluoroethylene

19.1. Introduction
19.2. Crystallinity
19.3. Mechanical Properties
19.4. Electrical Properties
19.5. Thermal Properties
19.6. Irradiation Behavior
19.7. Properties of PCTFE Films
19.8. Barrier Properties
19.9. Spectroscopic Properties
19.10. Chemical and Weathering Properties

20. Fabrication Techniques for Polytetrafluoroethylene

20.1. Introduction
20.2. Machining
20.3. Adhesive Bonding Methods
20.4. Welding and Joining
20.5. Thermoforming
20.6. Other Processes

21. Applications of Polytetrafluoroethylene and Fluoropolymers

21.1. Chemical Processing
21.2. Piping
21.3. Vessels
21.4. CPI Components
21.5. Self-Supporting Components
21.6. Trends in Using Fluoropolymers in Chemical Service
21.7. Semiconductor Processing
21.8. Electrical Applications
21.9. Mechanical Applications
21.10. Automotive and Aerospace
21.11. Medical Devices
21.12. Summary

22. Safety, Health, Environmental, Disposal, Recycling, and Economics

22.1. Introduction
22.2. Toxicology of Fluoropolymers
22.3. Thermal Properties of PTFE
22.4. Emission during Processing
22.5. Safety Measures
22.6. Food Contact
22.7. Fluoropolymer Scrap and Recycling
22.8. Environmental Protection and Disposal Methods

Appendix 1. Chemical Resistance of Polytetrafluoroethylene (PTFE)
Appendix 2. Chemical Resistance of Polychlorotrifluoroethylene (PCTFE)
Appendix 3. Permeability of Polytetrafluoroethylene (PTFE)
Appendix 4. Permeability of Polychlorotrifluoroethylene (PCTFE)
Appendix 5. Melt Creep Viscosity of Polytetrafluoroethylene
Glossary
Index
---
Fluoroplastics, Volume 1, compiles in one place a working knowledge of the polymer chemistry and physics of non-melt processible fluoropolymers with detailed descriptions of commercial processing methods, material properties, fabrication and handling information, technologies, and applications. Also, history, market statistics, and safety and recycling aspects are covered. Both volumes contain a large amount of specific property data which is useful for users to readily compare different materials and align material structure with end use applications.
Volume 1 concentrates mostly on polytetrafluoroethylene and polychlorotrifluoroethylene and their processing techniques – which are essentially non-melt-processes – used across a broad range of industries including automotive, aerospace, electronic, food, beverage, oil/gas, and medical devices.
Since the first edition was published many new technical developments and market changes have taken place and new grades of materials have entered the market. This new edition is a thoroughly updated and significantly expanded revision covering new technologies and applications, and addressing the changes that have taken place in the fluoropolymer markets.
Fluoroplastics, Volume 1 is an all-encompassing handbook for non-melt processible fluoropolymers – a unique and invaluable reference for professionals in the fluoropolymer industry and fluoropolymer application industries.
Exceptionally broad and comprehensive coverage of non-melt processible fluoropolymers processing and applications.
Practical approach, written by long-standing authority in the fluoropolymers industry.
New technologies, materials and applications are included in the new edition.
Engineers and other professionals that use and process fluoropolymers across different industries in all important segments including automotive, aerospace, electronic, pharmaceutical, food, beverage, chemical processing industries, semiconductors, furniture, printing/publishing, lubricant oil/grease, oil/gas, medical devices, plastic compounders.
Professionals involved in polymer manufacturing and part fabrication. End-users of fluoropolymers and students.
---
No. of pages:

718
Language:

English
Copyright:

© William Andrew

2015
Published:

3rd November 2014
Imprint:

William Andrew
Hardcover

ISBN:

9781455731992
eBook

ISBN:

9781455732005
---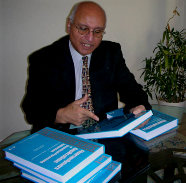 Sina Ebnesajjad is the series editor of Plastics Design Library (PDL) published in the William Andrew imprint of Elsevier. This Series is a unique series, comprising technology and applications handbooks, data books and practical guides tailored to the needs of practitioners. Sina was the editor-in-chief of William Andrew Publishing from 2005 to 2007, which was acquired by Elsevier in 2009.
He retired as a Senior Technology Associate in 2005 from the DuPont fluoropolymers after nearly 24 years of service. Sina founded of FluoroConsultants Group, LLC in 2006 where he continues to work. Sina earned his Bachelor of Science from the School of Engineering of the University of Tehran in 1976, Master of Science and PhD from the University of Michigan, Ann Arbor, all in Chemical Engineering.
He is author, editor and co-author of fifteen technical and data books including five handbooks on fluoropolymers technology and applications. He is author and co-author of three books in surface preparation and adhesion of materials, two of which are in their second editions. Sina has been involved with technical writing and publishing since 1974.
His experiences include fluoropolymer technologies (polytetrafluoroethylene and its copolymers) including polymerization, finishing, fabrication, product development, failure analysis, market development and technical service. Sina holds six patents.
Affiliations and Expertise
Fluoroconsultants Group, Chadds Ford, PA, USA
Tax Exemption
We cannot process tax exempt orders online. If you wish to place a tax exempt order please
contact us
.
Elsevier.com visitor survey
We are always looking for ways to improve customer experience on Elsevier.com.
We would like to ask you for a moment of your time to fill in a short questionnaire, at the end of your visit.

If you decide to participate, a new browser tab will open so you can complete the survey after you have completed your visit to this website.

Thanks in advance for your time.
Accept
Decline