Fabrication and Self-Assembly of Nanobiomaterials
1st Edition
Applications of Nanobiomaterials
Author:
Alexandru Grumezescu
Hardcover ISBN: 9780323415330
eBook ISBN: 9780323417358
Published Date: 6th January 2016
Secure Checkout
Personal information is secured with SSL technology.
Free Shipping
Free global shipping
No minimum order.
---
Fabrication and Self-Assembly of Nanobiomaterials presents the most recent findings regarding the fabrication and self-assembly of nanomaterials for different biomedical applications. Respected authors from around the world offer a comprehensive look at how nanobiomaterials are made, enabling knowledge from current research to be used in an applied setting.
Recent applications of nanotechnology in the biomedical field have developed in response to an increased demand for innovative approaches to diagnosis, exploratory procedures and therapy. The book provides the reader with a strong grounding in emerging biomedical nanofabrication technologies, covering numerous fabrication routes for specific applications are described in detail and discussing synthesis, characterization and current or potential future use.
This book will be of interest to professors, postdoctoral researchers and students engaged in the fields of materials science, biotechnology and applied chemistry. It will also be highly valuable to those working in industry, including pharmaceutics and biotechnology companies, medical researchers, biomedical engineers and advanced clinicians.
An up-to-date and highly structured reference source for practitioners, researchers and students working in biomedical, biotechnological and engineering fields
A valuable guide to recent scientific progress, covering major and emerging applications of nanomaterials in the biomedical field
Proposes novel opportunities and ideas for developing or improving technologies in fabrication and self-assembly
Academic: Materials science, biotechnology and applied chemistry professors, PhD, MsC, postdocs, upper level undergraduate students. Industry: Pharmaceutics and biotechnology companies, medical researchers, biomedical engineers, advanced clinicians
List of contributors
Preface of the series
Fabrication and self-assembly of nanobiomaterials: applications of nanobiomaterials

About the Series (Volumes I–XI)
About Volume I

Chapter 1. Synthesis, characterization and applications of nanoparticles

Abstract
1.1 Introduction
1.2 Synthesis and Characteristics
1.3 Applications of Different Types of Nanoparticles
1.4 Current Research and Future Perspectives
1.5 Conclusions
References

Chapter 2. Preparation and applications of self-assembled natural and synthetic nanostructures

Abstract
2.1 Introduction
2.2 Preparation of Self-Assembled Nanostructure
2.3 Application of Self-Assembled Nanostructure
2.4 Conclusions
References
Further Reading

Chapter 3. Self-assembly of nanobiomaterials

Abstract
3.1 Introduction
3.2 Molecular Self-Assembly and Self-Assembling Systems
3.3 Protein Crystallization
3.4 Surface Layer Proteins (S-Layers)
3.5 The S-Layer of S. ureae ATCC 13881 (SslA)
3.6 Conclusions
References

Chapter 4. Self-nanoemulsifying systems for oral bioavailability enhancement: Recent paradigms

Abstract
4.1 Introduction
4.2 Formulation Attributes
4.3 Mechanism of Self-Emulsification
4.4 Bioavailability Enhancement
4.5 Self-Nanoemulsifying Systems for Oral Drug Delivery
4.6 Characterization of SNEDDS
4.7 Conclusions
References

Chapter 5. Sensing of reactive oxygen species by self-aggregating gold nanoparticle assemblies

Abstract
5.1 Introduction
5.2 Experimental Methods
5.3 Results
5.4 Discussion and Future Challenges
Acknowledgments
References

Chapter 6. Plant mediated green synthesis of metallic nanoparticles: Challenges and opportunities

Abstract
6.1 Introduction
6.2 Scopes
6.3 Recent Research Background of Green Synthesis of Silver and Gold Nanoparticles Using Plant Extracts
6.4 History of MNPs (Metallic Nanoparticles)
6.5 Properties of Silver and Gold Nanoparticles
6.6 Green Synthesis of Gold and Silver Nanoparticles
6.7 Mechanism of Green Synthesis of Gold and Silver Nanoparticles
6.8 Experimental Procedures Involved in the Synthesis of Gold and Silver Nanoparticles Using Plant Extracts
6.9 Biomedical Applications of Gold and Silver MNPs
6.10 Conclusions
References

Chapter 7. Exosomes: Smart nanospheres for drug delivery naturally produced by stem cells

Abstract
7.1 Introduction
7.2 Introduction to Nanoparticles
7.3 Introduction to Exosomes
7.4 Introduction to "Systems Therapeutic"
7.5 Proteins that Pack the Exosomes
7.6 The Size of Protein Molecules
7.7 Exosome Content
7.8 Proteins, Lipids, Metabolites
7.9 Exosome Release
7.10 Exosomes Cross Blood–Brain Barrier
7.11 Targeting
7.12 Molecule Protection
7.13 Exosome Quantity and Quality
7.14 Immune Function
7.15 RNA Degradation (Proteasome-Like Activity)
7.16 Cancer
7.17 Disease and Cancer Biomarker
7.18 Therapeutic Effects
7.19 State-Dependent, Synthetic Biology Production
7.20 Conclusions
References

Chapter 8. Controllable synthesis of lanthanide upconversion nanomaterials through impurity doping

Abstract
8.1 Introduction
8.2 Basic Understanding of the Lanthanide-Related Upconversion Luminescence
8.3 Doped UCNPs and Doping Routes
8.4 Control of Ln3+ Dopant Distribution into Core–Shell UCNPs
8.5 Conclusions and Perspectives
Acknowledgments
References

Chapter 9. Nanocellulose—fabrication, structure, properties, and application in the area of care and cure

Abstract
9.1 Introduction
9.2 Cellulose as Nanostructured Natural Polymer
9.3 Fabrication, Structure, and Properties of Various Kinds of Nanocellulose
9.4 Application of Nanocellulose in Areas of Care and Cure
9.5 Concluding Remarks
References

Chapter 10. Magnetosensitive nanocomposites with hierarchical nanoarchitecture as biomedical nanorobots: Synthesis, properties, and application

Abstract
10.1 Introduction
10.2 Analysis of Delivery and Retention Conditions of Magnetically Sensitive Drug Carriers with the Help of Magnetic Field
10.3 Synthesis of Magnetosensitive Polyfunctional Nanocomposites for Medicobiological Purposes and Investigation of Their Properties
10.4 Conclusions
Acknowledgments
References

Chapter 11. Designing and testing single tablet for tuberculosis treatment through electrospinning

Abstract
11.1 Introduction
11.2 Experimental
11.3 Results and Discussion
11.4 Conclusions
Acknowledgments
References

Chapter 12. Synthesis, characteristics, and biocidal activity of silver nanoparticles

Abstract
12.1 Introduction
12.2 Biocidal Activity
12.3 Application of Nanosilver
12.4 Methods for Preparing Silver Nanoparticles
12.5 Chemical Reduction—Characteristics of the Process
12.6 Risks Associated with the Use of Nanosilver
12.7 Aim and Scope
12.8 Obtaining and Characteristics of Water Nanosilver Suspensions
12.9 Evaluation of Antimicrobial Properties of Obtained Nanosilver
12.10 Conclusion
Acknowledgments
References

Chapter 13. Nanobiomaterials: Applications in biomedicine and biotechnology

Abstract
13.1 Introduction
13.2 Nanomedicine (Therapeutic Application of Nanotechnology)
13.3 Nanopharmaceuticals
13.4 Nanocarriers as Nanomedicine
13.5 Various Nanoparticles Used as Drug Carriers (Table 13.10)
13.6 Metallic Nanoparticles as Antimicrobial Agents (Table 13.11)
13.7 Conclusions
References

Chapter 14. Control, design, and understanding of molecular self-assembly

Abstract
14.1 Introduction
14.2 History
14.3 Self-Assembly Fabrication
14.4 Applications in Biomaterials
14.5 Conclusions
References

Chapter 15. Self-assembly of transition metal nanoparticles using marine sources

Abstract
15.1 Introduction
15.2 Marine-Source-Mediated Synthesis of Transition Metal Nanoparticles
15.3 Future Prospects
15.4 Conclusions
Acknowledgments
References

Index
No. of pages:

528
Language:

English
Copyright:

© William Andrew

2016
Published:

6th January 2016
Imprint:

William Andrew
Hardcover

ISBN:

9780323415330
eBook

ISBN:

9780323417358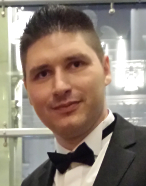 Alexandru Mihai Grumezescu is a lecturer in the Department of Science and Engineering of Oxide Materials and Nanomaterials, at the Faculty of Applied Chemistry and Materials Science, Politehnica University of Bucharest, Romania. He is an experienced researcher and published editor in the field of nano and biostructures. He is the editor-in-chief of two international open access journals: Biointerface Research in Applied Chemistry, Letters and Applied NanoBioScience. Dr. Grumezescu has published more than 200 peer-reviewed papers, authored nine books, and has served as an editor for more than 50 scholarly books.
Affiliations and Expertise
Assistant Professor, Department of Science and Engineering of Oxide Materials and Nanomaterials, Faculty of Applied Chemistry and Materials Science and Faculty of Medical Engineering, Politehnica University of Bucharest, Romania
Tax Exemption
We cannot process tax exempt orders online. If you wish to place a tax exempt order please
contact us
.
Elsevier.com visitor survey
We are always looking for ways to improve customer experience on Elsevier.com.
We would like to ask you for a moment of your time to fill in a short questionnaire, at the end of your visit.

If you decide to participate, a new browser tab will open so you can complete the survey after you have completed your visit to this website.

Thanks in advance for your time.
Accept
Decline