Exercise, Sport, and Bioanalytical Chemistry
1st Edition
Principles and Practice
Paperback ISBN: 9780128092064
eBook ISBN: 9780128096918
Published Date: 17th March 2016
---
Dedication
Foreword
Preface
Acknowledgments
Part I: Introduction: Basics and Background

Chapter 1. Energy and Energy Metabolism

Abstract
Energy
Energy Transformation
Chemical Energy of the Body
Enzymes
Energy Consumption
Energy Transformation in Exercise
References

Chapter 2. Energy Metabolism of Macronutrients During Exercise

Abstract
Overview of Metabolic Energy Pathways
Carbohydrate Metabolic Pathways
Lipid Metabolic Pathways
Protein Metabolism Pathways
Bioenergetics
References

Chapter 3. Regulation of Energy Metabolism During Exercise

Abstract
Overview of Control Systems
Central Mechanisms—Neuroendocrine
Peripheral Mechanisms—Internal Milieu and Allosteric Modulation
Running Out of Energy
References

Part II: Applications: Knowledge into Practice

Chapter 4. Measurement Techniques for Energy Expenditure

Abstract
Historical Background
Laboratory Based
Field Based
Limitations and Errors in Measurements and Estimations
References

Chapter 5. Energy Expenditure at Rest and During Various Types of Physical Activity

Abstract
Energy Expenditure and Utilization Concepts
Metabolic Rate in the Resting State
Metabolic Rate During Ordinary Living Activities and During Exercise
Thermic Effect of Food
Examples of Energy Expenditure During Various Activities
Estimation of Exercise Energy Expenditure: Metabolic Calculations and Formulas
Factors Influencing RMR Energy Expenditure
References

Chapter 6. Energy Storage, Expenditure, and Utilization: Components and Influencing Factors

Abstract
Energy Balance Equation
Effect of Physical Activity on the EBE
Exercise Intensity and Substrate Utilization
The Crossover Concept and Exercise Energy Metabolism
Implications of the Crossover Concept
Limitation of Exercise Alone in Achieving Negative Energy Balance
Environmental Influences on Energy Expenditure: Geography and Climate Matter
References

Chapter 7. Exercise Training and Metabolic Adaptation

Abstract
Exercise Training Principles
Exercise Training Adaptation
Aerobic Training
Anaerobic and Resistance Training
Mechanisms of Muscular Fatigue
References

Chapter 8. Pharmacologic and Nutritional Substances to Enhance Performance or Produce Weight Loss

Abstract
Adaptogenic Herbs
Amino Acids
Anabolic Steroids
Caffeine
Ephedrine
Erythropoietin—Blood Doping
Levothyroxine
Metreleptin
Sibutramine
Vitamins and Minerals
World Anti-Doping Agency Testing Program
References

Chapter 9. Bottom Line: Why Should I Exercise?

Abstract
What to Expect When Everything Goes Right
What to Expect When Everything Goes Wrong
Prevention: Tips for Success
References

Chapter 10. Future Scientific Research in Exercise and Sport and the Role of Bioanalytical Chemistry

Abstract
Analytical Technology Advances
Future Trends and Research Priorities
What Are the Health Challenges of Tomorrow?
Conclusion
References

Index
---
A new volume in the Emerging Issues in Analytical Chemistry series, Exercise, Sport, and Bioanalytical Chemistry: Principles and Practice focuses on the basic and applied aspects of energy metabolism in humans. Concise and scientific, yet intelligible to the nonscientist, the book consists of two parts. Part I, Introduction: Basics and Background, provides the biochemistry necessary to understand the rest of the book and describes analytical processes and results as an aid to grasping the science. Part II, Applications: Knowledge into Practice, explores measurement techniques for metabolism, energy expenditure of various activities, techniques that enhance expenditure, metabolic adaptation, foods and drugs that enhance expenditure, and the role of bioanalytical chemistry in future research in exercise and sport. Discussion of the benefits of exercise and practices for improving the capacity to perform exercise is illustrated by many useful and entertaining examples. This volume allows readers to come away with a grasp of the scientific concepts, how they are manifested in research techniques, and how the results of research can be applied in the real world of public health and personal development.
The Emerging Issues in Analytical Chemistry series is published in partnership with RTI International and edited by Brian F. Thomas. Please be sure to check out our other featured volumes:

Thomas, Brian F. and ElSohly, Mahmoud. The Analytical Chemistry of Cannabis: Quality Assessment, Assurance, and Regulation of Medicinal Marijuana and Cannabinoid Preparations, 9780128046463, December 2015.
Tanna, Sangeeta and Lawson, Graham. Analytical Chemistry for Assessing Medication Adherence, 9780128054635, April 2016.
Rao, Vikram, Knight, Rob, and Stoner, Brian. Sustainable Shale Oil and Gas: Analytical Chemistry, Biochemistry, and Geochemistry Methods, 9780128103890, forthcoming September 2016.
Farsalinos, Konstantinos, et al. Analytical Assessment of e-Cigarettes: From Contents to Chemical and Particle Exposure Profiles, 9780128112410, forthcoming November 2016.
Provides readers with the fundamental biochemistry and some elements of the physiology behind physical activity/exercise and describes the analytical techniques used to elucidate the science
Written in clear, concise, compelling prose that is neither simplistic to scientists nor too sophisticated for a large, diverse global audience
A one-page Close-Up in each chapter illustrates key topics to catch, engage, entertain, and create a novel synthesis of thought
Analytical chemists, biochemists, and physiologists, as well as trainers, competitive and elite athletes, and physical therapists
---
No. of pages:

136
Language:

English
Copyright:

© Elsevier

2016
Published:

17th March 2016
Imprint:

Elsevier
Paperback

ISBN:

9780128092064
eBook

ISBN:

9780128096918
---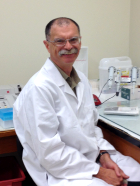 Dr. Anthony C. Hackney is a Professor of Exercise Physiology and Nutrition at the University of North Carolina, Chapel Hill. His research group studies how stress affects the hormonal responses of the endocrine system. In particular, his focus is on the dysfunctions and dysregulations that develop from stress exposures which can ultimately compromise physiological responses and adaptations. Dr. Hackney is an editor and author of the successful books Endocrinology of Physical Activity and Sport and Sex Hormones, Exercise and Women, as well as author of the Elsevier book Exercise, Sport, and Bioanalytical Chemistry: Principles and Practice. He has published over 200 peer-reviewed research papers and book chapters, given over 150 national and international scientific conference presentations, and has had current and previous research projects funded by the National Institutes of Health, Department of Defense, USAID, and the National Academy of Sciences. He is an Editorial Board member for five exercise science, sports medicine, and physiology journals; has done visiting professorships in Uruguay, Kosovo, Norway, New Zealand, Germany, and Estonia; and is on the Board of Directors of the Center for the Study of Retired Athletes, UNC-CH. A recipient of three Fulbright Scholar awards, he was named Fellow, American Academy of Kinesiology (2010), Montoye Research Scholar, the American College of Sports Medicine (2015), Fellow, Huffines Institute for Sports Medicine (2015), and Kean-Pogue Senior Research Scholar, University of North Carolina (2016), among other honors and awards.
Affiliations and Expertise
Schools of Public Health and Medicine, University of North Carolina, Chapel Hill, NC, USA
Tax Exemption
We cannot process tax exempt orders online. If you wish to place a tax exempt order please
contact us
.