Encyclopedia of Fish Physiology
1st Edition
From Genome to Environment
Editor-in-Chiefs:
Anthony Farrell
Hardcover ISBN: 9780123745453
eBook ISBN: 9780080923239
Published Date: 1st June 2011
---
Fish form an extremely diverse group of vertebrates. At a conservative estimate at least 40% of the world's vertebrates are fish. On the one hand they are united by their adaptations to an aquatic environment and on the other they show a variety of adaptations to differing environmental conditions - often to extremes of temperature, salinity, oxygen level and water chemistry. They exhibit an array of behavioural and reproductive systems. Interesting in their own right, this suite of adaptive physiologies provides many model systems for both comparative vertebrate and human physiologists.
This four volume encyclopedia covers the diversity of fish physiology in over 300 articles and provides entry level information for students and summary overviews for researchers alike.
Broadly organised into four themes, articles cover Functional, Thematic, and Phylogenetic Physiology, and Fish Genomics
Functional articles address the traditional aspects of fish physiology that are common to all areas of vertebrate physiology including: Reproduction, Respiration, Neural (Sensory, Central, Effector), Endocrinology, Renal, Cardiovascular, Acid-base Balance, Osmoregulation, Ionoregulation, Digestion, Metabolism, Locomotion, and so on.
Thematic Physiology articles are carefully selected and fewer in number. They provide a level of integration that goes beyond the coverage in the Functional Physiology topics and include discussions of Toxicology, Air-breathing, Migrations, Temperature, Endothermy, etc.
Phylogenetic Physiology articles bring together information that bridges the physiology of certain groupings of fishes where the knowledge base has a sufficient depth and breadth and include articles on Ancient Fishes, Tunas, Sharks, etc.
Genomics articles describe the underlying genetic component of fish physiology and high
Winner of a 2011 PROSE Award Honorable Mention for Multivolume Science Reference from the Association of American Publishers
The definitive encyclopedia for the field of fish physiology
Three volumes which comprehensively cover the entire field in over 300 entries written by experts
Detailed coverage of basic functional physiology of fishes, physiological themes in fish biology and comparative physiology amongst taxonomic Groups
Describes the genomic bases of fish physiology and biology and the use of fish as model organisms in human physiological research
Includes a glossary of terms
Available online in indexed searchable format
Undergraduate and Post-graduate students and Research scientists studying the physiology of fishes.
Comparative vertebrate physiologists
Biomedical physiologists using fish as animal models of human physiology and genetics
Editor-in-Chief
Associate Editors
Editors Biographies
Section Editors
Preface
Permission Acknowledgments
Article Titles
AIR-BREATHING FISHES | Circulatory Adaptations for Air-Breathing Fishes
Glossary
Introduction
Defining the Problem
Patterns of ABO Circulation: Lungs and Respiratory Gas Bladders
Circulation Patterns for Other ABOs
Coronary Circulation and Air Breathing
Conclusions
See also
Further Reading
AIR-BREATHING FISHES | Respiratory Adaptations for Air-Breathing Fishes
Glossary
Introduction
Types
The Lung and Respiratory Gas Bladder
Other ABOs
Head Region
Digestive Tube
Gills
Skin
ABO Ventilation
See also
Further Reading
AIR-BREATHING FISHES | The Biology, Diversity, and Natural History of Air-Breathing Fishes: An Introduction
Glossary
Introduction
The Diversity of Fish Air Breathing
The Types of Air-Breathing Fishes
The Evolution of Air Breathing
Air Breathing and Natural History
Summary
See also
Further Reading
AQUACULTURE | Physiology of Fish in Culture Environments
Glossary
Introduction
Bioenergetics
Temperature
Oxygen and Oxygen Demand
Carbon Dioxide and Acid–Base Balance
Osmoregulation, Salinity Tolerance, and Smoltification in Cultured Fishes
Exercise and Cultured Fishes
See also
Further Reading
BEHAVIOR AND PHYSIOLOGY | Linking Fish Behavior and Physiology: An Introduction
Glossary
Sensory Systems, Perception, and Learning
Interactions with the Environment
Social and Reproductive Behaviors
See also
Further Reading
BEHAVIORAL RESPONSES TO THE ENVIRONMENT | A Survival Guide for Fishes: How to
No. of pages:

2272
Language:

English
Copyright:

© Academic Press

2011
Published:

1st June 2011
Imprint:

Academic Press
eBook

ISBN:

9780080923239
Hardcover

ISBN:

9780123745453
About the
Editor-in-Chief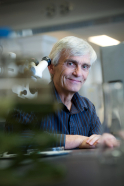 Tony Farrell is a graduate of Bath University, where he was fortunate to study with Peter Lutz. His fortunes grew further when he moved in 1974 to Canada and the Zoology Department at the University of British Columbia to complete his Ph.D. degree under the superb tutelage of Dave Randall. In 2004, Tony returned to UBC when he accepted an endowed research chair in Sustainable Aquaculture. In between these positions at UBC, Tony was employed at the University of Southern California (PDF), the University of New Brunswick (sessional lecturer), Mount Allison University (first real job) and Simon Fraser University (moving through the ranks to a full professor). In addition to highly controlled laboratory experiments on fish cardiorespiratory physiology, Tony is committed to working on animals in their own environment. Therefore, his research on fish physiology has taken him on an Alpha Helix expedition to the Amazon, the University of Gothenburg and the Kristineberg Marine Research Station in Sweden, the Portobello Marine Biological Station in New Zealand, the University of Christchurch and Massey University in New Zealand, the Bamfield Marine Science Station and the Huntsman Marine Station in Canada, the University of Aarhus in Denmark, the University of Adelaide Charles and Darwin University in Australia, and to the Danish Arctic Marine Station on Disco Island in Greenland. These travels have allowed him to work and with many superb collaborators word-wide, as well as study the physiology of over 70 different species of fish. Tony has received a number of awards for his scientific contributions: an honorary degree from the University of Gothenburg in Sweden; Awards of Excellence from the American Fisheries Society for Fish Physiology, Conservation and Management; the Fry Medal from the Canadian Society of Zoologists; and the Beverton Medal from the Fisheries Society of the British Isles.
Affiliations and Expertise
Dept of Zoology, University of British Columbia, Vancouver, Canada
PROSE Award 2011, Multivolume Reference: Science, American Association of Publishers
"2011 PROSE Award Winner for Multivolume Reference/Science"
Academic Press/Elsevier Science and Technology
Encyclopedia of Fish Physiology, Anthony P. Farrell
"The individual articles in each volume are concise, authoritative, and beautifully illustrated with color photographs and drawings. A practical advantage of this encyclopedia is that it brings everything together into three volumes, providing a comprehensive reference work. Readers should note that this set is arranged thematically rather than alphabetically… This encyclopedia will be most suitable for graduate students and professionals. Summing Up: Recommended. Graduate students and above."--CHOICE