Electron Correlation in Molecules – ab initio Beyond Gaussian Quantum Chemistry, Volume 73
1st Edition
Serial Volume Editors:
Philip Hoggan
Telhat Ozdogan
Hardcover ISBN: 9780128030608
eBook ISBN: 9780128030615
Published Date: 26th January 2016
Secure Checkout
Personal information is secured with SSL technology.
Free Shipping
Free global shipping
No minimum order.
---
Section I: Exponential Type Basis Quantum Chemistry
Chapter One: A Sturmian Approach to Photoionization of Molecules
Abstract
1 Introduction
2 Generalities
3 Examples Taken from the Literature
4 Survey of Theoretical Methods
5 Sturmian Approach
6 Conclusions
Acknowledgments
Appendix List of Photoionization Calculations for Different Molecules
Chapter Two: General Coalescence Conditions for the Exact Wave Functions: Higher-Order Relations for Coulombic and Non-Coulombic Systems
Abstract
1 Introduction
2 Basic Formulation
3 Primitive General Coalescence Conditions
4 General Coalescence Conditions
5 Verification of GCCs
6 Solving the SE with GCCs
7 Conclusions
Acknowledgment
Chapter Three: Exponentially Correlated Wave Functions for Four-Body Systems
Abstract
1 Introduction and History
2 Relative Coordinates
3 Four-Body Wave Functions
4 Potential and Kinetic Energy Operators
5 Matrix Elements
6 Angular Integration
7 Shape Integration
8 Applications
Acknowledgments
Appendix Boundary Integrals
Chapter Four: Analytic Formulas for Two-Center Two-Electron Integrals with Exponential Functions
Abstract
1 Introduction
2 Integral Representation for the Master Integral
3 Recurrence Relations for the General Integral with σ00 ≠ 0
4 Recurrence Relations at σ00 = 0
5 James-Coolidge Integrals σ20 = 0
6 Conclusion
Acknowledgment
Appendix A Master Integral
Appendix B Inhomogeneous Terms
Chapter Five: Singlet and Triplet Bound State Spectra in the Four-Electron Be-Like Atomic Systems
Abstract
1 Introduction
2 Hamiltonian and Bound State Wave Functions in the CI Method
3 General Structure of the Bound State Spectra
4 Spectral Diagram of the Four-Electron Be-Like Atoms
5 Conclusion
Acknowledgments
Chapter Six: An Application of the Gaussian Transform for Approximating Some Bessel Functions and Multicenter Integrals Involving 1s Slater-Type Orbitals
Abstract
1 Introduction
2 Methodology
3 Results for the Coulomb Potential
4 Concluding Remarks
Appendix
Chapter Seven: Size-Extensivity Corrections in Single- and Multireference Configuration Interaction Calculations
Abstract
1 Introduction
2 Theoretical Background
3 Results and Discussion
4 Conclusion
Acknowledgments
Chapter Eight: Introducing a Polynomial Expression of Molecular Integrals for Algebraic the Molecular Orbital (MO) Equation
Abstract
1 Introduction
2 Method
3 Results and Discussion
4 Conclusion
Acknowledgments
Appendix Taylor Expansion of Overlap Integral of × 16 about a0 and b0
Chapter Nine: Analytic Calculation of Momentum Distribution and Compton Profiles of Atoms Using Hartree–Fock–Roothaan Method: Applications to Atoms 2 ≤ Z ≤ 10
Abstract
1 Introduction
2 Analytical Expression for Momentum Density and Atomic Compton Profiles
3 Auxiliary Functions Bmnl(α, β; q)
4 Compton Profile of Atoms 2 ≤ Z ≤ 10
5 Results and Discussions
Acknowledgment
Chapter Ten: Evaluation of One-Electron Basic Integrals of Irregular Solid Harmonics and Slater-Type Orbitals Using Fourier Transforms
Abstract
1 Introduction
2 Properties of Solid Spherical Harmonics
3 One-Electron Integrals Between ISHs and STOs with Equal Screening Parameters
4 Numerical Results and Discussion
Section II: Electron Correlation in Molecules and Solids
Chapter Eleven: Excitation Energies of Molecules from Ensemble Density Functional Theory: Multiconfiguration Approaches
Abstract
1 Ensemble Variation Principle and Its Descendants
2 Multiconfiguration Wavefunction-Based Methods for Ensembles
3 State-Averaged Spin-Restricted KS Method
4 Range-Separated Approaches
5 Summary and Outlook
Acknowledgments
Chapter Twelve: Application of the Space-Pseudo-Time Method to Density Functional Theory
Abstract
1 Introduction
2 Kohn–Sham Equations
3 Radial Equations
4 Numerical Results and Conclusions
Acknowledgments
Chapter Thirteen: Potential Energy Curves of NaK Molecule from All-Electron Multireference-Coupled Cluster Calculations
Abstract
1 Introduction
2 Synopsis of the Theory
3 Results and Discussion
4 Conclusions
Acknowledgment
Chapter Fourteen: The Correlation Effects in Density Functional Theory Along the Dissociation Path
Abstract
1 Introduction
2 Theory
3 Computational Details
4 Numerical Results and Discussion
5 Final Remarks
Acknowledgments
Conflict of Interest
Appendix Analysis of the Behavior of the Investigated GGA Potentials near the Middle of the Bond
Chapter Fifteen: Introduction to the Variational and Diffusion Monte Carlo Methods
Abstract
1 Variational Monte Carlo
2 Diffusion Monte Carlo
Acknowledgments
Appendix Statistical Estimator of Nonlinear Functions of Expectation Values
Chapter Sixteen: Configuration Interaction Monte Carlo with Coupled Clusters Wave Functions
Abstract
1 Introduction
2 Method
3 Results in Homogeneous Systems
4 First Row Atoms
5 Conclusions
Chapter Seventeen: X-Ray Constrained Wave Functions: Fundamentals and Effects of the Molecular Orbitals Localization
Abstract
1 Introduction
2 Theory
3 Computational Results
4 Conclusions and Perspectives
Acknowledgments
Chapter Eighteen: Electron Impact Atomic and Ionic Ionization: Analytical, Semiempirical, and Semiclassical Methods
Abstract
1 Introduction
2 Outline of the Models
3 Experimental Data Sources
4 Discussion
5 Conclusions
Acknowledgments
---
Electron Correlation in Molecules – ab initio Beyond Gaussian Quantum Chemistry presents a series of articles concerning important topics in quantum chemistry, including surveys of current topics in this rapidly-developing field that has emerged at the cross section of the historically established areas of mathematics, physics, chemistry, and biology.
Presents surveys of current topics in this rapidly-developing field that has emerged at the cross section of the historically established areas of mathematics, physics, chemistry, and biology
Features detailed reviews written by leading international researchers
The volume includes review on all the topics treated by world renown authors and cutting edge research contributions.
Researchers and post-graduates in quantum chemistry and physics from molecular to solid state applications.
---
No. of pages:

440
Language:

English
Copyright:

© Academic Press

2016
Published:

26th January 2016
Imprint:

Academic Press
Hardcover

ISBN:

9780128030608
eBook

ISBN:

9780128030615
---
About the
Serial Volume Editors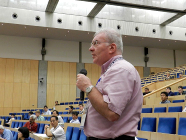 Born 15.03.1961 in Aberystwyth, GB. French mother and Scottish father who were French literature specialists at the University. One sister. Schooled at Ardwyn Grammar which became Penglais Comprehensive in Aberystwyth. Admitted to Trinity College, Cambridge in 1978 to read Natural Sciences. Graduated in 1983 (MA). I had become interested in theoretical quantum chemistry. Leisure activities: Rugby, Theatre, Debate, Competitive Wine-tasting (Master of Wine). Obtained DPhil (in English) and DSc (Doctorat d'Etat-in French) doctorates by research after moving to the theoretical chemistry group in Nancy, France (1983). Began teaching in 1986. Moved to a permanent lecturer position in Caen in 1992. The stay in Nancy was devoted to methodology, including Green's functions for electron transfer to metals from weakly interacting molecules. Caen explicitly involved catalysis. I became the first theoretician in a group, half of which worked closely with the petroleum industry and the half I was more directly associated with in Infra-red measurements to determine reaction intermediate structure. This was a very fruitful collaboration and by the time I was appointed to the chair of Theoretical Chemistry in Clermont (1998), two of my former students were able to take over the research and teaching. Presently, I am still in Clermont. In 2005, I moved to the Physics institute (Institut Pascal) to work on semi-conductor surfaces, in a set-up similar to that in Caen, with a majority of X-ray structure characterisation and some density functional theory and dynamics. The whole of 2003 and part of 2004 had been devoted to a visiting professor position in Tallahassee, Florida amid a very stimulating theoretical physics group. Since 2008, I have developed an expertise in Quantum Monte Carlo (QMC) simulations. The CNRS has supported this with a total of two full-time and one part time years of leave for research which lowed me to visit several QMC research teams, notably in Paris and Toulouse. This status includes 2017. I married a research biochemist from Clermont and we have two daughters.
Affiliations and Expertise
CNRS, University Blaise Pascal, France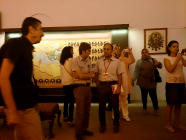 I was born in 1971 in Tatvan/Turkey, where I studied my primary and secondary education. In 1994, I graduated from the Physics Department of Faculty of Education in 19 Mayis University and in 1997, I completed my master dissertation named "Investigation of DEPT and 2D DEPT J-Resolved NMR of Some Spin Systems by Product Operator Theory". I finished my doctoral thesis named "Combined Theory of Electric Multipole Moment Tensors and Application to Polyatomic Molecules" in 2000. I have been in Erlangen University in Germany as a researcher for 3 months and after this I was assigned to the Rize Faculty of Arts and Sciences in Black Sea Technical University as an Assist. Proffessor. In 2007, I became Assoc. Professor in Department of Physics in Atomic and Molecular Physics in Recep Tayyip Erdoğan University and worked in the same position until 2013. Same year, I became a Professor and started to work at Amasya University, Computer and Instructional Technologies Education Program of Faculty of Education and I am still working at the same university and department.
Affiliations and Expertise
Amasya University, Turkey
Tax Exemption
We cannot process tax exempt orders online. If you wish to place a tax exempt order please
contact us
.
Elsevier.com visitor survey
We are always looking for ways to improve customer experience on Elsevier.com.
We would like to ask you for a moment of your time to fill in a short questionnaire, at the end of your visit.

If you decide to participate, a new browser tab will open so you can complete the survey after you have completed your visit to this website.

Thanks in advance for your time.
Accept
Decline