Diagnostic Atlas of Gastroesophageal Reflux Disease
1st Edition
A New Histology-based Method
Authors:
Parakrama Chandrasoma
eBook ISBN: 9780080878034
Hardcover ISBN: 9780123736055
Published Date: 11th July 2007
---
Gastroesophageal reflux is one of the most common maladies of mankind. Approximately 40% of the adult population of the USA suffers from significant heartburn and the numerous antacids advertised incessantly on national television represents a $8 billion per year drug market. The ability to control acid secretion with the increasingly effective acid-suppressive agents such as the H2 blockers (pepcid, zantac) and proton pump inhibitors (nexium, prevacid) has given physicians an excellent method of treating the symptoms of acid reflux.
Unfortunately, this has not eradicated reflux disease. It has just changed its nature. While heartburn, ulceration and strictures have become rare, reflux-induced adenocarcinoma of the esophagus is becoming increasingly common. Adenocarcinoma of the esophagus and gastric cardia is now the most rapidly increasing cancer type in the Western world.
At present, there is no histologic test that has any practical value in the diagnosis of reflux disease. The only histologic diagnostic criteria are related to changes in the squamous epithelium which are too insensitive and nonspecific for effective patient management. It is widely recognized that columnar metaplasia of the esophagus (manifest histologically as cardiac, oxyntocardiac and intestinal epithelia) is caused by reflux. However, except for intestinal metaplasia, which is diagnostic for Barrett esophagus, these columnar epithelia are not used to diagnose reflux disease in biopsies. The reason for this is that these epithelial types are indistinguishable from "normal" "gastric" cardiac mucosa. In standard histology texts, this "normal gastric cardia" is 2-3 cm long.
In the mid-1990s, Dr. Chandrasoma and his team at USC produced autopsy data suggesting that cardiac and oxyntocardiac mucosa is normally absent from this region and that their presence in biopsies was histologic evidence of reflux disease. From this data, they determined that the presence of cardiac mucosa was a pathologic entity caused by reflux and could therefore be used as a highly specific and sensitive diagnostic criterion for the histologic diagnosis of reflux disease. They call this entity "reflux carditis". In addition, the length of these metaplastic columnar epithelia in the esophagus was an accurate measure of the severity of reflux disease in a given patient.
At present, there is some controversy over whether cardiac mucosa is totally absent or present normally to the extent of 0-4 mm. While this should not be a deterrent to changing criteria which are dependent on there normally being 20-30 cm of cardiac mucosa, there has been little mainstream attempt to change existing endoscopic and pathologic diagnostic criteria in the mainstream of either gastroenterology or pathology.
The ATLAS will be the source of easily digestible practical information for pathologists faced with biopsies from this region. It will also guide gastroenterologists as they biopsy these patients.
The American Gastroenterological Association claims there are 14,500 members worldwide who are practicing physicians and scientists who research, diagnose and treat disorders of the gastrointestinal tract and liver
According to the American Society for Clinical Pathology, there are 12,000 board certified pathologists in the U.S.
Adenocarcinoma of the esophagus and gastric cardia is now the most rapidly increasing cancer type in the Western world
Approximately 40% of the adult population of the U.S. suffers from significant heartburn and the numerous antacids advertised on national television represents an $8 billion per year drug market
Practicing pathologists and gastroenterologists; graduate students, medical students and researchers in pathology, gastroenterology, histology, and anatomy.
OVERVIEW The need for change in diagnostic criteria – changes in the concept of normalcy in the gastroesophageal junction in the past decade. Present controversy Biopsy protocols – present and future HISTOLOGIC DEFINITION OF EPITHELIAL TYPES CHANGES IN SQUAMOUS EPITHELIUM IN GERD COLUMNAR METAPLASIA OF ESOPHAGUS – TYPES The evolution of cardiac mucosa and its significance Classification of the population and grading Quantitating intestinal metaplasia REFLUX CARDITIS BARRETT (INTESTINAL) METAPLASIA CASE STUDIES Normal patient Compensated reflux Minimal reflux disease Moderate reflux disease Severe reflux disease Microscopic Barrett esophagus Short segment Barrett esophagus Long segment Barrett esophagus DIFFERENTIAL DIAGNOSTIC PROBLEMS Patient with accompanying gastritis Patient with atrophic gastritis and gastric intestinal metaplasia CK7, CK20 Mucin histochemistry DYSPLASIA AND ADENOCARCINOMA
No. of pages:

320
Language:

English
Copyright:

© Academic Press

2007
Published:

11th July 2007
Imprint:

Academic Press
eBook

ISBN:

9780080878034
Hardcover

ISBN:

9780123736055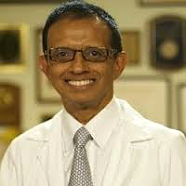 Dr. Parakrama Chandrasoma was born in Sri Lanka and received his medical education and initial pathology training in the Medical School of the University of Sri Lanka. He has postgraduate degrees in internal medicine, including the M.D. (Sri Lanka) and Membership of the Royal College of Physicians (UK). He immigrated to the United States in 1978. Upon completing his pathology residency, he assumed duties as Chief of Surgical Pathology at the Los Angeles County + University of Southern California Medical Center He has held this position since. After an initial interest in neuropathology, Dr. Chandrasoma joined Dr. Tom DeMeester's Foregut Surgery team as pathologist in 1991. This led to a productive study of gastroesophageal reflux disease spanning 16 years and resulting in the development of numerous original concepts relating to the pathogenesis of gastroesophageal reflux disease. Dr. Chandrasoma has written over 140 peer reviewed papers and 6 previous pathology textbooks, including a general text on Gastrointestinal Pathology and a text on Gastroesophageal Reflux Disease, and is a Professor of Pathology at the Keck School of Medicine at the University of Southern California. He is married with three children and lives in Pasadena, California.
Affiliations and Expertise
Keck School of Medicine, University of Southern California, Los Angeles, CA, USA
"This diagnostic atlas of GERD is an outstanding, beautifully illustrated contribution to the literature. It contains many thought-provoking pearls, and clinicians and pathologists interested in upper GI disease will benefit from its presence on their bookshelves. 4 Stars!" --DOODY'S
Tax Exemption
We cannot process tax exempt orders online. If you wish to place a tax exempt order please
contact us
.