Cybercrime and Espionage
1st Edition
An Analysis of Subversive Multi-Vector Threats
Authors:
Will Gragido
John Pirc
Paperback ISBN: 9781597496131
eBook ISBN: 9781597496148
Published Date: 24th January 2011
---
Cybercrime and Espionage provides a wealth of knowledge related to the realities seen in the execution of advanced attacks, their success from the perspective of exploitation and their presence within all industry. This book will educate you on realities of advanced, next generation threats, which take form in a variety ways. The authors, working in conjunction with strategic technology partners have key insights into the realm of what these new threats, dubbed "Subversive Multi-Vector Threats" or 'SMT's. Whether the goal is to acquire and subsequently sell intellectual property from one organization to a competitor or the international black markets, to compromise financial data and systems, or undermine the security posture of a nation state by another nation state or sub-national entity, these threats are real and growing at an alarming pace.
Includes detailed analysis and examples of the threats in addition to related anecdotal information
Authors' combined backgrounds of security, military, and intelligence, give you distinct and timely insights
Presents never-before-published information: identification and analysis of cybercrime and the psychological profiles that accompany them
Information and Physical Security Professionals, Intelligence Community, Federal and Municipal Law Enforcement, Auditors, Forensic Analysts, CIO/CSO/CISO
Foreword
Preface
Acknowledgments
About the Authors
1. Cybercrime and Espionage and the New Security 101
Information in this chapter
Introduction
He Who Does Not Prevent a Crime When He Can, Encourages It
What's Old Is New Again
A Changing World
Cybercriminal Statistics: U.S. and Abroad
The Statistics of Cybercrime
Separating the Wheat from the Chaff: Qualifying Amateurs and Professionals
Trends in 2011
Myopic to the Catastrophic: Advanced Persistent Threats
Points of Confluence: Events That Have Shaped the Future of Privatized Cybercrime and Espionage
Agendas in Next Generation Cybercriminal Activity
The Coming Decade
Summary
2. Evolution Revolution
Information in this chapter
Introduction
Communication
Criminal Activity
Summary
3. The Silent Killer: How Regulatory Compliance has Worsened the State of Information Security
Information in this chapter
Introduction
Regulatory Compliance Telemetry
Transborder Data Flow Restrictions
ISO Security Standards
Health Insurance Portability and Accountability Act (HIPAA)
Family Education Rights and Privacy Act (FERPA)
Payment Card Industry Data Security Standard (PCI DSS)
North America Electric Reliability Corporation: Critical Infrastructure Protection (NERC CIP)
Summary
References
4. Mediating the Great Divorce: The Convergence of Physical and Logical Security
Information in this chapter
Introduction
The CISSP Physical Security Domains
Environmental Security
The Silos of Security
Two-Factor Authentication
Converging the Great Physical Divide
Physical Device Security (Cryptography)
Proximity-Based Access Control
Summary
References
5.
No. of pages:

272
Language:

English
Copyright:

© Syngress

2011
Published:

24th January 2011
Imprint:

Syngress
eBook

ISBN:

9781597496148
Paperback

ISBN:

9781597496131
Will Gragido possesses over 18 years of information security experience. A former United States Marine, Mr. Gragido began his career in the data communications information security and intelligence communities. After USMC, Mr. Gragido worked within several information security consultancy roles performing and leading red teaming, penetration testing, incident response, security assessments, ethical hacking, malware analysis and risk management program development. Mr.Gragido has worked with a variety of industry leading research organizations including International Network Services, Internet Security Systems / IBM Internet Security Systems X-Force, Damballa, Cassandra Security, HP DVLabs, and now RSA NetWitness, where he leads the RSA FirstWatch Advanced Threat Intelligence team. Will has deep expertise and knowledge in operations, analysis, management, professional services & consultancy, pre-sales / architecture and strong desire to see the industry mature and enterprises & individuals become more secure. Will is a long-standing member of the ISC2, ISACA, and ISSA. Mr.Gragido holds the CISSP and CISA certifications, as well as accreditations in the National Security Agency's Information Security Assessment Methodology (IAM) and Information Security Evaluation Methodology (IEM). Additionally, Mr.Gragido is a Faculty Member of the IANS Institute where he specializes in advanced threat, botnet, and malware analysis. Mr.Gragido is a graduate of DePaul University and is currently preparing for graduate school. An internationally sought after speaker, Will is the co-author of Cybercrime and Espionage: An Analysis of Subversive Multi-Vector Threats.
Affiliations and Expertise
Faculty Member of the IANS Institute where he specializes in advanced threat, botnet, and malware analysis.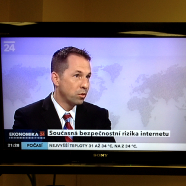 John Pirc has more than 19 years of experience in Security R&D, worldwide security product management, marketing, testing, forensics, consulting, and critical infrastructure architecting and deployment. Additionally, John is an advisor to HP's CISO on Cyber Security and lectured at the US Naval Post Graduate School. John extensive expertise in the Security field stems from past work experience with the US Intelligence Community, as Chief Technology Officer at CSG LTD, Product Manager at Cisco, Product Line Executive for all security products at IBM Internet Security Systems, Director at McAfee's Network Defense Business Unit, Director of Product Management at HP Enterprise Security Products, Chief Technology Officer at NSS Labs, Co-Founder and Chief Strategy Officer at Bricata, LLC and most recently as Director of Security Solutions for Forsythe Technology. In addition to a BBA from the University of Texas, John also holds the NSA-IAM and CEH certifications. He has been named security thought leader from SANS Institute and speaks at top tier security conferences worldwide and has been published in Time Magazine, Bloomberg, CNN and other tier 1 media outlets.
Affiliations and Expertise
Director, Security Solutions, Forsythe Technology and Co-Founder & Advisor, Bricata, LLC
"Risks have evolved. We haven't. While we stabilize toward checkbox compliance, adversaries and IT accelerate onward. Adversaries know you're compliant – and do not care – they're counting on it. Let's replace faith-based dogma with intellectual honesty. As fellow Cassandras, Will and John confront you with modern threat models and challenge you to adapt".--Joshua Corman, Research Director for Enterprise Security, The 451 Group
"During 2010 three specific names signaled a fundamental shift in the risks that come from dealing in an interconnected world: Project Aurora, Stuxnet, and Wikileaks. This book provides the insights of an intelligence analyst on what got us to this point, and forecasts what information security professionals will be dealing with in the near future".--James Turner, Advisor, IBRS
"Cybercrime and Espionage was probably the most comprehensive and relevant book on the cyber security landscape written to date. The authors captured the true essence of the methods and cyber trade craft backed with use case after use case. I find this book a must have for any security professional or executive that has the responsibility for ensuring the protection of their corporate infrastructure."--Alan Kessler VP & GM HP Networking Security Products Group/TippingPoint
"John and Will have done a great job in framing the threat landscape and pointing out just how far we have to go in order to truly understand the cyber threats confronting us, to better secure our networks, and to mitigate risk within our respective organizations. Cybercrime and Espionage is a great read and should provide a call to action for any executive management team. Well done."--Nick Lantuh, President of Netwitness Corporation
"Overall, this was a really interesting reading material. The authors managed to provide a fresh perspect