Chemical and Synthetic Biology Approaches to Understand Cellular Functions - Sensors, Volume 621
1st Edition
Serial Volume Editors:
Arun Shukla
Hardcover ISBN: 9780128181171
Published Date: 1st June 2019
---
1. Site-directed ethylation of membrane proteins for measuring conformational transitions in lipid bilayers
Gianluigi Veglia
2. Design and Synthesis of Fluorescent Activity Probes for Protein Phosphatases
Cliff. I. Stains
3. Utilizing Split-NanoLuc Fragments as Luminescent Probes for Protein Solubility in Living Cells
Cliff. I. Stains
4. SH2-domain based sensor for intracellular recognition of sulfo-tyrosine
Jiantao Guo
5. DNA-encoded immunoglobulins for detection of parasites
Thomas Kodadek
6. An engineered TEV protease – calmodulin fusion based sensor for neuronal calcium recording
Scott T. Laughlin
7. Split-enzyme-based novel strategies for calcium recording
Scott T. Laughlin
8. Peptide engineering platform technology
Weijun Shen
9. High-throughput methods for aptamer discovery and analysis
Andrej Luptak
10. PEGylation of proteins and peptides
Joshua L. Price
11. Quantifying Drug-Target Engagement in Live Cells Using Sulfonyl Fluoride Chemical Probes
Lyn Jones
12. In bulla channel synthesis and functional expression system under applied membrane potentials
Shigetoshi Oiki
13. Drop-in-Well Chip for the Droplet Interface Bilayer with built-in electrodes and low background noise
Shigetoshi Oiki
14. Engineering protein degradation in mammalian cells
Laura Segatori
15. Engineering split proteins for the design of AND gates
Laura Segatori
16. Novel sensors for chemical cytometry analysis
Nancy Allbritton
17. Synthetic cells to study protein: membrane lipid dynamic interactions
Brian Y. Chow
18. Inter-subunit cyclization as an approach to stabilize oligomeric proteins and complexes
Xudong Qu
19. Metabolic chemical reporters of post-translational modifications
Matthew Pratt
20. Methods for Design, Characterisation and Application of Inducible Gene Expression Systems
Naglis Malys
---
Methods in Enzymology series, highlights new advances in the field, with this new volume presenting interesting chapters. Each chapter is written by an international board of authors.
Provides the authority and expertise of leading contributors from an international board of authors
Presents the latest release in this series on enzymology
Updated release includes the latest information on methods to measure ubiquitin chain length and linkage, genetic approaches to study the yeast ubiquitin system, amongst many other timely topics
Biochemists, chemists, microbiologists, microbiome researchers, marine scientists, protein chemists, biotechnologists, chemical biologists, blue biotech professionals, natural product chemists, drug discovery researchers
---
No. of pages:

412
Language:

English
Copyright:

© Academic Press

2019
Published:

1st June 2019
Imprint:

Academic Press
Hardcover

ISBN:

9780128181171
---
Praise for the Series:
"Should be on the shelves of all libraries in the world as a whole collection." --CHEMISTRY IN INDUSTRY
"The work most often consulted in the lab." --ENZYMOLOGIA
"The Methods in Enzymology series represents the gold-standard." --NEUROSCIENCE
---
About the
Serial Volume Editors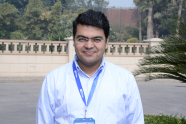 Arun Shukla Serial Volume Editor
Dr. Arun K. Shukla obtained his M.Sc. (Master in Science) from the Center for Biotechnology at the Jawaharlal Nehru University in New Delhi, India. Dr. Shukla did his Ph.D. from the Department of Molecular Membrane Biology at the Max Planck Institute of Biophysics in Frankfurt, Germany. His Ph.D. research work was focused on structural studies of G Protein-Coupled Receptors (GPCRs).
Dr. Shukla subsequently carried out his post-doctoral work in the Department of Medicine at the Duke University in North Carolina, USA. During his post-doctoral research work, Dr. Shukla focused on understanding the biophysical and structural basis of ß-arrestin mediated regulation of GPCRs and non-canonical GPCR signaling. Dr. Shukla has served as an Assistant Professor in the Department of Medicine at the Duke University in Durham, North Carolina, USA.
Dr. Shukla is currently an Assistant Professor in Department of Biological Sciences and Bioengineering at the Indian Institute of Technology, Kanpur, India. Dr. Shukla is also an Intermediate Fellow of the Wellcome Trust-DBT India Alliance. The research program in Dr. Shukla's laboratory is focused on understanding the molecular mechanism of activation, signaling and regulation of G Protein-Coupled Receptors.
Affiliations and Expertise
Department of Biological Sciences and Bioengineering, Indian Institute of Technology, Kanpur, India
Tax Exemption
We cannot process tax exempt orders online. If you wish to place a tax exempt order please
contact us
.