Cancer
2nd Edition
Oxidative Stress and Dietary Antioxidants
Editors:
Victor Preedy
Vinood Patel
Hardcover ISBN: 9780128195475
eBook ISBN: 9780128195635
Published Date: 14th January 2021
Secure Checkout
Personal information is secured with SSL technology.
Free Shipping
Free global shipping
No minimum order.
---
Cancer: Oxidative Stress and Dietary Antioxidants, Second Edition, covers the science of oxidative stress in cancer and the potentially therapeutic usage of natural antioxidants in the diet or food matrix. The processes within the science of oxidative stress are described in concert with other processes, such as apoptosis, cell signaling, and receptor-mediated responses. This approach recognizes that diseases are often multifactorial and that oxidative stress is a single component. Other sections cover new organ site tumors—skin and liver cancer, the role of polymorphisms, cytochrome p450s, COX gene, fatty acids, apoptosis, T cells and mitochondria, prevention/protection with anthocyanins, esculetin, nanoparticles, and more.
This book is a valuable resource for cancer researchers, oncologists, nutritionists and other members of the biomedical field who are interested in enhancing treatment outcome, improving the quality of life of patients, and developing new treatments in the fight against cancer.
Encompasses updated, revised and state-of-the-art information to advance cancer research
Bridges the gaps between nutrition, oxidative stress, and cancer, presenting a holistic approach for health care and research
Contains wide applicability to cancer research, from prevention to novel therapeutics
Cancer researchers; oncologists; nutritionists; pharmacologists
Section A: Oxidative stress and cancer
1. Paraoxonases, oxidative stress, and breast cancer
Fatma Ceyla Eraldemir and Tuğcan Korak
2. Oxidative stress and prostate cancer
Masaki Shiota
3. Oxidative stress in lung cancer
Amir Mousapasandi, Wei Sheng Joshua Loke, Cristan A. Herbert, and Paul S. Thomas
4. Endogenous antioxidants in the prognosis and treatment of lung cancer
Laurie Freire Boullosa, Jinthe Van Loenhout, and Christophe Deben
5. Oxidative stress in stomach cancer
Hitoshi Tsugawa and Hidekazu Suzuki
6. Oxidative stress and oral cavity cancer
Ayca Ant
7. Oxidative stress, epigenetics, and bladder cancer
Chanchai Boonl
8. Linking oxidative stress and ovarian cancers
Tsukuru Amano and Tokuhiro Chano
9. Redox-dependent mechanisms of carcinogenesis in human papillomavirus infection
Cesira Foppoli and Marzia Perluigi
10. Polymorphisms, antioxidant genes, and cancer
Mazhar Al Zoubi and Alaa Aljabali
11. The interconnection of high-fat diets, oxidative stress, the heart, and carcinogenesis
Bianka Bojková, Natalia Kurhaluk, and Pawel J. Winklewski
12. Cancer during pregnancy. Maternal, placenta, and fetal damage. Nutrition, antioxidant defenses, and adult offspring tumor-bearing
Carla de Moraes Salgado, Natalia Angelo da Silva Miyaguti, Sarah Christine Pereira de Oliveira, Bianca Cristine Favero-Santos, Laís Rosa Viana, Melina de Moraes Santos Oliveira, and Maria Cristina Cintra Gomes-Marcondes
13. Inflammation and oxidatively induced DNA damage: A synergy leading to cancer development
Ioanna Tremi, Somaira Nowsheen, Khaled Aziz, Shankar Siva, Jessica Ventura, Vasiliki I. Hatzi, Olga A. Martin, and Alexandros G. Georgakilas
14. Ferroptosis, free radicals, and cancer
Rui Kang and Daolin Tang
15. Nrf2, YAP, antioxidant potential, and cancer
Giuseppina Barrera, Marie Angele Cucci, Margherita Grattarola, and Stefania Pizzimenti
16. Cancer, NFkappaB, and oxidative stress-dependent phenotypes
Daniela Sorriento, Jessica Gambardella, and Guido Iaccarino
17. 8-Hydroxydeoxyguanosine: A valuable predictor of oxidative DNA damage in cancer and diabetes mellitus
Anmar Al-Taie, Mesut Sancar, and Fikret Vehbi Izzettin
Section B: Antioxidants and cancer
18. Molecular approaches toward targeted cancer therapy with some food plant products: On the role of antioxidants and immune microenvironment
Anisur Rahman Khuda-Bukhsh, Santu Kumar Saha, Sreemanti Das, and Sweta Sharma Saha
19. Prostate cancer and food-based antioxidants in India as plausible therapeutics
Ranjana Bhandari, Garima Khanna, and Anurag Kuhad
20. Linking nonenzymatic antioxidants in the diet and colorectal cancer 219
Esther Molina-Montes, Belén García-Villanova, Eduardo Jesús Guerra-Hernández, and Pilar Amiano
21. Fruit and vegetable juices and breast cancer
Cíntia Ferreira-Pêgo, Bojana B. Vidović , Nuno G. Oliveira, Ana S. Fernandes and João G. Costa
22. Oxidative stress and cancer: Role of n-3 PUFAs
Concetta Finocchiaro, Maurizio Fadda, Valentina D'Onofrio, Mirko Ippolito, Costanza Pira, and Andrea Devecchi
23. Statins, cancer, and oxidative stress
Tahoora Shomali and Mahboobeh Ashrafi
24. Role of anthocyanins in oxidative stress and the prevention of cancer in the digestive system
Elvira Gonzalez de Mejia, Miguel Rebollo-Hernanz, Yolanda Aguilera, and Maria A. Martín-Cabrejas
25. Caffeic Acid targets metabolism of cervical squamous cell carcinoma
Malgorzata Tyszka-Czochara
26. Effects of caffeic acid on oxidative balance and cancer
Beatriz da Silva Rosa Bonadiman, Grazielle Castagna Cezimbra Weis, Jéssica Righi da Rosa, Charles Elias Assmann, < Audrei de Oliveira Alves, Pâmela Longhi, and Margarete Dulce Bagatini
27. Oxidative stress and cancer: Antioxidative role of Ayurvedic plants
Sahdeo Prasad and Sanjay K. Srivastava
28. Polyphenol chlorogenic acid, antioxidant profile, and breast cancer
Onur Bender and Arzu Atalay
29. Cinnamomum cassia, apoptosis, STAT3 inactivation and reactive oxygen species in cancer studies
Yae Jin Yoon and Byoung-Mog Kwon
30. Antioxidative stress actions of cocoa in colonic cancer: Revisited
Sonia Ramos, Luis Goya, and Maria Angeles Martín
31. Medicinal plants, antioxidant potential, and cancer
Emmanuel Mfotie Njoya
32. Curcumin, oxidative stress, and breast cancer
Gloria M. Calaf
33. Curcumin analogs, oxidative stress, and prostate cancer
Marco Bisoffi and Justin M. O'Neill
34. Fern extract, oxidative stress, and skin cancer
Concepción Parrado, Yolanda Gilaberte, Neena Philips, Angeles Juarranz, and Salvador Gonzalez
35. Lycium barbarum (goji berry), human breast cancer, and antioxidant profile
Anna Wawruszak, Marta Halasa, and Karolina Okla
36. Manuka honey, oxidative stress, 5-fluorouracil treatment, and colon cancer cells
Sadia Afrin, Tamara Y. Forbes-Hernández, Francesca Giampieri, and Maurizio Battino
37. Piplartine (piperlongumine), oxidative stress, and use in cancer
Daniel Pereira Bezerra
38. Antioxidant of Pleurotus ostreatus (Jacq.) P. Kumn and lymphoid cancer cells
Md. Moyen Uddin Pk, Jane O'Sullivan, Rumana Pervin, and Matiar Rahman
39. "Skin cancer, polyphenols, and oxidative stress" or Counteraction of oxidative stress, inflammation, signal transduction pathways, and extracellular matrix remodeling that mediate skin carcinogenesis by polyphenols
Neena Philips, Richard Richardson, Halyna Siomyk, David Bynum, and Salvador Gonzalez
40. Pterostilbene and cancer chemoprevention
Rong-Jane Chen and Ying-Jan Wang
41. Resveratrol, reactive oxygen species, and mesothelioma
Saime Batırel
42. Exercise, selenium, and cancer cells
Mahdieh Molanouri Shamsi and Zuhair Mohammad Hassan
43. Silybum marianum, antioxidant activity, and cancer patients
Sepideh Elyasi
44. Plants of the genus Terminalia: Phytochemical and antioxidant profiles, proliferation, and cancer
Ian Edwin Cock and Matthew Cheesman
45. Uncaria tomentosa: A promising source of therapeutic agents for prevention and treatment of oxidative stress and cancer
Francesca Ciani, Natascia Cocchia, Viola Calabrò, Alessandra Pollice, Lucianna Maruccio, Domenico Carotenuto, Luigi Esposito, Luigi Avallone, and Simona Tafuri
46. Pharmacological ascorbate and use in pancreatic cancer
Rory S. Carroll, Garry R. Buettner, and Joseph J. Cullen
47. Antioxidant vitamins and genetic polymorphisms in breast cancer
Daehee Kang, Sang-Ah Lee, and Woo-Kyoung Shin
48. Antioxidant vitamins in acute lymphoblastic leukemia
Behnaz Abiri and Mohammadreza Vafa
Section C: Online resources
49. Recommended resources on cancer: Oxidative stress and dietary antioxidants
Rajkumar Rajendram, Vinood B. Patel, and Victor R. Preedy
No. of pages:

596
Language:

English
Copyright:

© Academic Press

2021
Published:

14th January 2021
Imprint:

Academic Press
Hardcover

ISBN:

9780128195475
eBook

ISBN:

9780128195635
Dr. Preedy is a senior member of King's College London and Director of the Genomics Centre and a member of the Faculty of Life Sciences and Medicine. Professor Preedy has longstanding academic interests in substance misuse especially in relation to health and well-being. In his career Professor Preedy was Reader at the Addictive Behaviour Centre at The University of Roehampton, and also Reader at the School of Pharmacy (now part of University College London; UCL). Professor Preedy is an extremely experienced book editor, having edited influential works including but not limited to The Handbook of Alcohol Related Pathology, The Neuropathology of Drug Addictions and Substance Misuse, The Handbook of Cannabis and Related Pathologies, The Neuroscience of Cocaine, and upcoming titles The Neuroscience of Alcohol, The Neuroscience of Nicotine, and more (all Elsevier).
Affiliations and Expertise
Professor of Nutritional Biochemistry, Department of Nutrition and Dietetics, Professor of Clinical Biochemistry, Department of Clinical Biochemistry; Director of the Genomics Centre, King's College, London, UK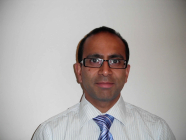 Dr. Patel is a Reader at the University of Westminster. After completing his PhD at King's College London, he continued his research experience by undertaking his post-doctoral studies in the laboratory of Professor Cunningham in the Department of Biochemistry at the Wake Forest University School of Medicine, (Winston-Salem, NC, USA). This extensive project involved investigating mechanisms of hepatic mitochondrial ribosome dysfunction in alcoholic liver disease (ALD) using biophysical and proteomic techniques. These studies have led to new avenues in determining the pathology of ALD. His teaching areas at both post-graduate and undergraduate levels include clinical biochemistry, investigative pathology and laboratory investigation.
Affiliations and Expertise
Reader, University of Westminster, London, United Kingdom
"This book is a valuable resource for cancer researchers, oncologists, nutritionists and other members of the biomedical field who are interested in enhancing treatment outcome, improving the quality of life of patients, and developing new treatments in the fight against cancer." --Anticancer Research
Tax Exemption
We cannot process tax exempt orders online. If you wish to place a tax exempt order please
contact us
.
Elsevier.com visitor survey
We are always looking for ways to improve customer experience on Elsevier.com.
We would like to ask you for a moment of your time to fill in a short questionnaire, at the end of your visit.

If you decide to participate, a new browser tab will open so you can complete the survey after you have completed your visit to this website.

Thanks in advance for your time.
Accept
Decline