Atherosclerosis and Autoimmunity
1st Edition
Editors:
Yehuda Shoenfeld
D. Harats
G. Wick
Hardcover ISBN: 9780444506696
eBook ISBN: 9780080527659
Imprint: Elsevier Science
Published Date: 27th February 2001
---
Presenting further studies in the prevention and treatment of coronary artery disease, this book brings together the knowledge accrued in the past decade concerning the role of immunity in the initiation and perpetuation of atherosclerosis. A strong group of international contributors summarize the diverse aspects of the interrelationship between the immune system and atherosclerosis.
Preface. List of Contributors. Introduction: Autoimmunity as an Additional 'Risk Factor' for Atherosclerosis (Y. Shoenfeld, D. Harats, G. Wick).
I Autoimmunity and Atherosclerosis The Autoimmune Pathogenesis of Atherosclerosis - an Evolutionary-Darwinian Concept (G. Wick, G. Millonig, Qingbo Xu). Autoimmune Aspects of Atherosclerosis (G.K. Hansson, A. Nicoletti).
II Pathogenetic Immune Mechanism of Atherosclerosis The Role of Macrophage Scavenger Receptors in Atherogenesis (K. Takahashi, M. Takeya, N. Sakashita, M. Yoshimatsu, K. Jinnouchi). CD36, the Macrophage Class B Scavenger Receptor: Regulation and Role in Atherosclerosis (A.C. Nicholson, Jihong Han, M. Febbraio, S.F.A. Pearce, A.M. Gotto Jr., D. Hajjar). Atherosclerosis, Matrix-Metalloproteinases (MMPs) and Ischemia/Hypoxia (N. Lahat, S. Shapiro). Ceramide Pathway and Apoptosis in Autoimmunity and Atherosclerosis (T. Goldkorn, J. George, S.N. Lavrentiadou, T. Ravid, A. Tsaba, Y. Shoenfeld, D. Harats). &agr;-Defensins: Potential Link between Inflammation, Thrombosis and Atherosclerosis (A.A. Higazi, D.B. Cines, K. Bdeir). Lipids and Immunity (S.M. Watkins, J.B. German, Y. Shoenfeld, M.E. Gershwin).
III Infections, Immunity and Atherosclerosis Immune Activation Augments Infection-Dependent Atherogenesis (G. Ricevuti, C.J. Wiedermann). Host Response Differences to Infection May Affect Disease Susceptibility in Atherosclerotic Patients (Jianhui Zhu, Yi Fu Zhou, S.E. Epstein). The Role of Chronic Infection in Atherosclerosis (S. Gupta, A. Sethi).
IV Atherosclerosis Related Autoantibodies Atherosclerosis: Evidence for the Role of Autoimmunity (Y. Shoenfeld, J. George, Y. Sherer, D. Harats). Oxidized Autoantigens in Atheroscleros
No. of pages:

396
Language:

English
Copyright:

© Elsevier Science

2001
Published:

27th February 2001
Imprint:

Elsevier Science
eBook

ISBN:

9780080527659
Hardcover

ISBN:

9780444506696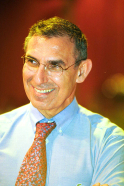 Prof. Yehuda Shoenfeld is the founder and head of the Zabludowicz Center for Autoimmune Diseases, at the Sheba Medical Center which is affiliated to the Sackler Faculty of Medicine in Tel-Aviv University, in Israel. Dr. Shoenfeld is the Incumbent of the Laura Schwarz-Kipp Chair for Research of Autoimmune Diseases at the Tel-Aviv University. His clinical and scientific works focus on autoimmune and rheumatic diseases, and he has published more than 1750 papers in journals such as New Eng J Med, Nature, Lancet, Proc Nat Acad Scie, J Clin Invest, J Immunol, Blood, FASEB, J Exp Med, Circulation, Cancer and others. His articles have had over 35,000 citations. He has written more than three hundred and fifty chapters in books, and has authored and edited 25 books, some of which became cornerstones in science and clinical practice, such as "The Mosaic of Autoimmunity", "Infections and Autoimmunity" and the textbook "Autoantibodies" and "Diagnostic criteria of autoimmune diseases", all of which were published by Elsevier and sold by the thousands. He is on the editorial board of 43 journals in the field of rheumatology and autoimmunity and is the founder and the editor of the IMAJ (Israel Medical Association Journal) the representative journal of science and medicine in the English language in Israel, and also is the founder and Editor of the "Autoimmunity Reviews" (Elsevier) (Impact factor 7.9) and Co-Editor of "Journal of Autoimmunity" (Impact factor 8.1). He has organized over 20 international congresses in autoimmunity. Prof. Shoenfeld received the EULAR prize in 2005, in Vienna, Austria: "The infectious etiology of anti-phospholipid syndrome". He has received a gold medal from the Slovak Society of Physicians for his contribution to Israel – Slovakia collaboration (March 2006), and is honorary member of the Hungarian Association of Rheumatology. In UC Davis, USA, Dr. Shoenfeld received the Nelson's Prize for Humanity and Science for 2008. In 2009 he was honore
Affiliations and Expertise
Zabludowicz Center for Autoimmune Diseases,Sheba Medical Center, Affiliate of Tel-Aviv University, Israel
Affiliations and Expertise
Institute of Lipid and Atherosclerosis Research, Chaim Sheba Medical Center, Tel-Hashomer 52621, Israel
Affiliations and Expertise
University of Innsbruck, Institute for General and Experimental Pathology, Fritz-Pregl-Strasse 3/IV, Innsbruck, 6020 Austria