Agronomy and Economy of Black Pepper and Cardamom
1st Edition
The "King" and "Queen" of Spices
Authors:
K.P. Prabhakaran Nair
Hardcover ISBN: 9780123918659
eBook ISBN: 9780123918772
Published Date: 15th July 2011
---
Known as the "King" of spices, black pepper (Piper nigrum L.) and the "Queen" of spices, cardamom (Elettaria cardamomum M.), both perennial crops of the tropics, are the most important and most widely sought after spice crops of the world. They both have many uses, for example, both are used as flavourings and as a medicine.
This book provides a comprehensive review of these two very important spice crops, covering origin, history, geographical distribution, production, economy and their uses.
Discusses the two major spices of great economic value to the developing world

The author is an eminent scientist who has won numerous awards for his work in this area
Professionals, researchers, students, and government involved in agriculture and allied sectors
Dedication
Preface
1. The Agronomy and Economy of Black Pepper (Piper nigrum L.)—The "King of Spices"

1.1. Introduction
1.2. The Pepper Plant—Its Botany and Chemistry
1.3. Pepper Agronomy
1.4. The Role of the Nutrient Buffer Power Concept in Pepper Nutrition
1.5. Establishing a Pepper Plantation
1.6. Pepper Pests and Their Control
1.7. The Processing of Black Pepper on Farm
1.8. An Account of Indonesian Pepper Processing
1.9. Industrial Processing of Black Pepper
1.10. The Future of the Global Pepper Economy
1.11. Pepper Economy in India
1.12. Pepper Pharmacopoeia
1.13. Consumer Products Out of Black Pepper
1.14. Value Addition in Pepper
1.15. Conclusions and a Peep Into Pepper's Future

2. The Agronomy and Economy of Cardamom (Elettaria cardamomum M.): The "Queen of Spices"

2.1. Introduction
2.2. Cardamom Botany
2.3. Cardamom Chemistry
2.4. The Agronomy of Cardamom
2.5. The Role of "The Nutrient Buffer Power Concept" in Cardamom Nutrition
2.6. Cardamom Pathology
2.7. Cardamom Entomology
2.8. Harvesting and Processing of Cardamom
2.9. Industrial Processing of Cardamom and Cardamom Products
2.10. The Economy of Cardamom Production
2.11. Pharmacological Properties of Cardamom
2.12. A Peek into the Future of Cardamom
2.13. Large Cardamom (Amomum Subulatum Roxb.)
2.14. False Cardamom
2.15. Specification for Cardamom
No. of pages:

380
Language:

English
Copyright:

© Elsevier

2011
Published:

15th July 2011
Imprint:

Elsevier
eBook

ISBN:

9780123918772
Hardcover

ISBN:

9780123918659
Paperback

ISBN:

9780323165334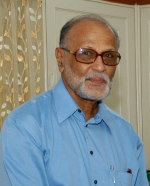 Affiliations and Expertise
Distinguished Visiting Scientist, Indian Council of Agricultural Research, New Delhi, India
"This is an effective alternative to the chemically propelled industrial agriculture of Green Revolution that has resulted in adverse environmental fallout on Indian soils. Black Pepper has a chequered history. It was in fact the 'spice war' between the Arabs, the Portuguese, the Dutch and the British that led to the colonisation of India, which began with the landing of Vasco da Gama on Kappad beach. In the book, Prbhakaran Nair traces the origin, history, global spread, development, agronomy, nutrition, economy, world trade, pharmacopoeia and end products of the two spice crops of the world, known as the 'king' and 'queen' of spices. The book has been launched by Elsevier International. The electronic book has been launched on the new 'Elsevier Insights' project, a new concept in electronic publishing."--bnlive.in.com