The Practice of Medicinal Chemistry
2nd Edition
Editors:
Camille Wermuth
Camille Wermuth
Hardcover ISBN: 9780127444819
eBook ISBN: 9780080497778
Published Date: 11th June 2003
---
The Practice of Medicinal Chemistry, 2E, is a single-volume source on the practical aspects of medicinal chemistry. The successful first edition was nicknamed "The Bible" by medicinal chemists, and the second edition has been updated, expanded and refocused to reflect developments over the last decade. Emphasis is put on how medicinal chemists conduct their search for and design of new drug entities. In contrast to competing books, it focuses on the chemistry rather than pharmacological concepts or descriptions of the various therapeutic classes of drugs. Most medicinal chemists working in the pharmaceutical industry are organic synthetic chemists who must acquire a strong knowledge of medicinal chemistry as they enter the industry. This book aims to be their practical handbook - a complete guide to the drug discovery process.
The only book available dealing with the practical aspects of medicinal chemistry
Serves as a complete guide to the drug discovery process, from conception of the molecules to drug production
Updated chapters devoted to the discovery of new lead compounds, including combinatorial chemistry
Academic and industrial organic chemists/pharmacologists beginning a career in drug research, established scientists teaching medicinal chemistry, graduate and post-graduate medicinal chemists, biochemists, physical chemists, structural biologists, protein chemists, molecular biologists, and researchers and scientists in the pharmaceutical industry.
Foreward. Preface. A Brief History Of Drugs From Plant Extracts To DNA Technology Medicinal Chemistry: Definition And Objectives, The Three Main Phases Of Drug Activity, Drug And Diseases Classifications Measurement And Expression Of Drug Effects Drug Targets: Molecular Mechanisms Of Drug Action Strategies In The Search For New Lead Compounds Or Original Working Hypotheses Natural Products As Pharmaceuticals And Sources For Lead Structures Basics Of Combinatorial Chemistry The Contribution Of Molecular Biology To Drug Discovery Electronic Screening: Lead Finding From Database Mining High-Speed Chemistry Libraries: Assessment Of Drug-Likeness Web Alert — Using The Internet For Medicinal Chemistry Molecular Variations In Homologous Series: Vinylogues And Benzologues Molecular Variations Based On Isosteric Replacements Ring Transformations Introduction Of Conformational Restriction And/Or Steric Hindrance Identical And Non Identical Twin Drugs Optical Isomerism In Drugs Application Strategies For The Primary Structure-Activity Relationship Exploration Specific Substituent Groups The Role Of Functional Groups In Drug-Receptor Interactions Compound Properties And Drug Quality Quantitative Approaches To Structure-Activity Relationships Structural Aspects Of Drug Action I Pharmacophore Identification And Receptor Mapping Three-Dimentional Quantitative Structure-Property Relationships Protein Crystallography And Drug Discovery Protein Comparative Modelling And Drug Discovery The Transition From Agonist To Antagonist Activity: Symmetry And Other Considerations Design Of Peptidomi
No. of pages:

736
Language:

English
Copyright:

© Academic Press

2003
Published:

11th June 2003
Imprint:

Academic Press
eBook

ISBN:

9780080497778
Hardcover

ISBN:

9780127444819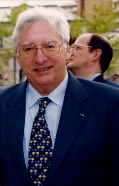 Camille-Georges Wermuth PhD, Prof. and Founder of Prestwick Chemical, was Professor of Organic Chemistry and Medicinal Chemistry at the Faculty of Pharmacy, Louis Pasteur University, Strasbourg, France from 1969 to 2002. He became interested in Medicinal Chemistry during his two years of military service in the French Navy at the "Centre d'Etudes Physio-biologiques Appliquées à la Marine" in Toulon. During this time he worked under the supervision of Dr Henri Laborit, the scientist who invented artificial hibernation and discovered chlorpromazine. Professor Wermuths' main research themes focus on the chemistry and the pharmacology of pyridazine derivatives. The 3-aminopyridazine pharmacophore, in particular, allowed him to accede to an impressive variety of biological activities, including antidepressant and anticonvulsant molecules; inhibitors of enzymes such as mono-amine-oxidases, phosphodiesterases and acetylcholinesterase; ligands for neuro-receptors: GABA-A receptor antagonists, serotonine 5-HT3 receptor antagonists, dopaminergic and muscarinic agonists. More recently, in collaboration with the scientists of the Sanofi Company, he developed potent antagonists of the 41 amino-acid neuropeptide CRF (corticotrophin-releasing factor) which regulates the release of ACTH and thus the synthesis of corticoids in the adrenal glands. Professor Wermuth has also, in collaboration with Professor Jean-Charles Schwartz and Doctor Pierre Sokoloff (INSERM, Paris), developed selective ligands of the newly discovered dopamine D3 receptor. After a three-year exploratory phase, this research has led to nanomolar partial agonists which may prove useful in the treatment of the cocaine-withdrawal syndrome. Dr. Wermuth is co-author or editor of several books, the author of over 250 scientific papers and holds nearly 60 patents. Professor Wermuth is also the recipient of the Charles Mentzer Prize of the Société Française de Chimie Thérapeutique, the Léon Velluz Prize of the Frenc
Affiliations and Expertise
Prestwick Chemical, Illkirch, France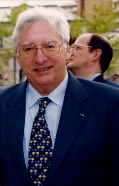 Camille-Georges Wermuth PhD, Prof. and Founder of Prestwick Chemical, was Professor of Organic Chemistry and Medicinal Chemistry at the Faculty of Pharmacy, Louis Pasteur University, Strasbourg, France from 1969 to 2002. He became interested in Medicinal Chemistry during his two years of military service in the French Navy at the "Centre d'Etudes Physio-biologiques Appliquées à la Marine" in Toulon. During this time he worked under the supervision of Dr Henri Laborit, the scientist who invented artificial hibernation and discovered chlorpromazine. Professor Wermuths' main research themes focus on the chemistry and the pharmacology of pyridazine derivatives. The 3-aminopyridazine pharmacophore, in particular, allowed him to accede to an impressive variety of biological activities, including antidepressant and anticonvulsant molecules; inhibitors of enzymes such as mono-amine-oxidases, phosphodiesterases and acetylcholinesterase; ligands for neuro-receptors: GABA-A receptor antagonists, serotonine 5-HT3 receptor antagonists, dopaminergic and muscarinic agonists. More recently, in collaboration with the scientists of the Sanofi Company, he developed potent antagonists of the 41 amino-acid neuropeptide CRF (corticotrophin-releasing factor) which regulates the release of ACTH and thus the synthesis of corticoids in the adrenal glands. Professor Wermuth has also, in collaboration with Professor Jean-Charles Schwartz and Doctor Pierre Sokoloff (INSERM, Paris), developed selective ligands of the newly discovered dopamine D3 receptor. After a three-year exploratory phase, this research has led to nanomolar partial agonists which may prove useful in the treatment of the cocaine-withdrawal syndrome. Dr. Wermuth is co-author or editor of several books, the author of over 250 scientific papers and holds nearly 60 patents. Professor Wermuth is also the recipient of the Charles Mentzer Prize of the Société Française de Chimie Thérapeutique, the Léon Velluz Prize of the Frenc
Affiliations and Expertise
Prestwick Chemical, Illkirch, France
PRAISE FOR THE FIRST EDITION "...a useful, authoritative discussion of the principles and practice of medicinal chemistry...the volume has a useful index, is well produced, and is very resonably priced..." -JOURNAL OF MEDICINAL CHEMISTRY