The Human Nervous System
3rd Edition
Editors:
Juergen Mai
George Paxinos
Hardcover ISBN: 9780123742360
eBook ISBN: 9780080921303
Published Date: 14th November 2011
---
The previous two editions of the Human Nervous System have been the standard reference for the anatomy of the central and peripheral nervous system of the human. The work has attracted nearly 2,000 citations, demonstrating that it has a major influence in the field of neuroscience. The 3e is a complete and updated revision, with new chapters covering genes and anatomy, gene expression studies, and glia cells. The book continues to be an excellent companion to the Atlas of the Human Brain, and a common nomenclature throughout the book is enforced. Physiological data, functional concepts, and correlates to the neuroanatomy of the major model systems (rat and mouse) as well as brain function round out the new edition.
Adopts standard nomenclature following the new scheme by Paxinos, Watson, and Puelles and aligned with the Mai et al. Atlas of the Human Brain (new edition in 2007)
Full color throughout with many new and significantly enhanced illustrations
Provides essential reference information for users in conjunction with brain atlases for the identification of brain structures, the connectivity between different areas, and to evaluate data collected in anatomical, physiological, pharmacological, behavioral, and imaging studies
Neuroscientists, neurologists, and neuropsychologists working on brain anatomy, physiology, pharmacology, behavior, or neurological disease
Dedication
Contributors
Preface
Acknowledgments
I. Evolution and development
Chapter 1. Brain Evolution
The Human Brain as an Outlier
The Human Brain in Numbers
Cerebral Cortex and Connectivity
Concerted Expansion of Cerebral Cortex and Cerebellum
Human Brain Evolution: Comparison with Great Apes
Hominin Evolution: Estimates of Numbers of Brain Neurons in Prehistoric Homo
Human Brain Metabolism Revisited
Conclusion: Remarkable, Yet not Extraordinary
Chapter 2. Development of the Peripheral Nervous System
Cranial Nerves
Somatic Peripheral Nervous System
Autonomic and Enteric Nervous System
Chapter 3. Fetal Development of the Central Nervous System
Cerebral Cortex
Deep Telencephalic Nuclei
Diencephalon
Midbrain
Cerebellum and Pre-Cerebellar Nuclei
Pons and Medulla
Spinal Cord
II. Peripheral nervous system and spinal cord
Chapter 4. Peripheral Nervous System Topics
Introduction
History
Embryology
Dorsal Root Ganglion and the Pseudo-Unipolar Neurons
Schwann Cells, Satellite Cells, and Mast Cells
Nerve Fibers
Plexus
Proprioception and Endplates
Peripheral Nervous System Engineering
Chapter 5. Peripheral Autonomic Pathways
General Organization of Autonomic Pathways
Cranial Autonomic Pathways
Sympathetic Pathways
Pelvic Autonomic Pathways
Enteric Plexuses
Adrenal Medulla and Paraganglia
Concluding Remarks
Acknowledgments
Chapter 6. Spinal Cord: Regional Anatomy, Cytoarchitecture and Chemoarchitecture
Cytoarchitecture of the Human Spinal Cord
Chemoarchitecture of the Human Spinal Cord
Acknowledgment
Chapter 7. Spinal Cord: Connections
Primary Afferent Projections to the Spinal Cord
Propriospinal Pathways
A
No. of pages:

1428
Language:

English
Copyright:

© Academic Press

2012
Published:

14th November 2011
Imprint:

Academic Press
Hardcover

ISBN:

9780123742360
eBook

ISBN:

9780080921303
Jürgen Konrad Mai studied medicine in Freiburg, Germany, Vienna and UT Southwestern Medical School, Dallas, U.S.A. Student and Medical practices in Freiburg (Clinic for Neurosurgery), Berlin and Düsseldorf. Dissertation ("summa cum laude") and habilitation were awarded by the University of Düsseldorf: After a period as GP in private practice (Titisee-Neustadt) he became scientific assistant and senior assistant at the C. and O. Vogt-Institute for Brain Research, University of Düsseldorf (1972 - 1983) and 1983 Professor of Neuroanatomy at the Institute of Neuroanatomy, H.-Heine-University of Düsseldorf. He served as director of the Department of the Institute of Anatomy 1 until retirement in 2011. The main research interests are (i) the structural and molecular anatomy of the mammalian brain, especially of the human brain and (ii) expression patterns and regulation of terminal carbohydrates in development, cell activation and disease (III) operation planning in stereotactic neurosurgery. He works on a "Digital Brain Atlas for Planning and Interindividual Registration of Targets in Deep Brain Stimulation" and on a "Spatial Information Management Resource for the Human Brain". J. K. Mai has edited the catalogue of human brain sections from the Vogt collection; he is author and editor of several books, e.g. the awarded "Atlas of the Human Brain" with CD-ROM (Academic Press/Elsevier, San Diego), "The Human Nervous System" (Academic Press/Elsevier, San Diego, Amsterdam, 3rd ed. 2012), Funktionelle Anatomie für Zahnmediziner (Quintessenz, Berlin, 2nd. ed. 2008; Sensi Divini (ital., engl., ger, russ. eds). J. K. Mai is CEO of MR-X-Brain GmbH.
Affiliations and Expertise
Institute of Anatomy I, Heinrich-Heine-University, Düsseldorf, Germany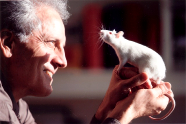 Professor George Paxinos, AO (BA, MA, PhD, DSc) completed his BA at The University of California at Berkeley, his PhD at McGill University, and spent a postdoctoral year at Yale University. He is the author of almost 50 books on the structure of the brain of humans and experimental animals, including The Rat Brain in Stereotaxic Coordinates, now in its 7th Edition, which is ranked by Thomson ISI as one of the 50 most cited items in the Web of Science. Dr. Paxinos paved the way for future neuroscience research by being the first to produce a three-dimensional (stereotaxic) framework for placement of electrodes and injections in the brain of experimental animals, which is now used as an international standard. He was a member of the first International Consortium for Brain Mapping, a UCLA based consortium that received the top ranking and was funded by the NIMH led Human Brain Project. Dr. Paxinos has been honored with more than nine distinguished awards throughout his years of research, including: The Warner Brown Memorial Prize (University of California at Berkeley, 1968), The Walter Burfitt Prize (1992), The Award for Excellence in Publishing in Medical Science (Assoc Amer Publishers, 1999), The Ramaciotti Medal for Excellence in Biomedical Research (2001), The Alexander von Humbolt Foundation Prize (Germany 2004), and more.
Affiliations and Expertise
Neuroscience Research Australia and The University of New South Wales, Sydney, Australia