The Flagellar World
1st Edition
Electron Microscopic Images of Bacterial Flagella and Related Surface Structures
Authors:
Shin-Ichi Aizawa
Paperback ISBN: 9780124172340
eBook ISBN: 9780124172838
Published Date: 17th December 2013
---
The Flagellar World is a unique publication. The product of years of research and data collection by the author, this book is a pictorial guide to flagella in a variety of organisms. Each EM image is accompanied by a short description of the system in each organism. These never-before-seen pictures represent a wide variety of flagella, including Legionella pneumophila, Escherichia coli, Pseudomonas aeruginosa, and many others. Researchers in microbiology, immunology, and parasitology will find this a fascinating and useful resource.
A unique publication with many never before seen EM images of flagella
A historical document of years of research on flagella
Fills a specific niche that shows flagella in several varied organisms
researchers in microbiology, immunology and parasitology
Preface
Introduction
1 Basic Knowledge about Flagella
2 Flagellar Structure
3 Flagellar Genetics
4 EM Techniques for Flagella Study
Chapter examples
1 Outline
2 Specific Indications
Chapter 1. Actinoplanes missouriensis — Swimming Spores with Flagella
Chapter 2. Aliivibrio fischeri — Light-Organ Symbiont in the Bobtail Squid
Chapter 3. Azospirillum brasilense — A Bushy Hook of the Polar Flagellum
Chapter 4. Bacillus subtilis — The Representative of Gram-Positive Bacteria
Topic 1: Gene Regulation
Topic 1. Gene Regulation
Chapter 5. Bdellovibrio bacteriovorus — A Small but Fierce Predator
Chapter 6. Borrelia burgdorferi — Periplasmic Flagella in a Flat Wave Body
Chapter 7. Bradyrhizobium japonicum — The Nitrogen–Fixer in the Peanut Farm
Chapter 8. Caulobacter crescentus — Alteration between Flagellum and Stalk
Chapter 9. Enterococcus casseliflavus — Edible Flagella
Chapter 10. Escherichia coli — The Representative of the Gram-Negative Bacteria
Chapter 11. Geobacillus kaustophilus — The Heat- and Acid-Stable Flagella
Chapter 12. Gluconobacter oxydans — The Vinegar Producing Bacteria
Chapter 13. Helicobacter pylori — Randomly Arranged Flagellar Genes
Topic 2: Gene Arrangement
Topic 2. Gene Arrangement
Topic 3: Mot Proteins
Topic 3. Mot Proteins
Chapter 14. Idiomarina loihiensis — A Habitat of Deep-Sea Volcano
Chapter 15. Legionella pneumophila — Opportunistic Pathogen in Public Bath
Chapter 16. Magnetospirillum magnetotacticum — High-Quality Magnet in the Pond
Topic 4: Flagellin siz
No. of pages:

160
Language:

English
Copyright:

© Academic Press

2014
Published:

17th December 2013
Imprint:

Academic Press
eBook

ISBN:

9780124172838
Paperback

ISBN:

9780124172340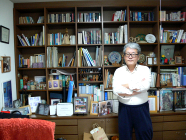 Professor Shin-Ichi Aizawa has decades of experience in the research of flagella, from developing a new method for the purification of flagella to the research of the flagellar with the electron microscope (EM). With The Flagellar World, Professor Aizawa has chosen to share EM images taken during his years of research, showcasing thousands of flagella images from various species. Professor Aizawa graduated from the Department of Physics of Tohoku University in 1974. After obtaining a Ph.D.(Biophysics) at Nagoya University in 1980, he went to Yale University, Department of Biophysics & Biochemistry as a Postdoc under the supervision of Dr. Robert M. Macnab, then returned to Japan in 1985.
Affiliations and Expertise
Prefectural University of Hiroshima, Department of Life Sciences, Hiroshima, Japan