The Flagellar World
1st Edition
Electron Microscopic Images of Bacterial Flagella and Related Surface Structures
Paperback ISBN: 9780124172340
eBook ISBN: 9780124172838
Published Date: 17th December 2013
Secure Checkout
Personal information is secured with SSL technology.
Free Shipping
Free global shipping
No minimum order.
---
The Flagellar World is a unique publication. The product of years of research and data collection by the author, this book is a pictorial guide to flagella in a variety of organisms. Each EM image is accompanied by a short description of the system in each organism. These never-before-seen pictures represent a wide variety of flagella, including Legionella pneumophila, Escherichia coli, Pseudomonas aeruginosa, and many others. Researchers in microbiology, immunology, and parasitology will find this a fascinating and useful resource.
A unique publication with many never before seen EM images of flagella
A historical document of years of research on flagella
Fills a specific niche that shows flagella in several varied organisms
researchers in microbiology, immunology and parasitology
Preface
Introduction
1 Basic Knowledge about Flagella
2 Flagellar Structure
3 Flagellar Genetics
4 EM Techniques for Flagella Study
Chapter examples
1 Outline
2 Specific Indications
Chapter 1. Actinoplanes missouriensis — Swimming Spores with Flagella
Chapter 2. Aliivibrio fischeri — Light-Organ Symbiont in the Bobtail Squid
Chapter 3. Azospirillum brasilense — A Bushy Hook of the Polar Flagellum
Chapter 4. Bacillus subtilis — The Representative of Gram-Positive Bacteria
Topic 1: Gene Regulation
Topic 1. Gene Regulation
Chapter 5. Bdellovibrio bacteriovorus — A Small but Fierce Predator
Chapter 6. Borrelia burgdorferi — Periplasmic Flagella in a Flat Wave Body
Chapter 7. Bradyrhizobium japonicum — The Nitrogen–Fixer in the Peanut Farm
Chapter 8. Caulobacter crescentus — Alteration between Flagellum and Stalk
Chapter 9. Enterococcus casseliflavus — Edible Flagella
Chapter 10. Escherichia coli — The Representative of the Gram-Negative Bacteria
Chapter 11. Geobacillus kaustophilus — The Heat- and Acid-Stable Flagella
Chapter 12. Gluconobacter oxydans — The Vinegar Producing Bacteria
Chapter 13. Helicobacter pylori — Randomly Arranged Flagellar Genes
Topic 2: Gene Arrangement
Topic 2. Gene Arrangement
Topic 3: Mot Proteins
Topic 3. Mot Proteins
Chapter 14. Idiomarina loihiensis — A Habitat of Deep-Sea Volcano
Chapter 15. Legionella pneumophila — Opportunistic Pathogen in Public Bath
Chapter 16. Magnetospirillum magnetotacticum — High-Quality Magnet in the Pond
Topic 4: Flagellin size
Topic 4. Flagellin size
Chapter 17. Paenibacillus alvei — Flagella-Dependent Social Motility
Chapter 18. Pectobacterium carotovorum — Subpolar Hyper-Flagellation
Chapter 19. Pseudomonas aeruginosa — Opportunistic Pathogen in the Hospital
Topic 5: Flagella and Pathogenicity
Topic 5. Flagella and Pathogenicity
Chapter 20. Ralstonia solanacearum — Ubiquitous Plant Pathogen
Chapter 21. Rhodobacter sphaeroides — A Resourceful Little Bug
Topic 6: Flagellar Position and Shape
Topic 6. Flagellar Position and Shape
Chapter 22. Ruegeria sp. TM1040 — A Fast Swimmer in the Sea
Chapter 23. Saccharophagus degradans — The Seaweed Eater
Chapter 24. Salmonella enterica Serovar Typhimurium — The Best-Studied Flagella
Topic 7: History of Salmonella SJW Strains
Topic 7. History of Salmonella SJW Strains
Chapter 25. Selenomonas ruminantium — The Authentic Lateral Flagella
Topic 8: Hook length
Topic 8. Hook length
Topic 9: Multiple Flagellins
Topic 9. Multiple Flagellins
Chapter 26. Sinorhizobium meliloti — Nitrogen–Fixer in the Grassland
Chapter 27. Symbiobacterium thermophilum — A Gram-Negative, High (G+C) Firmicutes
Chapter 28. Vibrio parahaemolyticus — Polar/Lateral Flagella with H+/Na+Motor
Chapter 29. Xanthomonas oryzae pv. Oryzae — Pathogen in the Rice Country
Chapter 30. Uncharacterized species — Slowly-Growing Bacteria
Chapter 31. Buchnera aphidicola — Flagella Not for Motility
Chapter 32. Methanococcus voltae — Archaeal Flagella or Archaellum
Chapter 33. Myxococcus xanthus — To be Social or to be Adventurous
Chapter 34. Saprospira grandis — A Grand Predator on the Seashore
Chapter 35. Shigella flexneri — Flagellaless E. coli
Appendix
1 Flagellar Family
2 Methods for Purification of Flagella
3 Microscopic Methods for Observation of Flagella
References
Introduction
Index
No. of pages:

160
Language:

English
Copyright:

© Academic Press

2014
Published:

17th December 2013
Imprint:

Academic Press
Paperback

ISBN:

9780124172340
eBook

ISBN:

9780124172838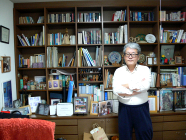 Professor Shin-Ichi Aizawa has decades of experience in the research of flagella, from developing a new method for the purification of flagella to the research of the flagellar with the electron microscope (EM). With The Flagellar World, Professor Aizawa has chosen to share EM images taken during his years of research, showcasing thousands of flagella images from various species.
Professor Aizawa graduated from the Department of Physics of Tohoku University in 1974. After obtaining a Ph.D.(Biophysics) at Nagoya University in 1980, he went to Yale University, Department of Biophysics & Biochemistry as a Postdoc under the supervision of Dr. Robert M. Macnab, then returned to Japan in 1985.
Affiliations and Expertise
Prefectural University of Hiroshima, Department of Life Sciences, Hiroshima, Japan
Tax Exemption
We cannot process tax exempt orders online. If you wish to place a tax exempt order please
contact us
.
Elsevier.com visitor survey
We are always looking for ways to improve customer experience on Elsevier.com.
We would like to ask you for a moment of your time to fill in a short questionnaire, at the end of your visit.

If you decide to participate, a new browser tab will open so you can complete the survey after you have completed your visit to this website.

Thanks in advance for your time.
Accept
Decline