Test and Measurement: Know It All
1st Edition
Authors:
Jon Wilson
Stuart Ball
Creed Huddleston
Edward Ramsden
Dogan Ibrahim
Paperback ISBN: 9781856175302
eBook ISBN: 9780080949680
Published Date: 26th September 2008
---
Chapter 1 Fundamental of measurement 1.1 Introduction 1.2 Fundamental concepts Bibliography
Chapter 2 Sensors and Transducers 2.1 Basic Sensor Technology 2.2 Sensor Systems 2.3 Application Considerations 2.4 Sensor Characteristics 2.5 System Characteristics 2.6 Instrument Selection 2.7 Data Acquisition and Readout 2.8 Installation 2.9 Measurement Issues and Criteria
Chapter 3. Data acquisition hardware and software 3.1 ADCs 3.2 Types of ADCs 3.3 ADC Comparison 3.4 Sample and Hold 3.5 Real Parts 3.6 Microprocessor Interfacing 3.7 Clocked Interfaces 3.8 Serial Interfaces 3.9 Multichannel ADCs 3.10 Internal Microcontroller ADCs 3.11 Codecs 3.12 Interrupt Rates 3.13 Dual-Function Pins on Microcontrollers 3.14 Design Checklist
Chapter 4. Overview of measurement systems 4.1 Transducers 4.2 Methods of measurement 4.3 Sensitivity 4.4 Zero, linearity and span 4.5 Resolution, hysteresis and error 4.6 Fourier analysis 4.7 Dynamic response 4.8 PID control 4.9 Accuracy and repeatability 4.10 Mechanical models
Chapter 5 Acceleration, Shock and Vibration 5.1 Introduction 5.2 Technology Fundamentals 5.3 Selecting and Specifying Accelerometers 5.4 Applicable Standards 5.5 Interfacing and Designs 5.6 Machinery Vibration Monitoring Sensors
Chapter 6 Flow 6.1 General 6.2 Differential pressure
---
The Newnes Know It All Series takes the best of what our authors have written to create hard-working desk references that will be an engineer's first port of call for key information, design techniques and rules of thumb. Guaranteed not to gather dust on a shelf!
Field Application engineers need to master a wide area of topics to excel. The Test and Measurement Know It All covers every angle including Machine Vision and Inspection, Communications Testing, Compliance Testing, along with Automotive, Aerospace, and Defense testing.
A 360-degree view from our best-selling authors Topics include the Technology of Test and Measurement, Measurement System Types, and Instrumentation for Test and Measurement. The ultimate hard-working desk reference; all the essential information, techniques and tricks of the trade in one volume
Field Application Engineers; Electronics Engineers; Communications Engineers
---
No. of pages:

912
Language:

English
Copyright:

© Newnes

2008
Published:

26th September 2008
Imprint:

Newnes
eBook

ISBN:

9780080949680
Paperback

ISBN:

9781856175302
---
Affiliations and Expertise
Principal Consultant, The Dynamic Consultant, CA, USA
Senior Electrical Engineer who has worked for the past twenty years in the field of embedded control systems. He previously worked on Global Positioning Systems and secure communications equipment at Rockwell International, on document processing equipment at Banctec, and on medical electronics at Organon-Teknika. He has written several books and many articles for periodicals such as Circuit Cellar INK, and Modern Electronics.
Affiliations and Expertise
Embedded Systems consultant and author
Affiliations and Expertise
Real-Time by Design, LLC, Raleigh, NC, USA
Ed Ramsden is an electrical engineer who has been working with Hall effect sensors since 1988. His experience ranges from designing Hall effect integrated circuits to developing novel magnetic processing techniques. He has written over a dozen technical articles on sensor-related topics, and he holds four U.S patents in the area of magnetic sensor technology.
Affiliations and Expertise
Senior Engineer, Lattice Semiconductor, Hillsboro, OR, USA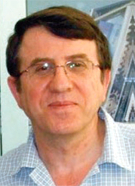 Prof Dogan Ibrahim graduated from the University of Salford with First Class Honours in Electronic Engineering. He then completed an MSc course in Automatic Control Engineering at the University of Manchester, and PhD in Digital Signal Processing at the City University in London. Prof Ibrahim worked at several companies before returning to the academic life. He is currently a lecturer at the Department of Computer Information Systems at the Near East University. Prof Ibrahim is a Fellow of the IET, and a Chartered Electrical Engineer. His interests are in the fields of microcontroller based automatic control, digital signal processing, and computer aided design.
Affiliations and Expertise
Traffic Control Systems Unit, South Bank University, UK, and lecturer at the Department of Computer Information Systems, Near East University, Lefkosa, Cyprus