Systemic Lupus Erythematosus
2nd Edition
Basic, Applied and Clinical Aspects
Paperback ISBN: 9780128145517
eBook ISBN: 9780128145524
Published Date: 7th April 2020
Secure Checkout
Personal information is secured with SSL technology.
Free Shipping
Free global shipping
No minimum order.
---
This completely updated and expanded second edition of Systemic Lupus Erythematosus; Basic, Applied and Clinical Aspects includes topics not covered previously with contributors who are at the forefront of each specific topic and with a global appeal. Each chapter will be short and will be presented critically and not in an encyclopedic manner and with selected, up to 50, references which should be valuable to a wider audience. As a seasoned (not old) editor, he worked with practically all the contributors and this enables to achieve the goals of the book. This manual to SLE combines basic science with clinical science to provide a translational treatment of the disease. Systemic Lupus Erythematosus, a Manual, is a useful reference for specialists in the diagnosis and management of patients with SLE, a tool for measurement of clinical activity for pharmaceutical development and basic research of the disease and a reference work for hospital libraries.
This new edition includes new chapters on:
Microbiota and lupus by Dr. Greg Silverman- a pioneer on this topic
Innate immune cells and lupus
Monogenic lupus
And includes also new techniques and ideas that have been developed for the study of the SLE process and related conform all invariant systems like couplings with Gaussian fields and the related "geometries", measures on loops, and new perspectives on CFT.
Distills current understanding of the cellular, molecular, genetic and environmental factors that instigate and drive the disease
Includes comprehensive coverage of clinical features, including fatigue, organ system manifestations, overlap syndromes, infections, and more
Conveys the very latest understanding of mechanisms of tissue damage, including immune complexes, antibodies, and other mechanisms that lead to organ damage
Discusses the latest treatment options on disease modifying or disease controlling agents
Provides 'one stop' coverage of all the latest scientific and clinical developments in SLE: new concepts in epidemiology, disease activity measures and outcomes; new concepts in immunoregulation, genetic and pathogenic mechanisms; new understanding and novel presentation of the processes of tissue/organ damage; comprehensive coverage of clinical features; and the very latest concepts in treatment
Researchers in basic, applied and clinical immunology
Part I - Epidemiology and diagnosis
1. History of systemic lupus erythematosus with an emphasis on certain recent major issues
Shu Man Fu and Felicia Gaskin
2. The patient
Donald E. Thomas, Jr.
3. A plea of a young patient to the lupus experts
Brianna Fitzpatrick
4. Epidemiology
Manuel F. Ugarte-Gil, Guillermo J. Pons-Estel and Graciela S. Alarcón
5. Measuring disease activity
Joan T. Merrill
6. Disease development and outcome
Mary Mahieu, Dafna Gladman and Rosalind Ramsey-Goldman
7. Socioeconomic aspects of SLE
Titilola Falasinnu and Julia F. Simard
8. Biomarkers in systemic lupus erythematosus
Stacy P. Ardoin and Wael N. Jarjour
Part II - Pathogenesis
9. Overview of the pathogenesis of systemic lupus erythematosus
Antonio La Cava
10. System lupus erythematosus and the environment
Soad Haj Yahia and Nancy Agmon-Levin
11. Genes and genetics in human SLE
Mara L. Lennard Richard and Betty P. Tsao
12. Monogenic lupus
Mindy S. Lo
13. Hormones
Takayuki Katsuyama and Vaishali R. Moulton
14. Clinical aspects of the complement system in systemic lupus erythematosus
John P. Atkinson, M. Kathryn Liszewski and C. Yung Yu
15. T cells
Florencia Rosetti and José C. Crispín
16. B cells in SLE
Andreia C. Lino and Thomas Dörner
17. Neutrophils in systemic lupus erythematosus
Amr H. Sawalha
18. The role of dendritic cells in systemic lupus erythematosus
Manon Charrier, Christophe Richez, Estibaliz Lazaro, Vanja Sisirak and Patrick Blanco
19. Cytokines
Takayuki Katsuyama and Vaishali R. Moulton
20. RNA/DNA sensing in SLE—Toll-like receptors and beyond
Caroline A. Jefferies and Amir Sharabi
21. The role of interferons in systemic lupus erythematosus
Ruth Fernandez-Ruiz and Timothy Niewold
22. Fcγ receptors in autoimmunity and endorgan damage
T. Ernandez, K. Okubo, G. Saggu and T.N. Mayadas
23. Apoptosis, autophagy, and necrosis
Roberto Caricchio
24. Infections in early systemic lupus erythematosus pathogenesis
Rebecka Bourn, Samantha Slight-Webb and Judith A. James
25. Microbiota influences on systemic lupus erythematosus and Sjögren's syndrome
Teri M. Greiling, Silvio Manfredo Vieira and Martin A. Kriegel
26. Origin of autoantibodies
Westley H. Reeves, Shuhong Han and Haoyang Zhuang
27. Anti-DNA antibodies
Susan Malkiel, Yemil Atisha-Fregoso and Betty Diamond
28. Antihistone and antispliceosome antibodies
Minoru Satoh, Marvin J. Fritzler and Edward K.L. Chan
29. Immune complexes in systemic lupus erythematosus
Keiju Hiromura and Masaomi Nangaku
30. MicroRNA in systemic lupus erythematosus
Bo Qu, Xiaoyue Jiang and Nan Shen
31. Metabolic control of lupus pathogenesis: central role for activation of the mechanistic target of rapamycin
Andras Perl
32. Epigenetics
Christian M. Hedrich
33. What do mouse models teach us about human SLE?
Ziaur S.M. Raman and Chandra Mohan
34. Genes and genetics of murine systemic lupus erythematosus
Dwight H. Kono and Argyrios N. Theofilopoulos
Part III - Mechanisms of tissue damage
35. Mechanisms of renal damage in systemic lupus erythematosus
Shu Man Fu, Sun-Sang J. Sung, Hongyang Wang, Zhenhuan Zhao and Felicia Gaskin
36. Mechanisms of vascular damage in systemic lupus erythematosus
Sarfaraz A. Hasni and Mariana J. Kaplan
37. The mechanism of skin damage
Xin Huang, Haijing Wu, Christopher Chang and Qianjin Lu
38. Pathogenesis of tissue injury in the brain in patients with systemic lupus erythematosus
David Hunt
Part IV - Clinical aspects of the disease
39. Constitutional symptoms and fatigue in systemic lupus erythematosus
Syahrul Sazliyana Shaharir and Caroline Gordon
40. The musculoskeletal system in SLE
Maria-Louise Barilla-LaBarca, Diane Horowitz, Galina Marder and Richard Furie
41. Cutaneous lupus erythematosus
Annegret Kuhn, Aysche Landmann and Gisela Bonsmann
42. The clinical evaluation of kidney disease in systemic lupus erythematosus
Brad H. Rovin, Isabelle Ayoub and Swati Arora
43. The pathology of lupus nephritis
Isaac Ely Stillman
44. Cardiovascular disease in systemic lupus erythematosus: an update
Stephanie Saeli, Tanmayee Bichile, Payal Thakkar and Susan Manzi
45. The lung in systemic lupus erythematosus
Lindsy Forbess, Daniel J. Wallace and Caroline Jefferies
46. Gastrointestinal, hepatic, and pancreatic disorders in systemic lupus erythematosus
Chi Chiu Mok
47. Systemic lupus erythematosus and infections
Amy Devlin and Robert H. Shmerling
48. Malignancies in systemic lupus erythematosus
Alexandra Ladouceur, Hiromi Tissera, Ann E. Clarke, Rosalind Ramsey-Goldman, Caroline Gordon, James E. Hansen and Sasha Bernatsky
49. The nervous system in systemic lupus erythematosus
David Hunt
50. Overlap syndromes
Eric L. Greidinger
51. Systemic lupus erythematosus and the eye
Erika M. Damato, Philip I. Murray and Alastair K.O. Denniston
52. Fertility and pregnancy in systemic lupus erythematosus
Bonnie L. Bermas and Lisa R. Sammaritano
53. Neonatal lupus
Clinical spectrum, biomarkers, pathogenesis, and approach to treatment
Jill P. Buyon, Amit Saxena, Peter M. Izmirly, Bettina Cuneo and Benjamin Wainwright
54. Incomplete lupus syndromes
Nancy J. Olsen
55. Lupus in children
Mindy S. Lo
56. Drug-induced lupus
Robert L. Rubin
57. Vasculitis in lupus
Anisur Rahman
Part V - Antiphospholipid Syndrome
58. Pathogenesis of antiphospholipid syndrome
Olga Amengual and Tatsuya Atsumi
59. Antibodies and diagnostic tests in antiphosholipid syndrome
Cecilia Beatrice Chighizola, Maria Orietta Borghi and Pier Luigi Meroni
60. Clinical manifestations
Miyuki Bohgaki and Takao Koike
61. Nonsteroidal antiinflammatory drugs in systemic lupus erythematosus
Robert G. Lahita and Trina Pal
62. Value of antimalarial drugs in the treatment of lupus
Fadi Hassan, Mohammad E. Naffaa and Ziv Paz
63. Systemic glucocorticoids
Zahi Touma and Murray B. Urowitz
64. Cytotoxic drug treatment
Eleni A. Frangou, George Bertsias and Dimitrios T. Boumpas
65. Treatment of antiphospholipid syndrome
Savino Sciascia and Munther Khamashta
66. New treatments of systemic lupus erythematosus
Vasileios C Kyttaris
67. Repositioning drugs for systemic lupus erythematosus
Kathryn M. Kingsmore, Peter E. Lipsky and Amrie C. Grammer

No. of pages:

694
Language:

English
Copyright:

© Academic Press

2020
Published:

7th April 2020
Imprint:

Academic Press
Paperback

ISBN:

9780128145517
eBook

ISBN:

9780128145524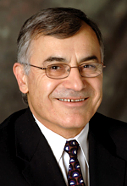 After receiving an MD from University of Athens, he came to the Arthritis Branch in 1979 where he trained in immunology and rheumatology. Between 1987 and 2007 he was a member of the Uniformed Services/Walter Reed community where served in various positions including Vice Chair for Research in the Department of Medicine and Chief of the Department of Cell Injury. In 2007 he joined the Beth Israel Medical Center as Chief of Rheumatology and Harvard Medical School as Professor of Medicine. He has served various leadership positions including President of the Clinical Immunology Society. He has served as chair of the Hypersensitivity, Autoimmunity, and Immune Mediated Diseases Study Section of the National Institutes of Health, Editor-in-Chief of Clinical Immunology, the official journal of FOCIS, and editor of Autoimmunity and Discovery Medicine, PLoS One and other journals. He has been elected to the Association of American Physicians, Fellow of the American Association for the Advancement of Sciences and Master of the American College of Physicians (MACP). He is the 2012 Lee C. Howley Jr. Arthritis Research Prize from the Arthritis Foundation and a MERIT award holder from NIH. Dr. Tsokos' research focuses on the cellular and molecular pathogenesis of systemic lupus erythematosus (SLE). His laboratory has opened and led the field of molecular abnormalities on immune cells in patients with SLE. He directs a T32-sponsored fellowship on systemic autoimmunity and a Clinical Rheumatology Fellowship. Dr. Tsokos has trained over 110 colleagues many of whom hold senior leadership positions and run independent laboratories. His research is funded through NIH and DoD grants.
Affiliations and Expertise
Professor of Medicine, Harvard Medical School, and Chief, Rheumatology Division, Beth Israel Deaconess Medical Center, Boston, MA, USA
Tax Exemption
We cannot process tax exempt orders online. If you wish to place a tax exempt order please
contact us
.
Elsevier.com visitor survey
We are always looking for ways to improve customer experience on Elsevier.com.
We would like to ask you for a moment of your time to fill in a short questionnaire, at the end of your visit.

If you decide to participate, a new browser tab will open so you can complete the survey after you have completed your visit to this website.

Thanks in advance for your time.
Accept
Decline