Surface Chemistry of Nanobiomaterials
1st Edition
Applications of Nanobiomaterials
Editor:
Alexandru Grumezescu
eBook ISBN: 9780323428842
Hardcover ISBN: 9780323428613
Published Date: 3rd February 2016
Secure Checkout
Personal information is secured with SSL technology.
Free Shipping
Free global shipping
No minimum order.
---
Surface Chemistry of Nanobiomaterials brings together the most recent findings regarding the surface modification of currently used nanomaterials, which is a field that has become increasingly important during the last decade. This book enables the results of current research to reach those who wish to use this knowledge in an applied setting.
Leading researchers from around the world present various types of nanobiomaterials, such as quantum dots (QDs), carbon nanotubes, silver nanoparticles, copper oxide, zinc oxide, magnesium oxide, magnetite, hydroxyapatite and graphene, and discuss their related functionalization strategies.
This book will be of interest to postdoctoral researchers, professors and students engaged in the fields of materials science, biotechnology and applied chemistry. It will also be highly valuable to those working in industry, including pharmaceutics and biotechnology companies, medical researchers, biomedical engineers and advanced clinicians.
An up-to-date and highly structured reference source for researchers, practitioners and students working in biomedical, biotechnological and engineering fields
A valuable guide to recent scientific developments, covering major and emerging applications of nanomaterials in the biomedical field
Proposes novel opportunities and ideas for developing or improving technologies in nanomedicine and nanobiology
Academic: Materials science, biotechnology and applied chemistry professors, PhD, MsC, postdocs, upper level undergraduate students. Industry: Pharmaceutics and biotechnology companies, medical researchers, biomedical engineers, advanced clinicians
List of contributors
Preface of the series
Preface

About the Series Set (I–XI)
About Volume III

Chapter 1. Surface functionalized hybrid nanomaterials: Implications in biosensing and therapeutics

Abstract
1.1 Introduction
1.2 Surface Functionalization
1.3 Applications in the Biomedical Field
1.4 Conclusions
References

Chapter 2. Microbial toxicity of different functional groups-treated carbon nanotubes

Abstract
2.1 Introduction
2.2 Methods of Functionalization
2.3 Antimicrobial Activity
2.4 Conclusions
Acknowledgments
References

Chapter 3. Making the hospital a safer place by the sonochemical coating of textiles by antibacterial nanoparticles

Abstract
3.1 Introduction
3.2 Application of Nanotechnology for "Smart" Textiles
3.3 A Sonochemical Method for the Synthesis of Nanostructured Materials and Their Adherence to Solid Substrates
3.4 Ultrasound-Assisted Deposition of Metal Nanooxides on Textiles and Their Antibacterial Properties
3.5 The Sonochemical Coating of Cotton Withstands 65 Washing Cycles at Hospital Washing Standards and Retains Its Antibacterial Properties
3.6 Making the Hospital a Safer Place by Sonochemical Coating of All Its Textiles with Antibacterial Nanoparticles
3.7 Conclusions
References

Chapter 4. Nano-microporous structured surfaces prepared by the breath figures approach and their biorelated applications

Abstract
4.1 Introduction
4.2 Breath Figures as a Methodology to Obtain Pores with Well-Defined Characteristics
4.3 Topographical and Chemical Modifications of the Pores
4.4 Biorelated Applications of Nano-Microporous Films
4.5 Conclusions
Acknowledgments
References

Chapter 5. Surface chemistry of nanobiomaterials with antimicrobial activity

Abstract
5.1 Introduction
5.2 Antiadhesive Surfaces
5.3 Conclusions
Acknowledgments
References

Chapter 6. Nanotechnology from particle size reduction to enhancing aqueous solubility

Abstract
6.1 Introduction
6.2 Branches of Nanotechnology
6.3 Nanotechnology-Based Drug Delivery Systems
6.4 Drug Solubility
6.5 Stability Aspect
6.6 Processes of Production of Nanoparticles
6.7 Pharmaceutical and Drug Delivery Applications of Nanoparticles
6.8 FDA Regulations
6.9 Conclusions
References

Chapter 7. Formation of biomimetic hydroxyapatite coatings on the surface of titanium and Ti-containing alloys: Ti–6Al–4V and Ti–Zr–Nb

Abstract
7.1 Introduction
7.2 HA Deposition on Titanium Surface, Modified by SiOH, COOH, and TiOH Functional Groups: Findings for the Optimal Experiment Conditions
7.3 Influence of the Temperature and SBF Composition (Tas-SBF and 10×-SBF) on the Biomimetic HA Deposition on the Titanium Surface
7.4 HA-Coating in 10×SBF
7.5 HA-Coating in Tas-SBF
7.6 Conclusions
References

Chapter 8. Interaction between nanoparticles and cell membrane

Abstract
8.1 A Short Introduction
8.2 Current Status
8.3 Interactions between Liposomes and Nanomaterials
8.4 Conclusions
References

Chapter 9. Antimicrobial studies of metal and metal oxide nanoparticles

Abstract
9.1 Introduction
9.2 Antimicrobial Studies of Silver Nanostructured Materials
9.3 Antibacterial Studies of Gold (Au) Nanostructured Materials
9.4 Antibacterial Studies of Copper (Cu) Nanostructured Materials
9.5 Antibacterial Studies of Other Metal Oxide Nanostructured Materials
9.6 The Mechanism of Metal and Metal Oxide Antibacterial Activity
9.7 Conclusions
Acknowledgments
References

Chapter 10. Inorganic nanoarchitectonics designed for drug delivery and anti-infective surfaces

Abstract
10.1 Introduction
10.2 Nanoarchitectonics with Biological Applications
10.3 Antimicrobial Inorganic Coatings for Medical Devices
10.4 Conclusions
References

Chapter 11. The chemistry of magnetosomes

Abstract
11.1 Introduction
11.2 Ultrastructure of Magnetosomes
11.3 The Magnetosome Membrane
11.4 The Inorganic Core
11.5 Magnets in Higher Organisms
11.6 Current Status
11.7 Future Prospects
11.8 Conclusions
References

Chapter 12. Nanomaterials and natural products for UV-photoprotection

Abstract
12.1 Introduction
12.2 Polyphenols
12.3 Carotenoids
12.4 Xanthines
12.5 Steroids
12.6 Mycosporines and Mycosporine-Like Amino Acids
12.7 Vitamin E
12.8 Conclusions
References

Chapter 13. Progress in graphene-based optical and electrochemical aptasensors

Abstract
13.1 Introduction
13.2 Optical Graphene Aptasensors
13.3 Electrochemical Graphene-Based Aptasensors
13.4 Conclusions
Acknowledgments
References

Chapter 14. Improved oral bioavailability of bioactives through lipid-based nanoarchitectures

Abstract
14.1 Introduction
14.2 Anatomical and Physiological Features of Gastrointestinal Tract
14.3 Lipid-Based Nanocarriers in Overcoming the Challenges to Oral Drug Delivery
14.4 Pharmacokinetics of Orally Administered Nanocarriers
14.5 Regulatory Aspects
14.6 Concluding Remarks and Future Prospects
References

Chapter 15. Scientometric overview regarding the surface chemistry of nanobiomaterials

Abstract
15.1 Overview
15.2 Surface Plasmons and Nanobiomaterials
15.3 Surface Chemistry of Nanobiomaterials
15.4 Conclusions
References

Index
No. of pages:

528
Language:

English
Copyright:

© William Andrew

2016
Published:

3rd February 2016
Imprint:

William Andrew
eBook

ISBN:

9780323428842
Hardcover

ISBN:

9780323428613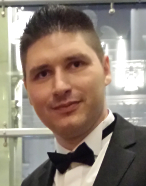 Alexandru Mihai Grumezescu is a lecturer in the Department of Science and Engineering of Oxide Materials and Nanomaterials, at the Faculty of Applied Chemistry and Materials Science, Politehnica University of Bucharest, Romania. He is an experienced researcher and published editor in the field of nano and biostructures. He is the editor-in-chief of two international open access journals: Biointerface Research in Applied Chemistry, Letters and Applied NanoBioScience. Dr. Grumezescu has published more than 200 peer-reviewed papers, authored nine books, and has served as an editor for more than 50 scholarly books.
Affiliations and Expertise
Assistant Professor, Department of Science and Engineering of Oxide Materials and Nanomaterials, Faculty of Applied Chemistry and Materials Science and Faculty of Medical Engineering, Politehnica University of Bucharest, Romania
Tax Exemption
We cannot process tax exempt orders online. If you wish to place a tax exempt order please
contact us
.
Elsevier.com visitor survey
We are always looking for ways to improve customer experience on Elsevier.com.
We would like to ask you for a moment of your time to fill in a short questionnaire, at the end of your visit.

If you decide to participate, a new browser tab will open so you can complete the survey after you have completed your visit to this website.

Thanks in advance for your time.
Accept
Decline