Sulfidic Sediments and Sedimentary Rocks, Volume 65
1st Edition
eBook ISBN: 9780080931838
Hardcover ISBN: 9780444529893
Published Date: 19th November 2012
---
Acknowledgements
Chapter 1. Introduction
1 Scope and Aims
2 History of the Study of Sedimentary Sulfides
References
Chapter 2. Sulfur Chemistry in Aqueous Solutions
1 Background
2 Elemental and Crystalline Sulfur
3 Sulfate
4 Sulfide Chemistry in Aqueous Solutions
5 Polysulfide Chemistry
6 Sulfur Oxyanions
7 Sulfur Free Radicals
8 Geochemistry of Inorganic Sulfide Oxidation
References
Chapter 3. Sedimentary Iron Biogeochemistry
1 Fe Chemistry in Aqueous Solutions
2 The Nature of Nonsulfide Fe in Sediments
3 The Iron Supply to Sediments
References
Chapter 4. Aqueous Metal–Sulfide Chemistry
1. Introduction
2. Complexes, Clusters and Nanoparticles
3. Iron–Sulfide Complexes and Clusters
4. Metal–Sulfide Complexes of the Iron Group: Mn, Co, Ni
5. Group 6: Cr and Mo
6. Group 11: Cu, Ag and Au
7. Group 12 Metals: Zn, Cd and Hg
8. Group 14 Metals: Pb
9. Group 15 Metalloids
References
Chapter 5. Metastable Sedimentary Iron Sulfides
1 Introduction
2 Cubic FeS
3 Iron (II) Monosulfide: Mackinawite
4 Iron Thiospinel, Greigite
5 Marcasite
References
Chapter 6. Sedimentary Pyrite
1. Introduction
2. Pyrite Structure
3. Pyrite Composition
4. Pyrite Solubility
5. Sedimentary Pyrite Formation
6. Kinetics and Mechanisms of Sedimentary Pyrite Formation
7. Sedimentary Pyrite Textures
References
Chapter 7. Metal Sequestration by Sedimentary Iron Sulfides
1. Introduction
2. Evidence for Trace Metal Sequestration by Sulfides in Sulfidic Sediments
3. The Uptake of Trace Metals by Pyrite
4. The Mackinawite Surface
5. Sequestration of Organic Molecules by Sedimentary Sulfides
References
Chapter 8. Microbial Sulfate Reduction in Sediments
1 Introduction
2 Sulfate-Reducing Microorganisms
3 Measurement of Sulfate Reduction in Sediments
4 Iron Sulfides in Microorganisms
References
Chapter 9. Microbial Sulfide Oxidation in Sediments
1 Introduction
2 Mechanisms of Sulfur Oxidation
3 Sulfur Disproportionating Organisms
References
Chapter 10. Microbial Ecology of Sulfidic Sediments
1 Microbial Sulfur Transformations
2 Metagenomics of Sulfidic Sediments
3 Oxygen Sensitivity in Anaerobic Sulfur Microorganisms
4 Microbial Stratigraphy: Biofilms and Microbial Mats
5 Interrelationships Between Sulfate-Reduction and Methanogens
6 Global Distribution of Sulfate-Reducing Microorganisms
References
Chapter 11. Sedimentary Sulfur Isotope Biogeochemistry
1 Introduction
2 Mass-Dependent Fractionation
3 Mass-Independent Fractionation
4 Rayleigh Distillation Effects
5 Biogenic Processes Influencing Sulfur and Oxygen Stable Isotopes
6 Sedimentary Sulfur Isotopes
References
Chapter 12. Iron Isotope Fractionation In Sedimentary Sulfides
1 Introduction
2 Fractionation Processes
3 Iron Isotopes in the Sedimentary Sulfide Environment
References
Chapter 13. Euxinic Systems
1 Background
2 Oceanic Euxinic Conditions
3 Sulfide Distribution in Natural Waters
4 Anoxic Inorganic Sulfide Oxidation
5 Sulfate Distribution in Natural Waters
6 Eutrophication
7 Proxies for Euxinia
References
Chapter 14. Sedimentary Sulfides
1 Background
2 Sulfide Phases in Sediments
3 Analytical Chemistry of Sedimentary Sulfide
4 Solid Sulfide Phases in Sulfidic Sediments
5 Dissolved Species in Sedimentary Sulfide Systems
6 Diagenetic Modeling of Sedimentary Sulfide Systems
References
Chapter 15. The Geochemistry of Sulfidic Sedimentary Rocks
1 Distribution of Sulfur in the Earth
2 Sulfur Contents of Sediments and Sedimentary Rocks
3 Carbon: Sulfur Ratios of Sedimentary Rocks
4 The Geochemistry of Sulfidic Sedimentary Rocks
5 Global Distribution of Sulfidic Sedimentary Rocks
References
Chapter 16. Fossil Bacteria
1 Introduction
2 Mechanism of Fossilization in Pyrite
3 Fossil Pyritic Microbial Mats and Biofilms
4 Identification of Fossil Bacteria
5 Molecular Fossils: Biomarkers for Ancient Sulfur Microbes
6 Isotopic Proxies
7 Molecular Biological Probes of the Evolution of the Sulfur Biome
References
Chapter 17. The Evolution of the Sedimentary Sulfur Cycle
1. Background
2. The Hadean (4.47–3.85 Ga)
3. The Archean (3.85–2.5 Ga)
4. The Proterozoic (2.5–0.542 Ga)
5. The Phanerozoic (0.542–0 Ga)
6. Variations in the Geochemistry of Sulfidic Sediments through Geologic Time
References
Index
---
This book deals with sedimentary sulfides which are the most abundant authigenic minerals in sediments. Special emphasis is given to the biogeochemistry that plays such a central role in the formation of sedimentary sulfides. It will be of interest to scientists in a number of disciplines, including geology, microbiology, chemistry and environmental science. The sulfur system is important to environmental scientists considering the present and future effects of pollution and anoxia. The development of the sulfur system – particularly the characteristics of ocean anoxia over the last 200 Ma – is useful in predicting the future fate of the Earth surface system as well as in understanding the past. The biochemistry and microbiology of the sulfur system are key to understanding microbial ecology and the evolution of life.
First monograph on sedimentary sulfides, covering the ancient and modern sedimentary sulfide systems
Comprehensive, integrating chemistry, microbiology, geology and environmental science
All key references are included and discussed

Geochemists, biogeochemists, microbiologists, especially microbial ecologists, geologists and environmental scientists in academia, government and industry
---
No. of pages:

816
Language:

English
Copyright:

© Elsevier

2012
Published:

19th November 2012
Imprint:

Elsevier
eBook

ISBN:

9780080931838
Hardcover

ISBN:

9780444529893
---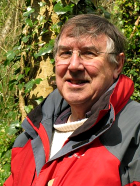 David Rickard has been one of the world's leading sulfide experts for over 40 years. He was a pioneer in geomicrobiology. He started his career as a senior undergraduate at Imperial College, London, with a thesis on pyrite framboids. He was awarded a £10,000 grant by the UK scientific research council in 1965 to set up a geomicrobiology laboratory in Imperial College and completed his PhD thesis in 1968 on the Chemistry and Microbiology of Iron Sulphide Formation. His work with the Swedish Natural Science Research Council was particularly focussed on geochemical kinetics and constituted some of the earliest contributions to this subject. At the same time he worked on Economic Geology and founded the largest ore geology research group of the time in Stockholm. He was appointed to a Chair in Cardiff University in 1983 and has continued to contribute to sulfide geochemistry and ore geology.
He has over 300 publications including over 150 research journal papers and two edited books. He published his first paper in Nature in 1968. He was Chief Editor of Chemical Geology and Mineralium Deposita. His latest interests have involved characterizing nanoparticulate metal sulfides and their interactions with biochemical molecules, including nucleic acid polymers.
He has received a number of awards including Fellowships of the Geochemical Society and the European Association of Geochemistry and Honorary Membership of the Society of Geology Applied to Mineral Deposits. He is a Fellow of the Learned Society of Wales. His multidisciplinary contributions have been recognized by his election to Fellowship of the Royal Society of Chemistry, the Society of Biology and the Geological Society.
Affiliations and Expertise
School of Earth, Ocean and Planetary Sciences, Cardiff University, Cardiff, UK
Tax Exemption
We cannot process tax exempt orders online. If you wish to place a tax exempt order please
contact us
.