Production and Management of Beverages
1st Edition
Volume 1. The Science of Beverages
Editors:
Alexandru Grumezescu
Alina Maria Holban
Paperback ISBN: 9780128152607
Imprint: Woodhead Publishing
Published Date: 14th January 2019
---
Production and Management of Beverages, Volume One in the Science of Beverages series, introduces the broad world of beverage science, providing an overview of the emerging trends in the industry and the potential solutions to challenges such as sustainability and waste. Fundamental information on production and processing technologies, safety, quality control, and nutrition is covered for a wide range of beverage types, including both alcoholic and non-alcoholic beverages, fermented beverages, cocoa and other powder based beverages and more. This is an essential resource for food scientists, technologists, chemists, engineers, microbiologists and students entering into this field.
Describes different approaches to waste management and eco-innovative solutions for the wine industry
Offers information on ingredient traceability to ensure food safety and quality
Provides overall coverage of hot topics and scientific principles in the beverage industry
Food scientists, food chemists, food microbiologists, food engineers in the beverages sector (R&D, Gov. and academia)
1. Managing Metabolic Health Impact of Fructose Containing Beverages
Ana Djordjevic, Nataša Veličković
2. Technology and Nutritional Value of Powdered Drinks
Ömer Utku Çopur, Bige İncedayı, Azime Özkan Karabacak
3. Fortification in Beverages
Asif Ahmad , Zaheer Ahmed
4. Management of Plant-derived Beverages of North-East India – A Traditional Approach
Subrata Das, Prakash Roy Choudhury, Priyanka Saha, Manabendra Dutta Choudhury, Shamee Bhattacharjee, Deepa Nath and Anupam Das Talukdar
5. Fruit Agro-industrial Wastes for Preparing Beverages for Medicinal Purposes by Supercritical Fluid Extraction Technology. Andes Berry (Rubus glaucus benth) Case
Sonia C. Lizcano, Javier A. Dávila, Valentina Hernández
6. Tracing Fruits and Vegetables from Farm to Fork: Question of Novelty and Efficiency
Aly Farag El Sheikha
7. Hydrodynamic Cavitation Assisted Processing of Vegetable Beverages: Review and the Case of Beer-brewing
Lorenzo Albanese, Francesco Meneguzzo
8. Kombucha Drink: Production, Quality and Safety Aspects
Himjyoti Dutta and Sanjib Kr Paul
9. Molle Beer Production in the Ayacucho Valley, Peru
Lidio M. Valdez
10. Profiling Beer Consumers for Brewery Management
Cristina Calvo-Porral
11. Sugarcane Spirits (Cachaça) Quality Assurance and Traceability: An Analytical Perspective
Felipe A. T. Serafim and Fernando M. Lanças
12. Wine Consumption into a Certain Territory: Which Factors May Impact on it?
Elisa Giacosa
13. Alcoholic Beverage Production in Indochina: Local Wisdom, Safety, Quality and Legal Control
Viroj Wiwanitkit
14. Production of Fermented Beverages: Shedding Light on Indian Culture and Traditions
Purva Asrani, Vikram Patial, Rajesh Kumar Asrani
15. Industry 4.0: The Smart Factory of the Future in Beverage Industry
Semih Otles, Aysegul Sakalli
No. of pages:

562
Language:

English
Copyright:

© Woodhead Publishing

2019
Published:

14th January 2019
Imprint:

Woodhead Publishing
Paperback

ISBN:

9780128152607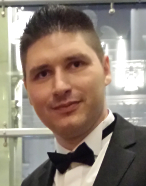 Alexandru Mihai Grumezescu is a Lecturer in the Department of Science and Engineering of Oxide Materials and Nanomaterials, at the Faculty of Applied Chemistry and Materials Science, Politehnica University of Bucharest, Romania. He is an experienced researcher and published editor in the field of nano and biostructures. He is the Editor-in-Chief of 2 international open access journals: Biointerface Research in Applied Chemistry, Letters and Applied NanoBioScience. Dr. Grumezescu has published ~200 peer-reviewed papers, ~50 book chapters, and has co-authored nine books and 50 edited books.
Affiliations and Expertise
Assistant Professor, Department of Science and Engineering of Oxide Materials and Nanomaterials, Faculty of Applied Chemistry and Materials Science and Faculty of Medical Engineering, Politehnica University of Bucharest, Romania
Alina-Maria Holban is a Lecturer in Microbiology and Immunology, at the Faculty of Biology, University of Bucharest; and associate Researcher at the University Politehnica of Bucharest, Romania, working on the field of bionanomaterials with antimicrobial applications. The contribution of Dr Holban in her research field is supported by the publication of 75 papers in peer-reviewed journals, 42 conference/symposia proceedings (posters and oral presentations, from which 29 were presented in International scientific meetings), 21 edited books, 20 book chapters in international books and 2 GenBank original sequences (patents). More than 50% of the published papers are investigating the applications of nanomaterials on biomedical fields.
Affiliations and Expertise
Microbiology Department, Faculty of Biology, University of Bucharest, Bucharest, Romania
Tax Exemption
We cannot process tax exempt orders online. If you wish to place a tax exempt order please
contact us
.