Principles of Electron Optics
3rd Edition
Wave Optics
Authors:
Peter Hawkes
E. Kasper
Hardcover ISBN: 9780123333544
eBook ISBN: 9780080984162
Published Date: 27th May 1994
---
The three volumes in the PRINCIPLES OF ELECTRON OPTICS Series constitute the first comprehensive treatment of electron optics in over forty years. While Volumes 1 and 2 are devoted to geometrical optics, Volume 3 is concerned with wave optics and effects due to wave length. Subjects covered include:
Derivation of the laws of electron propagation from SchrUdinger's equation
Image formation and the notion of resolution
The interaction between specimens and electrons
Image processing
Electron holography and interference
Coherence, brightness, and the spectral function
Together, these works comprise a unique and informative treatment of the subject. Volume 3, like its predecessors, will provide readers with both a textbook and an invaluable reference source.
Electron microscopists, electronic engineers/designers, mass spectrometer and accelerator designers, and applied physicists.
Wave Mechanics: The Schrodinger Equation. The Relativistic Wave Equation. The Eikonal Approximation. Paraxial Wave Optics. The General Theory of Electron Diffraction and Inference. Elementary Diffraction Patterns. Electron Interference and Electron Holography: Principles of Interferometry. Principles of Holography. Theory of Image Formation: Fundamentals of Transfer Theory. The Theory of Bright-field Imaging. Image Formation in the Scanning Transmission Electron Microscope. Electron Interactions in Thin Specimens: Electron Interactions in Amorphous Specimens. Electron Interactions in Crystalline Specimens. Digital Image Processing: Acquisition, Sampling and Coding. Enhancement. Linear Restoration.Nonlinear Restoration. Three-dimensional Reconstruction. Image Analysis. Instrument Control and Instrumental Image Manipulation. Coherence, Brightness and Spectral Functions: Coherence and the Brightness Functions. Instrumental Aspects of Coherence.Appendix. Notes and References. Index.
No. of pages:

752
Language:

English
Copyright:

© Academic Press

1994
Published:

27th May 1994
Imprint:

Academic Press
eBook

ISBN:

9780080984162
Hardcover

ISBN:

9780123333544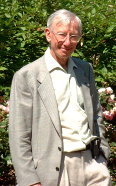 Peter Hawkes graduated from the University of Cambridge and subsequently obtained his PhD in the Electron Microscopy Section of the Cavendish Laboratory. He remained there for several years, working on electron optics and digital image processing before taking up a research position in the CNRS Laboratory of Electron Optics (now CEMES-CNRS) in Toulouse, of which he was Director in 1987. During the Cambridge years, he was a Research Fellow of Peterhouse and a Senior Research fellow of Churchill College. He has published extensively, both books and scientific journal articles, and is a member of the editorial boards of Ultramicroscopy and the Journal of Microscopy. He was the founder-president of the European Microscopy Society, CNRS Silver Medallist in 1983 and is a Fellow of the Optical Society of America and of the Microscopy Society of America (Distinguished Scientist, Physics, 2015), Fellow of the Royal Microscopical Society and Honorary Member of the French Microscopy Society. In 1982, he was awarded the ScD degree by the University of Cambridge. In 1982, he took over editorship of the Advances in Electronics & Electron Physics (now Advances in Imaging & Electron Physics) from Claire Marton (widow of the first editor, Bill Marton) and followed Marton's example in maintaining a wide range of subject matter. He added mathematical morphology to the topics regularly covered; Jean Serra and Gerhard Ritter are among those who have contributed. In 1980, he joined Professor Wollnik (Giessen University) and Karl Brown (SLAC) in organising the first international conference on charged-particle optics, designed to bring together opticians from the worlds of electron optics, accelerator optics and spectrometer optics. This was so successful that similar meetings have been held at four-year intervals from 1986 to the present day. Peter Hawkes organised the 1990 meeting in Toulouse and has been a member of the organising committee of all the meetings. He has also partic
Affiliations and Expertise
Laboratoire d'Optique Electronique du Centre National de la Recherche Scientifique (CEMES), Toulouse, France
Affiliations and Expertise
Institut für Halbleitertechnik, University of Stuttgart, Gemany
@qu:The definitive text and source book in the field. @source:--PROCEEDINGS OF THE ROYAL MICROSCOPIAL SOCIETY @qu:This is a monumental and timely work-well researched. @source:-NATURE @qu:The large breadth of the subject, which has been organically treated, together with the monumental bibliography and the fairly complete subject index make this volume not only an exceptional reference and and guide book, but also a useful explanatory textbook and even a source of information forscience historians. It is a book for everybody interested in the productions of electron images and in their analysis (i.e. teachers, students, and researchers) and, of course, for libraries and laboratories. @source:--IL NUOVO CURENTO