Plastic Films in Food Packaging
1st Edition
Materials, Technology and Applications
Hardcover ISBN: 9781455731121
eBook ISBN: 9781455731152
Published Date: 28th December 2012
---
Preface
1. Introduction to Use of Plastics in Food Packaging
1.1 Background
1.2 Polyolefins
1.3 Polyester
1.4 Polystyrene
1.5 Polyvinyl Chloride
1.6 Polyvinylidene Chloride
1.7 Polyamide
1.8 Ethylene–Vinyl Alcohol Copolymer
1.9 Renewable Resource and Biodegradable Polymers
1.10 Summary
References
2. Polypropylene Films
2.1 Unoriented Film
2.2 Cast Film
2.3 Biaxially Oriented Film
References
3. PE-Based Multilayer Film Structures
3.1 Introduction
3.2 Polymer Selection
3.3 Mechanical Properties
3.4 Barrier Properties
3.5 Polymer Sealability
3.6 Adhesive Polymers
3.7 Applications for Flexible Packaging Film Structures
3.8 Summary
References
4. Biaxially Oriented Films for Packaging Applications
4.1 Introduction
4.2 Orienting Technologies
4.3 Oriented Film Types—Applications
4.4 Trends for Oriented Films
References
5. Development of High-Barrier Film for Food Packaging
5.1 Introduction
5.2 Background
5.3 Improvement of Barrier Properties of Films
5.4 Review of Permeation
5.5 Multilayer Flexible Packaging Structures
5.6 Measurement of Barrier Properties of Films
References
6. Applications of Polypropylene Films
6.1 Automotive Applications
6.2 Medical Applications
6.3 Appliances
6.4 Textiles and Nonwovens
6.5 Packaging
6.6 Consumer Products
6.7 Building and Construction
References
7. Emerging Technologies in Food Packaging: Overview
7.1 Introduction
7.2 Innovations in Food Processing and Packaging
7.3 Food Packaging Technologies
7.4 New Food Processing Technologies
7.5 Future Trends in Food Packaging
References
8. Introduction to Active Food Packaging Technologies
8.1 Introduction
8.2 Drivers for Choice of Active Packaging
8.3 Forms of Active Packaging
8.4 History of Active Packaging
8.5 Impact on Packaging Materials and Processes
8.6 Active Packaging and the Distribution Chain
8.7 Regulatory Environment
References
9. Oxygen-Scavenging Packaging
9.1 Introduction
9.2 Reviews
9.3 History
9.4 Application to Food and Beverage Packaging
9.5 Future Opportunities
References
10. Antimicrobial Packaging Systems
10.1 Introduction
10.2 Food Safety
10.3 Antimicrobial Packaging
10.4 Antimicrobial Agents
10.5 System Design
10.6 Commercialization
References
11. Damage Reduction to Food Products During Transportation and Handling
11.1 Introduction
11.2 Functions of Packaging
11.3 Food Product Categories
11.4 Food Product Distribution Environment
11.5 Major Causes of Food Spoilage/Damage in Supply Chain
11.6 Packaging Materials
11.7 "Smart" Packaging
11.8 Trends in Protective Food Packaging of 2000 and Beyond
References
12. Food Packaging Machinery
12.1 Introduction
12.2 Filling Machines
12.3 Volumetric Fillers
12.4 Weight Filling
12.5 In-Line or Rotary Fillers
12.6 Cap Application Machines
12.7 Induction Cap Sealing
12.8 Flexible Packaging
12.9 Form-Fill-Seal Equipment
12.10 Canning Machinery
12.11 Carton Filling and Closing Machinery
12.12 Metal Detectors
13. Compostable Polymer Properties and Packaging Applications
13.1 Introduction
13.2 Biodegradable Polymers from Renewable Resources
13.3 Biodegradable Polymers from Petrochemical Sources
13.5 Summary
References
14. Waste Management for Polymers in Food Packaging Industries
14.1 Biodegradable Synthetic Copolymers and Composites
14.2 Chitosan–Poly(Vinyl Alcohol) Blends
14.3 Landfill
14.4 Incineration
14.5 Pyrolysis
14.6 Reuse and Recovery
14.7 Composting
14.8 Recycling
14.9 The Issue of Contamination on Recycling
References
Relevant Websites
15. Polymer Blending for Packaging Applications
15.1 Introduction
15.2 Why Blend?
15.3 Blending Processes
15.4 Physics of Blending
15.5 Thermodynamics
15.6 Morphology Development in Immiscible Blends
15.7 Morphology Development in Blown Film
15.8 Dispersion of Rigid Particles and Nanocomposites
15.9 Rheology of Polymer Blends
15.10 Conclusion
References
16. A Survey of Regulatory Aspects of Food Packaging
16.1 Introduction
16.2 Determining the Regulatory Status of Components of a Food Contact Material in the United States
16.3 Regulatory Report: FDA's FCS Notification Program
16.4 Preservation of Foods by Irradiation
16.5 Regulatory Aspects of Recycled Plastics—US FDA View
16.6 EU Legislation on Food Contact Plastics
16.7 European Union Legislation for Recycled Plastics
16.8 Questions and Answers on Recycled Plastics in Food Contact Materials
Acknowledgment
Appendix: Model of the Sorption of Surrogate Contaminants into Plastic
References
Further Reading
Index
---
The value of the groceries purchases in the USA is over $500 billion annually, most of which is accounted for by packaged foods. Plastic packaging of foods is not only ubiquitous in developed economies, but increasingly commonplace in the developing world, where plastic packaging is instrumental in decreasing the proportion of the food supply lost to spoilage.
This new handbook is a combination of new material and updated chapters, chosen by Dr. Sina Ebnesajjad, from recently published books on this subject. Plastic Films in Food Packaging offers a practical handbook for engineers, scientists and managers working in the food packaging industry, providing a tailor-made package of science and engineering fundamentals, best practice techniques and guidance on new and emerging technologies.
By covering materials, design, packaging processes, machinery and waste management together in one book, the authors enable the reader to take a lifecycle approach to food packaging.
The Handbook addresses questions related to film grades, types of packages for different types of foods, packaging technologies, machinery and waste management. Additionally the book provides a review of new and emerging technologies. Two chapters cover the development of barrier films for food packaging and the regulatory and safety aspects of food packaging.
Essential information and practical guidance for engineers and scientists working at all stages of the food packaging lifecycle: from design through manufacture to recycling
Includes key published material on plastic films in food packaging, updated specifically for this Handbook, and new material on the regulatory framework and safety aspects
Coverage of materials and applications together in one handbook enables engineers and scientists to make informed design and manufacturing decisions
Food Producers (fresh and processed), food packaging industries, plastic resin manufacturers (such as polyolefin suppliers), plastic and plastic film manufacturers, multilayer film convertors (laminators) and package fabricators. Packaging R&D personnel, packaging design engineer, manufacturing engineer, process engineer, plastic film R&D engineer, polymer R&D personnel, plastic additive R&D personnel, package and label designers, researchers, logistics, purchasing and regulatory specialists
---
No. of pages:

384
Language:

English
Copyright:

© William Andrew

2013
Published:

28th December 2012
Imprint:

William Andrew
Hardcover

ISBN:

9781455731121
eBook

ISBN:

9781455731152
---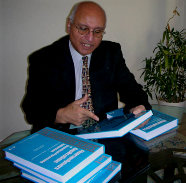 Sina Ebnesajjad is the series editor of Plastics Design Library (PDL) published in the William Andrew imprint of Elsevier. This Series is a unique series, comprising technology and applications handbooks, data books and practical guides tailored to the needs of practitioners. Sina was the editor-in-chief of William Andrew Publishing from 2005 to 2007, which was acquired by Elsevier in 2009.
He retired as a Senior Technology Associate in 2005 from the DuPont fluoropolymers after nearly 24 years of service. Sina founded of FluoroConsultants Group, LLC in 2006 where he continues to work. Sina earned his Bachelor of Science from the School of Engineering of the University of Tehran in 1976, Master of Science and PhD from the University of Michigan, Ann Arbor, all in Chemical Engineering.
He is author, editor and co-author of fifteen technical and data books including five handbooks on fluoropolymers technology and applications. He is author and co-author of three books in surface preparation and adhesion of materials, two of which are in their second editions. Sina has been involved with technical writing and publishing since 1974.
His experiences include fluoropolymer technologies (polytetrafluoroethylene and its copolymers) including polymerization, finishing, fabrication, product development, failure analysis, market development and technical service. Sina holds six patents.
Affiliations and Expertise
Fluoroconsultants Group, Chadds Ford, PA, USA
Tax Exemption
We cannot process tax exempt orders online. If you wish to place a tax exempt order please
contact us
.