Neurobiology of the Placebo Effect, Volume 138
1st Edition
Part I
Serial Volume Editors:
Luana Colloca
Hardcover ISBN: 9780128143254
Published Date: 1st May 2018
---
Placebo Analgesia in Rodents: Current and Future Research Asaf Keller, Titilola Akintola and Luana Colloca
Expectancy modulation of opioid neurotransmission Marta Pecina and Jon-Kar Zubieta
Placebo effects in the immune system Martin Hadamitzky,Wiebke Sondermann, Sven Benson and Manfred Schedlowski
Human pharmacological conditioning of the immune and endocrine system: Challenges and opportunities Judith Tekampe, Henriët van Middendorp, C.G.J. Sweep, Sean H.P.P. Roerink, A.R.M.M. Hermus and Andrea W.M. Evers
Response Expectancy and the Placebo Effect Irving Kirsch
Conditioning as a higher-order cognitive phenomenon: Implications for placebo research Jan De Houwer
The application of persuasion theory to placebo effect Andrew L. Geers, Pablo Briñol, Erin Vogel, Olivia G. Aspiras, Fawn Caplandies and Richard Petty
Mindsets Matter: A New Framework for Harnessing the Placebo Effect in Modern Medicine Sean Raymond Zion and Alia Crum
The role of social and interpersonal factors in placebo analgesia Elizabeth Necka and Lauren Atlas
What is minimally required to elicit placebo effects? Karin Jensen
Critical life functions: can placebo replace oxygen? Fabrizio Benedetti, Diletta Barbiani and Eleonora Camerone
Placebos without deception: a review of their outcomes, mechanisms, and ethics Luana Colloca and Jeremy Howick
Placebo and Psychotherapy: Differences, Similarities and Implications Jens Gaab, Cosima Locher and Charlotte Blease
Expectation focused psychotherapy to improve clinical outcomes Bettina K. Doering, Julia A. Glombiew and Winfried Rief
Nocebo Effects: Neurobiological Mechanisms and Strategies for Prevention and Optimizing Treatment
Julian Kleine-Borgmann and Ulrike Bingel
Nocebo effects in visceral pain Sigrid Elsenbruch and Franziska Labrenz
Using learning mechanisms to inhibit the nocebo effect Veronica Frances Quinn and Ben Colagiuri
Can knowledge of placebo and nocebo mechanisms help improve the RCT? Lene Vase and Elisa Carlino
---
Neurobiology of the Placebo Effect, Part I, Volume 138 in the International Review of Neurobiology series, is the first of two volumes that provide the latest placebo studies in clinically relevant models. Placebo responses effects are not merely a psychological, but a complex psycho-neuro-biological process that requires activation of distinct brain areas. This book discusses current research and projects on the involved brain circuitry and neurotransmitter systems. Specific chapters cover such topics as pharmacological conditioning of the endocrine and immune system, expectancy modulation of opioid neurotransmission, nocebo effects in visceral pain, and conditioning as a higher-order cognitive phenomenon, amongst other topics.
Latest placebo studies in clinically relevant models
Current research and projects on the involved brain circuitry and neurotransmitter systems
Specific chapters on applications
Professionals, researchers, clinicians and students in the psychology, medicine, basic and clinical neuroscience sector.
---
No. of pages:

322
Language:

English
Copyright:

© Academic Press

2018
Published:

1st May 2018
Imprint:

Academic Press
Hardcover

ISBN:

9780128143254
---
About the
Serial Volume Editors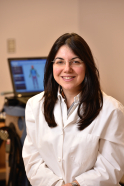 Luana Colloca Serial Volume Editor
Dr. Luana Colloca is an associate professor at the School of Nursing and School of Medicine, University of Maryland and has extensive experience in the area of pain modulation and placebo effects. Luana received her MD degree from the University of Catanzaro, Medical School and holds both a master degree in Bioethics and a PhD in Neuroscience from the University of Turin in Italy. She completed a post-doc fellowship at the Karolinska Institute in Stockholm, Sweden and a senior research fellowship at the National Institute of Health. Luana's main line of research focuses on how expectations and learning mechanisms shape experience-driven placebo and nocebo effects. The goal of this research is to provide a comprehensive approach to understanding pain modulation and complex functions as such placebo and nocebo effects, incorporating behavioral, pharmacological, functional and psychophysical information directly in humans. The developed approaches are pivotal in translating knowledge about pain modulation from human laboratory settings to patient populations. Luana has authored numerous original articles - well-cited in the biomedical literature and published in journals such as Nature Neuro, JAMA, J Neuro, BMJ, and Pain. Prof. Colloca also co-edited three books for Elsevier, JHP, and Lambert Press respectively on the neurophysiological and translational aspects of the placebo and nocebo effects. Photography Credit: Michael Ciesielski
Affiliations and Expertise
School of Nursing, University of Maryland, Baltimore, USA
Tax Exemption
We cannot process tax exempt orders online. If you wish to place a tax exempt order please
contact us
.