Neurobiology of the Placebo Effect Part B, Volume 139
1st Edition
Serial Volume Editors:
Luana Colloca
Hardcover ISBN: 9780128154168
Published Date: 1st September 2018
---
1. History of placebo effects in medicine
Damien Finniss
2. Lumping or Splitting: Towards a Taxonomy of Placebo and Related Effects
John M. Kelley
3. Theories and brain mechanisms of placebo analgesia
Javeria A. Hashmi
4. Pain modulation: From CPM to placebo and nocebo effects in experimental and clinical pain
Serge Marchand
5. Modulation of the motor system by placebo and nocebo effects
Mirta Fiorio
6. The role of sleep in learning placebo effects
Florian Chouchou, Gilles Lavigne, Pierre Rainville and Thien Thanh Dang-Vu
7. Are blue pills better than green? How treatment characteristics modulate the placebo effect
Karin Meissner and Klaus Linde
8. Knowledge Gaps in Placebo Research
Paul Enck and Katja Weimer
9. The therapeutic value of the relationship in the placebo effect and other healing practices
Bruce Wampold
10. Clinical use of placebo effects in patients with pain disorders
Regine Klinger
11. The power of labeling in placebo and nocebo effects
Kate Faasse and Leslie R. Martin
12. Framing effects and clinical outcomes
Paul Glare
13. Trust, pain, and doctor-patient communication
Claire Elizabeth Ashton-James
14. Attentional biases and placebo/nocebo effects
Ben Colagiuri
15. Influences of Expectations in clinical outcomes
Beth D. Darnall
16 Ethics of Placebo Effects
Marco Annoni
17. TBC
Roland Sussex

---
Neurobiology of the Placebo Effect, Part II, Volume 139 in the International Review of Neurobiology series, is the second part of two volumes that provide the latest placebo studies in clinically relevant models. Placebo responses are not merely a psychological, but a complex psycho-neuro-biological process that requires activation of distinct brain areas. This book discusses current research and projects on the involved brain circuitry and neurotransmitter systems. Specific chapters cover such topics as pharmacological conditioning of the endocrine and immune system, expectancy modulation of opioid neurotransmission, nocebo effects in visceral pain, and conditioning as a higher-order cognitive phenomenon, amongst other topics.

Latest placebo studies in clinically relevant models
Current research and projects on the involved brain circuitry and neurotransmitter systems
Specific chapters on applications
Professionals, researchers, clinicians and students in the psychology, medicine, basic and clinical neuroscience sector.
---
No. of pages:

322
Copyright:

© Academic Press

2018
Published:

1st September 2018
Imprint:

Academic Press
Hardcover

ISBN:

9780128154168
---
About the
Serial Volume Editors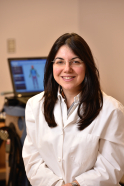 Luana Colloca Serial Volume Editor
Dr. Luana Colloca is an associate professor at the School of Nursing and School of Medicine, University of Maryland and has extensive experience in the area of pain modulation and placebo effects. Luana received her MD degree from the University of Catanzaro, Medical School and holds both a master degree in Bioethics and a PhD in Neuroscience from the University of Turin in Italy. She completed a post-doc fellowship at the Karolinska Institute in Stockholm, Sweden and a senior research fellowship at the National Institute of Health. Luana's main line of research focuses on how expectations and learning mechanisms shape experience-driven placebo and nocebo effects. The goal of this research is to provide a comprehensive approach to understanding pain modulation and complex functions as such placebo and nocebo effects, incorporating behavioral, pharmacological, functional and psychophysical information directly in humans. The developed approaches are pivotal in translating knowledge about pain modulation from human laboratory settings to patient populations. Luana has authored numerous original articles - well-cited in the biomedical literature and published in journals such as Nature Neuro, JAMA, J Neuro, BMJ, and Pain. Prof. Colloca also co-edited three books for Elsevier, JHP, and Lambert Press respectively on the neurophysiological and translational aspects of the placebo and nocebo effects. Photography Credit: Michael Ciesielski
Affiliations and Expertise
School of Nursing, University of Maryland, Baltimore, USA
Tax Exemption
We cannot process tax exempt orders online. If you wish to place a tax exempt order please
contact us
.