Nanoencapsulation Technologies for the Food and Nutraceutical Industries
1st Edition
eBook ISBN: 9780128113646
Paperback ISBN: 9780128094365
Published Date: 1st April 2017
Secure Checkout
Personal information is secured with SSL technology.
Free Shipping
Free global shipping
No minimum order.
---
Nanoencapsulation Technologies for the Food and Nutraceutical Industries is a compendium which collects, in an easy and compact way, state-of-the-art details on techniques for nanoencapsulation of bioactive compounds in food and nutraceutical industries.
The book addresses important modern technologies, including biopolymer based nano-particle formation techniques, formulation based processes, such as nano-liposomes and nano-emulsions, process based nano-encapsulation, such as electro-spinning and nano-spray drying, natural nano-carrier based processes, like casein and starch nano-particles, and other recent advances.
This definitive reference manual is ideal for researchers and industry personnel who want to learn more about basic concepts and recent developments in nanotechnology research.
Serves as a compendium of recent techniques and systems for nanoencapsulation of bioactive compounds
Brings together basic concepts and the potential of nanoencapsulation technologies, also including their novel applications in functional foods and nutraceutical systems
Includes biopolymer based nano-particle formation techniques, formulation based processes, process based nanoencapsulation, and nano-carrier based process
Researchers and industry personnel in food science in general, professionals in the food engineering, food processing, food ingredients and nutraceutical areas that are related to the nanotechnology/ microencapsulation field
1: An overview of nanoencapsulation techniques and their classification
Abstract
1.1. Introduction
1.2. Encapsulation in the food sector
1.3. Microencapsulation techniques
1.4. Nanoencapsulation of food ingredients and nutraceuticals
1.5. Nanoencapsulation techniques
1.6. Conclusions and final remarks
Part One: Lipid-Formulation Based Nanoencapsulation Technologies
2: Encapsulation by nanoemulsions
Abstract
2.1. Introduction
2.2. Materials used for preparing nanoemulsions
2.3. Preparation methods
2.4. Structural emulsions
2.5. Double emulsions
2.6. Conclusions and further remarks
3: Encapsulation by nanoliposomes
Abstract
3.1. Introduction
3.2. Design of liposomes
3.3. Determination of encapsulation efficiency
3.4. Encapsulation of hydrophilic materials
3.5. Encapsulation of hydrophobic materials
3.6. Novel techniques in the design of nanoliposomes
3.7. Phytosomes: highly efficient delivery of phytochemicals
3.8. Incorporation into food systems
3.9. Bioactivities of nanoliposomal encapsulation systems
3.10. Digestion of bioactive bearing nanoliposomes
3.11. Conclusions and future perspectives
Acknowledgments
4: Encapsulation by nanostructured lipid carriers
Abstract
4.1. Introduction
4.2. The logic behind the development of solid lipid nanoparticles
4.3. First two generations of lipid nanoparticles: SLN vs. NLC
4.4. The third generation: smartLipids
4.5. Selection of ingredients for SLN/NLC production—screening
4.6. Industrial relevant production processes: high pressure homogenization on lab scale
4.7. Medium and large scale industrial production
4.8. Regulatory aspects—nanotechnology
4.9. Chemical stabilization of actives
4.10. Controlled release—structures of particle matrix
4.11. Oral delivery in mouth cavity—mechanisms
4.12. Peroral bioavailability enhancement—mechanism and efficiency
4.13. Examples of SLN and NLC formulations from food industry
4.14. Examples of oral bioavailability enhancement
4.15. Lipid nanoparticle products on the market
4.16. Commercial suppliers of lipid nanoparticle concentrates
4.17. Perspectives for food and nutraceutical products
Part Two: Natural Nanocarrier-Based Nanoencapsulation Technologies
5: Nanocapsule formation by caseins
Abstract
5.1. Introduction
5.2. Nanoencapsulation of food bioactive components and nutraceuticals by caseins
5.3. Advantages and disadvantages
5.4. Insight for future work
6: Nanocapsule formation by nanocrystals
Abstract
6.1. Introduction
6.2. Definitions of nanocrystals
6.3. Special properties of nanocrystals
6.4. Mechanisms of absorption enhancement
6.5. Encapsulated (coated) nanocrystals
6.6. Lab scale and industrial scale production of nanocrystals
6.7. Nanocrystals in functional drinks
6.8. Nanocrystal technology in oral nutraceutical products
6.9. Nanocrystal technology in food products
6.10. Conclusions and perspectives
7: Nanocapsule formation by cyclodextrins
Abstract
7.1. Historical background of cyclodextrins
7.2. Regulatory issues of cyclodextrins
7.3. Principles of encapsulation by cyclodextrins
7.4. Encapsulation technologies with cyclodextrins
7.5. Selecting an encapsulation technology with cyclodextrins
7.6. Cyclodextrin modification
7.7. Amphiphilic cyclodextrins
7.8. Nanoencapsulation with amphiphilic cyclodextrins
7.9. Effective factors on the characteristics of amphiphilic cyclodextrin nanoparticles
7.10. Formation techniques of the cyclodextrin-based polymeric nanoparticles
7.11. Cyclodextrin-based magnetic nanoparticles
7.12. Layer by layer (LBL): an ideal process to form nanoparticles
7.13. Cyclodextrins in gold nanoparticles
7.14. Concluding remarks and future trends
Part Three: Nanoencapsulation Technologies Based on Special Equipment
8: Nanocapsule formation by electrospinning
Abstract
8.1. Introduction
8.2. Principles of electrospinning
8.3. Electrospinning versus electrospraying
8.4. The electrospinning process
8.5. The physical elements of electrospinning and typical apparatus
8.6. Base encapsulating materials for electrospinning
8.7. Conclusions and future trends
9: Nanocapsule formation by electrospraying
Abstract
9.1. Introduction
9.2. Electrospraying: an overview
9.3. Types of electrospraying
9.4. Parameters for obtaining micro- and nanoparticles
9.5. Obtaining materials by electrospraying for the food and nutraceutical industries
9.6. Encapsulation of nutraceuticals
9.7. Conclusions
10: Nanocapsules formation by nano spray drying
Abstract
10.1. Introduction
10.2. Nano spray drying
10.3. Optimizing the Nano Spray Drying Process Parameters
10.4. Nano spray drying applications
10.5. Conclusions
Part Four: Nanoencapsulation Technologies Based on Biopolymer Nanoparticles
11: Nanocapsule formation by individual biopolymer nanoparticles
Abstract
11.1. Introduction
11.2. Protein nanoparticles (desolvation method)
11.3. Polysaccharide nanoparticles (nanoprecipitation method)
11.4. Future trends
12: Nanocapsule formation by complexation of biopolymers
Abstract
12.1. Introduction
12.2. Molecular forces between biopolymers and factors affecting them
12.3. Application of biopolymer complexes in nanoencapsulation technology
12.4. Conclusions and future trends
Part Five: Bioavailability, Characterization, and Safety of Nano-Encapsulated Ingredients
13: Bioavailability and release of bioactive components from nanocapsules
Abstract
13.1. Overview of release
13.2. Release mechanisms
13.3. Bioavailability of nutraceuticals and their uptake in gut
13.4. Different approaches for studying the release profile
13.5. Release modeling
13.6. Targeted release
13.7. Conclusions
14: Instrumental analysis and characterization of nanocapsules
Abstract
14.1. Introduction
14.2. Morphology of nanocapsules
14.3. Size of nanocapsules
14.4. Electric charge of nanocapsules
14.5. Surface component of nanocapsules
14.6. Physicochemical properties of nanocapsules
14.7. Stability of nanocapsules
14.8. Image analysis of nanocapsules
14.9. Fluorescence spectroscopy of nanocapsules
15: Safety and regulatory issues of nanocapsules
Abstract
15.1. Introduction
15.2. Safety and toxicity aspects of food nanoparticles
15.3. Regulatory principles legislated by various organizations and countries
15.4. Panorama and challenges for the future
15.5. Conclusions
No. of pages:

636
Language:

English
Copyright:

© Academic Press

2017
Published:

1st April 2017
Imprint:

Academic Press
eBook

ISBN:

9780128113646
Paperback

ISBN:

9780128094365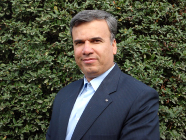 Dr. Seid Mahdi Jafari received his PhD degree in 2006 in Food Process Engineering from the University of Queensland, Australia. He has been working on the nanoemulsification and nanoencapsulation of food ingredients for the past decade. He is Associate Professor in the Department of Food Materials and Process Design Engineering, Faculty of Food Science and Technology, University of Agricultural Sciences and Natural Resources, Pardis, Basidj Square, Gorgan, Iran, and he is an academic member of GAU (Iran). He has published more than 85 papers in top-ranked international food science journals and 18 book chapters, along with editing four books with LAP and Elsevier publishers. In November 2015, he was awarded as one of the top 1% scientists of the world with the highest citations by Thompson Reuters (Essential Scientific Indicators) in the field of Biological Sciences.
Affiliations and Expertise
Faculty of Food Science and Technology, Gorgan University of Agricultural Sciences and Natural Resources, Gorgan, IRAN
Tax Exemption
We cannot process tax exempt orders online. If you wish to place a tax exempt order please
contact us
.
Elsevier.com visitor survey
We are always looking for ways to improve customer experience on Elsevier.com.
We would like to ask you for a moment of your time to fill in a short questionnaire, at the end of your visit.

If you decide to participate, a new browser tab will open so you can complete the survey after you have completed your visit to this website.

Thanks in advance for your time.
Accept
Decline