Nanobiomaterials in Cancer Therapy
1st Edition
Applications of Nanobiomaterials
Editor:
Alexandru Grumezescu
eBook ISBN: 9780323428866
Hardcover ISBN: 9780323428637
Published Date: 22nd March 2016
Secure Checkout
Personal information is secured with SSL technology.
Free Shipping
Free global shipping
No minimum order.
---
Nanobiomaterials in Cancer Therapy presents the major applications of nanobiomaterials in oncology, offering an up-to-date overview of the latest research in this field. Utilizing nanobiomaterials, novel therapeutic approaches enable significant improvements in drug-loading capacity, formulation stability and drug efficiency.
In this book, leading researchers from around the world share their expertise and unique insights. The book covers the fabrication methods of platforms for multimodal and combinatorial therapeutic options, along with simultaneous and real-time cancer imaging, and innovative approaches for oncology by passive or active pathways of multifunctional nanocarriers. The work also classifies and discusses engineered nanobiosystems for cancer therapy, prevention, and low cancer recurrence or relapse.
This book will be of interest to postdoctoral researchers, professors and students engaged in the fields of materials science, biotechnology and applied chemistry. It will also be highly valuable to those working in industry, including pharmaceutics and biotechnology companies, medical researchers, biomedical engineers and advanced clinicians.
A comprehensive resource for researchers, practitioners and students working in biomedical, biotechnological and engineering fields
A valuable guide to recent scientific progress and the latest application methods
Discusses novel opportunities and ideas for developing or improving technologies in nanomedicine and nanobiology
Academic: Materials science, biotechnology and applied chemistry professors, PhD, MsC, postdocs, upper level undergraduate students. Industry: Pharmaceutics and biotechnology companies, medical researchers, biomedical engineers, advanced clinicians
List of contributors
Preface of the series
Preface

About the Series (Volumes I–XI)
About Volume VII

Chapter 1. Nanopreparations for skin cancer therapy

Abstract
1.1 Introduction
1.2 Skin Morphology
1.3 Types of Cancer
1.4 Non-Melanoma Skin Cancer
1.5 Melanoma Skin Cancer
1.6 Penetration Pathways of Skin
1.7 Drug Delivery Systems Applied to Skin Cancer Treatment
1.8 Liposomes
1.9 Nanoemulsions and Nanosuspensions
1.10 Polymeric Nanoparticles
1.11 Lipid Nanoparticles
1.12 Dendrimers
1.13 Photodynamic Therapy
1.14 Conclusions
References

Chapter 2. Silver nanoparticles in cancer therapy

Abstract
2.1 Introduction
2.2 Silver Nanoparticles
2.3 Synthesis
2.4 Shape
2.5 Silver Nanoparticles—Cancer Diagnosis and Treatment Applications
2.6 Conclusions
References

Chapter 3. Nanobiomaterials in cancer therapy

Abstract
3.1 Introduction
3.2 The Enhanced Permeability and Retention (EPR) Effect
3.3 Nanomaterials in Cancer Therapy
3.4 Chemotherapy-Based Nanoformulations
3.5 Multifunctional NPs
3.6 Cancer Therapy Using Natural Products: Nanochemoprevention
3.7 Cancer Stem Cells: A Nanotechnology Perspective
3.8 Conclusions
References

Chapter 4. Advances in nanobiomaterials for oncology nanomedicine

Abstract
4.1 Introduction
4.2 Organic Nanobiomaterials
4.3 Inorganic Nanobiomaterials
4.4 Combination of Nanotechnology with Photodynamic Therapy to Improve Cancer Treatment
4.5 Toxicity and Risk Management
4.6 Conclusions
Acknowledgments
References

Chapter 5. Nanobiomaterials: Emerging platform in cancer theranostics

Abstract
5.1 Introduction
5.2 Theranostics and Nanomedicine
5.3 Antibody as Theranostics
5.4 Challenges to Effective Cancer Theranostics
5.5 Conclusions and Future Perspectives
References

Chapter 6. Nanotherapeutics promises for colorectal cancer and pancreatic ductal adenocarcinoma

Abstract
List of Abbreviations
6.1 Introduction
6.2 Biology of Colorectal and Pancreatic Cancer
6.3 Current Clinical Treatment
6.4 Nanotherapeutics for Drug/Gene Delivery
6.5 New Nano-Based Strategies for Improved Delivery and Enhanced Bioavailability of Anticancer Drugs
6.6 Conventional and Nano-Based Prodrugs
6.7 Challenges and Perspectives
References

Chapter 7. Multifunctional drug nanocarriers facilitate more specific entry of therapeutic payload into tumors and control multiple drug resistance in cancer

Abstract
7.1 Introduction
7.2 Cancer and its Microenvironment
7.3 Characteristic Features of Tumor
7.4 Different Types of Nanocarriers
7.5 Tumor Targeting Through Nanocarriers
7.6 Types of Targeting Ligands
7.7 Challenges Associated with Targeting
7.8 Drug Resistance and How to Combat it with Different Nanocarriers
7.9 Major Mechanisms of Drug Resistance
7.10 Advantages of NP-Based Drug Delivery for Effective Cancer Therapy
7.11 Conclusions
References

Chapter 8. Nanoparticles as drug delivery systems of combination therapy for cancer

Abstract
8.1 Introduction
8.2 Liposomes for Combination Therapy
8.3 Polymeric DDS for Combination Therapy
8.4 Other Types of Polymeric DDS for Combination Therapy
8.5 Challenges for Clinical Trials
8.6 Conclusions
Acknowledgments
References

Chapter 9. Chitosan nanoparticles for efficient and targeted delivery of anticancer drugs

Abstract
9.1 Introduction
9.2 Nanomedicine
9.3 Future Perspectives
Acknowledgments
References

Chapter 10. Nanoformulations: A lucrative tool for protein delivery in cancer therapy

Abstract
10.1 Introduction
10.2 Challenges in Protein Delivery
10.3 The Vast Potential for Using Proteins in Cancer Therapy
10.4 The Enhanced Permeability and Retention (EPR) Effect
10.5 Methods for Protein Delivery
10.6 Commercial Aspects
10.7 Conclusions
References

Chapter 11. Nanobiomaterial-based delivery of drugs in various cancer therapies: Classifying the mechanisms of action (using biochemical and molecular biomarkers)

Abstract
11.1 Introduction
11.2 Polysaccharide-Based Nanoparticles
11.3 Chitosan–Drug Nanocarrier System in Cancer Therapy
11.4 Alginate Nanoparticles in Cancer Therapy
11.5 Pullulan Nanoparticles in Cancer Therapy
11.6 Heparin-Based Nanoparticles in Cancer Therapy
11.7 Starch Nanoparticles in Cancer Therapy
11.8 Protein-Based Nanoparticles
11.9 Silk Fibroin
11.10 Collagen
11.11 β-Casein Nanoparticles in Cancer Therapy
11.12 Albumin Nanoparticles in Cancer Therapy
11.13 Conclusions
References

Chapter 12. Dual-function nanocarriers with interfacial drug-interactive motifs for improved delivery of chemotherapeutic agents

Abstract
12.1 Introduction
12.2 Dual-Function Nanocarriers for Enhanced Cancer Therapy
12.3 Dual-Function Nanocarriers with Drug-Interactive Motifs for Improved Drug Delivery
12.4 Conclusions
References

Chapter 13. Nanotechnology for cancer therapy: Invading the mechanics of cancer

Abstract
13.1 Introduction
13.2 Nanomedicine: A Revolutionary Treatment Modality for Cancer
13.3 Tumor-Targeting Strategies
13.4 Personalized Nanomedicine
13.5 Conclusions
References

Chapter 14. Hadrontherapy enhanced by combination with heavy atoms: Role of Auger effect in nanoparticles

Abstract
14.1 Introduction
14.2 Improvement of Radiation Therapy by Different Methods
14.3 Auger Effects in Radiobiology: General Properties
14.4 Hadrontherapy Enhanced by Combination with High-Z Atoms
14.5 Hadrontherapy and Nanoparticles
14.6 Conclusions
14.7 Appendix
References

Chapter 15. Toxicity of silver nanoparticles obtained by bioreduction as studied on malignant cells: Is it possible to create a new generation of anticancer remedies?

Abstract
List of Abbreviations
15.1 Introduction
15.2 Studies of NE-AgNP Toxicity on Cultured Cells and Animals: General Description
15.3 Toxic Effects of NE-AgNPs Studied on Cancer Cells
15.4 The Mechanisms of Cytotoxicity of Biogenic AgNPs
15.5 Conclusions
References

Index
No. of pages:

588
Language:

English
Copyright:

© William Andrew

2016
Published:

22nd March 2016
Imprint:

William Andrew
eBook

ISBN:

9780323428866
Hardcover

ISBN:

9780323428637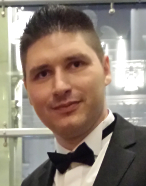 Alexandru Mihai Grumezescu is a lecturer in the Department of Science and Engineering of Oxide Materials and Nanomaterials, at the Faculty of Applied Chemistry and Materials Science, Politehnica University of Bucharest, Romania. He is an experienced researcher and published editor in the field of nano and biostructures. He is the editor-in-chief of two international open access journals: Biointerface Research in Applied Chemistry, Letters and Applied NanoBioScience. Dr. Grumezescu has published more than 200 peer-reviewed papers, authored nine books, and has served as an editor for more than 50 scholarly books.
Affiliations and Expertise
Assistant Professor, Department of Science and Engineering of Oxide Materials and Nanomaterials, Faculty of Applied Chemistry and Materials Science and Faculty of Medical Engineering, Politehnica University of Bucharest, Romania
Tax Exemption
We cannot process tax exempt orders online. If you wish to place a tax exempt order please
contact us
.
Elsevier.com visitor survey
We are always looking for ways to improve customer experience on Elsevier.com.
We would like to ask you for a moment of your time to fill in a short questionnaire, at the end of your visit.

If you decide to participate, a new browser tab will open so you can complete the survey after you have completed your visit to this website.

Thanks in advance for your time.
Accept
Decline