Molecular Pathology of Pituitary Adenomas
1st Edition
Authors:
Cristiana Tanase
Irina Ogrezeanu
Corin Badiu
eBook ISBN: 9780124158528
Hardcover ISBN: 9780124158306
Paperback ISBN: 9780323165358
Published Date: 15th November 2011
---
The pituitary gland is an important one since it controls several of the other hormone glands, such as the thyroid and adrenals. A pituitary adenoma is an abnormal growth or tumor in this gland, and they are the subject of very active clinical and pathological research.
This book examines the latest developments in this field and discusses the most important molecules implicated in apoptosis, angiogenesis and signal transduction. A good understanding of these processes is needed to identify the best therapies.
Facilitates the understanding of the processes involved and how they are translated into therapy
Illustrations are used to explain the complex mechanisms involved
Pathologists, clinical endocrinologists, neurosurgeons, basic scientists
1. Pituitary tumor classification: functionality, invasiveness, aggressiveness
Irina Ogrezeanu, Corin Badiu, Cristiana Tanase, Alina Neagoe
2. Immunohistochemistry and electron microscopy as evaluation criteria in tumour classification in the deciphering of pituitary adenomas
Corin Badiu, Irina Ogrezeanu, Cristiana Tanase
3. Proliferation
Cristiana Tanase and Radu Albulescu
4. Angiogenesis
Cristiana Tanase, Elena Codrici, Irina Radu, Simona Mihai
5. Apoptosis
Cristiana Tanase, Radu Albulescu
6. Signal transduction
Cristiana Tanase, Monica Neagu, Radu Albulescu, Linda Maria Cruceru, Adrian Popa
7. Stem cells markers in pituitary adenomas
Corin Badiu, Cristiana Tanase, Linda Maria Cruceru
8. microRNAs
Cristiana Tanase, Radu Albulescu, Lucian Albulescu
9. New generic tools for diagnosis: genomics, proteomics
Cristiana Tanase, Radu Albulescu, Ionela Daniela Popescu
10. Therapeutic approach: drug, surgical and radiotherapy
Cristiana Tanase, Irina Ogrezeanu
No. of pages:

130
Language:

English
Copyright:

© Elsevier

2012
Published:

15th November 2011
Imprint:

Elsevier
eBook

ISBN:

9780124158528
Hardcover

ISBN:

9780124158306
Paperback

ISBN:

9780323165358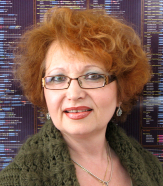 Affiliations and Expertise
Victor Babes National Institute of Pathology, Bucharest, Romania
Affiliations and Expertise
"D. Bagdasar" Hospital, Bucharest, Romania
Affiliations and Expertise
"C.Davila" University of Medicine and Pharmacy and Institute of Endocrinology, Bucharest, Romania