Milk-based Beverages
1st Edition
Volume 9: The Science of Beverages
Editors:
Alexandru Grumezescu
Alina Maria Holban
Paperback ISBN: 9780128155042
Imprint: Woodhead Publishing
Published Date: 6th May 2019
---
Milk-based Beverages, Volume Nine: Science of Beverages series, presents current status, developments and technologies for researchers and developers to meet consumer demand and understand consumer trends towards healthy drinks. This resource takes a multidisciplinary approach to address issues in safety and quality control, while also discussing the nutritional and functional information that professionals in the beverage industry need. The book presents a framework for researchers, product developers, engineers and regulators in the beverages industry for understanding new research developments in milk-based products to meet industry needs in producing competitive products.
Covers the most recent advances in various milk based products
Includes a solid review of safety and hygiene for the development of new products
Presents engineering techniques and applications using novel technologies
Food scientists, food chemists, food microbiologists, food engineers in the beverages sector(R&D, Gov. and academia)
1. Engineering of Milk-Based Beverages: Current Status, Developments, and Consumer Trends
2. Engineering Tools in Milk-Based Beverages
3. Dairy-Based Functional Beverages
4. New Trends and Perspectives in Functional Dairy-Based Beverages
5. Recent Trends and Developments in Milk-Based Beverages
6. Production of Functional Milk-Based Beverages
7. Traditional Beverages in Different Countries: Milk-Based Beverages
8. Kefir Beverage and Its Effects on Health
9. The Supply Chains of Cow Grass-Fed Milk
10. Technology of Dairy-Based Beverages
11. Rheological Properties of Milk-Based Beverages
12. Nonthermal Processing of Dairy Beverages
13. Rheological Characterization and Pipeline Transport Needs of Two Fluid Dairy Products (Flavored Milk and Yogurt)
14. Dairy and Nondairy-Based Beverages as a Vehicle for Probiotics, Prebiotics, and Symbiotics: Alternatives to Health Versus Disease Binomial Approach Through Food
15. The Effect of Dairy Probiotic Beverages on Oral Health
No. of pages:

562
Language:

English
Copyright:

© Woodhead Publishing

2019
Published:

6th May 2019
Imprint:

Woodhead Publishing
Paperback

ISBN:

9780128155042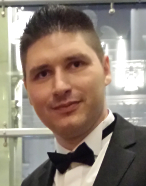 Alexandru Mihai Grumezescu is a Lecturer in the Department of Science and Engineering of Oxide Materials and Nanomaterials, at the Faculty of Applied Chemistry and Materials Science, Politehnica University of Bucharest, Romania. He is an experienced researcher and published editor in the field of nano and biostructures. He is the Editor-in-Chief of 2 international open access journals: Biointerface Research in Applied Chemistry, Letters and Applied NanoBioScience. Dr. Grumezescu has published ~200 peer-reviewed papers, ~50 book chapters, and has co-authored nine books and 50 edited books.
Affiliations and Expertise
Assistant Professor, Department of Science and Engineering of Oxide Materials and Nanomaterials, Faculty of Applied Chemistry and Materials Science and Faculty of Medical Engineering, Politehnica University of Bucharest, Romania
Alina-Maria Holban is a Lecturer in Microbiology and Immunology, at the Faculty of Biology, University of Bucharest; and associate Researcher at the University Politehnica of Bucharest, Romania, working on the field of bionanomaterials with antimicrobial applications. The contribution of Dr Holban in her research field is supported by the publication of 75 papers in peer-reviewed journals, 42 conference/symposia proceedings (posters and oral presentations, from which 29 were presented in International scientific meetings), 21 edited books, 20 book chapters in international books and 2 GenBank original sequences (patents). More than 50% of the published papers are investigating the applications of nanomaterials on biomedical fields.
Affiliations and Expertise
Botany and Microbiology Department, Faculty of Biology, University of Bucharest, Bucharest, Romania
Tax Exemption
We cannot process tax exempt orders online. If you wish to place a tax exempt order please
contact us
.