Membrane Proteins – Engineering, Purification and Crystallization, Volume 557
1st Edition
Serial Volume Editor:
Arun Shukla
Hardcover ISBN: 9780128021835
eBook ISBN: 9780128021934
Published Date: 1st May 2015
Secure Checkout
Personal information is secured with SSL technology.
Free Shipping
Free global shipping
No minimum order.
---
Preface
Section I: Membrane Protein Engineering, Solubilization and Purification

Chapter One: Multicolor Fluorescence-Based Screening Toward Structural Analysis of Multiprotein Membrane Complexes

Abstract
1 Introduction
2 Production of Fluorescently Labeled TAP Complexes in P. pastoris
3 Production of Fluorescently Labeled TAP Complexes in Mammalian Cells
4 Multicolor Fluorescence-Based Screening Approaches
5 Summary
Acknowledgments

Chapter Two: A Novel Screening Approach for Optimal and Functional Fusion of T4 Lysozyme in GPCRs

Abstract
1 Introduction
2 Overall Strategy
3 Plasmids, Yeast Strains, and Media
4 Library Construction
5 Expression Screening and Functional Assays
6 Results for the Yeast α-Factor Receptor Ste2p
Acknowledgments

Chapter Three: Membrane Preparation and Solubilization

Abstract
1 Introduction
2 Membrane Preparation
3 Solubilization

Chapter Four: Amphipathic Agents for Membrane Protein Study

Abstract
1 Introduction
2 MP Stability in Membrane Architecture
3 Conventional Detergents
4 Novel Amphipathic Systems
5 Summary of Detergent Properties
6 Detergent Selection
7 Future Direction

Chapter Five: Quantification of Detergent Using Colorimetric Methods in Membrane Protein Crystallography

Abstract
1 Detergent in Membrane Protein Crystallography
2 2,6-Dimethylphenol Assay for Sugar-Based Detergents
3 Molybdate Assay for Total Phosphate
4 Assay of Bile Salt with Sulfuric Acid
5 Applications of Detergent Measurement
6 Concluding Remarks
Acknowledgments

Chapter Six: Solubilization of G Protein-Coupled Receptors: A Convenient Strategy to Explore Lipid–Receptor Interaction

Abstract
1 G Protein-Coupled Receptors
2 Membrane Lipids in GPCR Organization and Function
3 Cholesterol: An Important Modulator of GPCR Function
4 Membrane Protein Solubilization: An Essential Step Toward Purification
5 Solubilization as a Strategy to Monitor Lipid–Protein Interactions
6 Conclusions and Future Perspectives
Acknowledgments

Chapter Seven: Overexpression, Isolation, Purification, and Crystallization of NhaA

Abstract
1 Introduction
2 Overexpression
3 Isolation of Membranes from Strain Expressing His-tagged NhaA
4 Affinity Purification of His-tagged NhaA
5 Analysis of Protein Quality
6 Crystallization of His-tagged NhaA
7 Functional Assay
8 Preparation of Solutions
Acknowledgments

Chapter Eight: Purification, Refolding, and Crystallization of the Outer Membrane Protein OmpG from Escherichia coli

Abstract
1 Introduction
2 OmpG Production and Purification
3 Protein Analysis
4 Crystallization of OmpG
5 Summary

Chapter Nine: Biophysical Approaches to the Study of LeuT, a Prokaryotic Homolog of Neurotransmitter Sodium Symporters

Abstract
1 Introduction
2 LeuT Expression, Purification, Crystallization, and Structure Determination
3 Functional Characterization
4 Transport Mechanism Unveiled from Structure, Function, and Computational Biology
5 Summary
Acknowledgments

Section II: Generation and Use of Antibody Fragments Against Membrane Proteins

Chapter Ten: Generation of Recombinant Antibody Fragments for Membrane Protein Crystallization

Abstract
1 Introduction
2 Generation of Antibodies for Structural Characterization of Membrane Proteins
Acknowledgments

Chapter Eleven: Phage Display Selections for Affinity Reagents to Membrane Proteins in Nanodiscs

Abstract
1 Introduction
2 Materials and Equipment
3 Methods
4 Notes
Acknowledgments

Chapter Twelve: Antibody Fragments for Stabilization and Crystallization of G Protein-Coupled Receptors and Their Signaling Complexes

Abstract
1 Introduction
2 The Genesis of Antibody Fragment-Mediated Membrane Protein Crystallization
3 Nanobody Technology—Trapping Active GPCR Conformations
4 Antibody Fragments in Visualizing GPCR Signaling Complexes
5 Conclusion and Future Perspective
Acknowledgments

Section III: Biophysical Studies of Membrane Proteins

Chapter Thirteen: Conformational Analysis of G Protein-Coupled Receptor Signaling by Hydrogen/Deuterium Exchange Mass Spectrometry

Abstract
1 Introduction
2 Experimental Procedure
3 Conclusion and Perspectives
Acknowledgments

Chapter Fourteen: EPR Studies of Gating Mechanisms in Ion Channels

Abstract
1 SDSL and EPR Spectroscopy to Study Gating Mechanisms in Ion Channels
2 Voltage-Gated Ion Channels
3 Ligand-Gated Ion Channels
4 Future Directions
Acknowledgments

Chapter Fifteen: Magic-Angle-Spinning Solid-State NMR of Membrane Proteins

Abstract
1 Introduction
2 Production of Recombinant Proteins in Escherichia coli
3 Isolation of Cells and Cellular Membranes
4 Purification and Reconstitution of MPs for ssNMR
5 Dedicated ssNMR Experiments
6 Conclusions
Acknowledgments

Chapter Sixteen: Solution NMR Structure Determination of Polytopic α-Helical Membrane Proteins: A Guide to Spin Label Paramagnetic Relaxation Enhancement Restraints

Abstract
1 Site-Directed Spin Labeling
2 PRE Measurements
3 Structure Calculation with PRE Restraints
4 Assessment of Structure Quality
5 Future Developments
6 Summary

Section IV: Crystallization of Membrane Proteins

Chapter Seventeen: Inducing Two-Dimensional Crystallization of Membrane Proteins by Dialysis for Electron Crystallography

Abstract
1 Introduction
2 2D Crystallization by Dialysis
3 EM Screening of 2D Crystallization Conditions
4 Optimization of 2D Crystallization and Protein Purification
5 Conclusion

Chapter Eighteen: Crystallization of Membrane Proteins by Vapor Diffusion

Abstract
1 Introduction
2 Membrane Protein Expression
3 Membrane Protein Purification
4 Membrane Protein Crystallization via Vapor Diffusion
5 Case Studies
6 Concluding Remarks
Acknowledgment

Chapter Nineteen: Bicelles Coming of Age: An Empirical Approach to Bicelle Crystallization

Abstract
1 Introduction
2 Protein Function and Folding in Lipid Bicelles
3 Bicelle Crystallization of MPs
4 User Guide to Bicelle Crystallization
5 Bicelle Crystallization General Protocol
6 Successful Crystallization Conditions
7 Case Study of Cellulose Synthase Crystallization
8 Alternative Approaches
9 Summary
Acknowledgments

Chapter Twenty: Fluorescence Recovery After Photobleaching in Lipidic Cubic Phase (LCP-FRAP): A Precrystallization Assay for Membrane Proteins

Abstract
1 Introduction
2 Experimental Components and Considerations for LCP-FRAP Assays
3 Examples of Using LCP-FRAP to Guide GPCR Crystallization
4 Protocols for LCP-FRAP Assays
Acknowledgments

Chapter Twenty-One: Crystallization of Proteins from Crude Bovine Rod Outer Segments

Abstract
1 Introduction
2 Experimental Procedures
3 Pilot Experimental Results
4 Conclusions
Acknowledgments

Chapter Twenty-Two: Crystallization of Photosystem II for Time-Resolved Structural Studies Using an X-ray Free Electron Laser

Abstract
1 Introduction
2 Isolation of Photosystem II
3 Crystallization for Studies with FELs
4 Detection and Characterization of Nano- and Microcrystals
5 Time-Resolved Crystallography of PSII Using FELs
6 Summary
Acknowledgments

Section V: Computational Approaches to Understand Membrane Proteins

Chapter Twenty-Three: Major Intrinsic Protein Superfamily: Channels with Unique Structural Features and Diverse Selectivity Filters

Abstract
1 Introduction
2 Structural Biology of MIP Channels
3 MIPModDB Database: A Database of MIP Models
4 Unique Structural Features Within the TM Region
5 Residues Forming Ar/R SF Are Diverse
6 Conclusion
Acknowledgments

Chapter Twenty-Four: Comparative Sequence–Function Analysis of the Major Facilitator Superfamily: The "Mix-and-Match" Method

Abstract
1 Introduction
2 Helix-Triplets
3 Detection of Functionally Homologous Positions
4 Examples
5 Conclusion
Acknowledgments

Chapter Twenty-Five: Elucidating Ligand-Modulated Conformational Landscape of GPCRs Using Cloud-Computing Approaches

Abstract
1 Introduction
2 What Are Markov State Models?
3 How Do MSMs Enable Novel Insight?
4 How Can MSMs Be Used for Improved Drug Design?
5 Conclusions
Acknowledgments

Author Index
Subject Index
---
Membrane Proteins – Engineering, Purification and Crystallization, a volume of Methods In Enzymology, encompasses chapters from the leading experts in the area of membrane protein biology. The chapters provide a brief overview of the topics covered and also outline step-by-step protocol for the interested audience. Illustrations and case example images are included wherever appropriate to help the readers understand the schematics and general experimental outlines.
Volume of Methods In Enzymology
Contains a collection of a diverse array of topics in the area of membrane protein biology ranging from recombinant expression, isolation, functional characterization, biophysical studies and crystallization
These two volumes of Methods In Enzymology should be very useful to any researcher working in the area of structure and function of membrane proteins. Graduate students, post-doctoral fellows and faculty members pursuing different aspects of membrane protein biology should find these two volumes useful and complete collection of practical information.
---
No. of pages:

644
Language:

English
Copyright:

© Academic Press

2015
Published:

1st May 2015
Imprint:

Academic Press
Hardcover

ISBN:

9780128021835
eBook

ISBN:

9780128021934
---
About the
Serial Volume Editor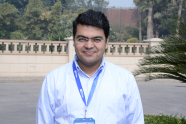 Dr. Arun K. Shukla obtained his M.Sc. (Master in Science) from the Center for Biotechnology at the Jawaharlal Nehru University in New Delhi, India. Dr. Shukla did his Ph.D. from the Department of Molecular Membrane Biology at the Max Planck Institute of Biophysics in Frankfurt, Germany. His Ph.D. research work was focused on structural studies of G Protein-Coupled Receptors (GPCRs).
Dr. Shukla subsequently carried out his post-doctoral work in the Department of Medicine at the Duke University in North Carolina, USA. During his post-doctoral research work, Dr. Shukla focused on understanding the biophysical and structural basis of ß-arrestin mediated regulation of GPCRs and non-canonical GPCR signaling. Dr. Shukla has served as an Assistant Professor in the Department of Medicine at the Duke University in Durham, North Carolina, USA.
Dr. Shukla is currently an Assistant Professor in Department of Biological Sciences and Bioengineering at the Indian Institute of Technology, Kanpur, India. Dr. Shukla is also an Intermediate Fellow of the Wellcome Trust-DBT India Alliance. The research program in Dr. Shukla's laboratory is focused on understanding the molecular mechanism of activation, signaling and regulation of G Protein-Coupled Receptors.
Affiliations and Expertise
Indian Institute of Technology, Kanpur, India
Tax Exemption
We cannot process tax exempt orders online. If you wish to place a tax exempt order please
contact us
.
Elsevier.com visitor survey
We are always looking for ways to improve customer experience on Elsevier.com.
We would like to ask you for a moment of your time to fill in a short questionnaire, at the end of your visit.

If you decide to participate, a new browser tab will open so you can complete the survey after you have completed your visit to this website.

Thanks in advance for your time.
Accept
Decline