Materials for Biomedical Engineering: Hydrogels and Polymer-based Scaffolds
1st Edition
Editors:
Alexandru Grumezescu
Alina Maria Holban
Paperback ISBN: 9780128169018
Published Date: 1st March 2019
---
Hydrogels and Polymer-based Scaffolds discusses the use of a wide variety of hydrogels as bioactive scaffolds in regenerative medicine, with innovative materials and their properties for improved bio-engineering applications representing the focus of the study. Various types of currently investigated scaffolding materials and hydrogels, as well as their properties and impact in bio-medical sciences, are discussed in detail. The future role of such newly developed scaffolding materials in therapy is highlighted. The main techniques for scaffold fabrication, as well as their characterization procedures can be found in this book, guiding the reader to select the best materials for a specific application.
A valuable resource of recent scientific progress, highlighting the most well-known applications of hydrogels as bioactive scaffolds in regenerative medicine
Novel opportunities and ideas for developing or improving technologies in biomaterials by companies, biomedical industries, and others
Features at least 50% of references from the last 2-3 years
Academic and industrial researchers, PhD students working in nanotechnology, materials science, biomaterials and biomedical engineering, especially institutions where online access to journals is a problem
Hydrogels and non-hydrogel scaffolds and cell interaction
Interactions between Tissues, Cells and Biomaterials: an Advanced Evaluation by Synchrotron Radiation-based High Resolution Microtomography
Bioprinted scaffolds
Superabsorbent Hydrogels Based on Chitosan: Current State and Potential Applications
Development and characterization of hydrogels based on chitosan and xyloglucan from Chia Seed (Salvia Hispanica L.)
Bioresorbable polymers for use in tissue engineering: PLA, PGA and their Copolymers
Technological challenges and advances: from lactic acid to Polylactate and co-polymers
PLGA scaffolds: Building blocks for the new age of biomaterials
Biodegradable scaffolds based on chitosan-g-polylactide copolymers
Electro-spun Scaffolds of Poly (3-hydroxybutyrate). Morphology, aging and Adhesion and Cell Viability of HEK293 and NHOst cells
Polyurethane-based structures obtained by 3D printing technologies
Composites based on bio-derived polymers: potential role in tissue engineering
Techniques for the fabrication of inorganic scaffolds
Composite Scaffolds for Bone and Osteochondral Defects
Pristine and Plasma Treated Thermoplastic Biopolymers/Biocomposites in Tissue Engineering and Biodegradable ImplantsS
The design of two different structural scaffolds using β- tricalcium phosphate (β-TCP) and collagen for bone tissue engineering
Composite materials based on hydroxyapatite embedded in biopolymer matrices. Ways of synthesis and application
Biopolymers-Graphene Oxide Nanoplatelets Composites with Enhance Conductivity and Biocompatibility Suitable for Tissue Engineering Applications
Study of microstructural, structural, mechanical, and vibrational properties of defatted trabecular bovine bones: natural sponges
Laser Processing of Biocompatible Polymers for Development of Mems for Medical and High-tech Applications

No. of pages:

510
Language:

English
Copyright:

© Elsevier

2019
Published:

1st March 2019
Imprint:

Elsevier
Paperback

ISBN:

9780128169018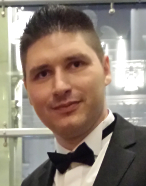 Alexandru Mihai Grumezescu is a Lecturer in the Department of Science and Engineering of Oxide Materials and Nanomaterials, at the Faculty of Applied Chemistry and Materials Science, Politehnica University of Bucharest, Romania. He is an experienced researcher and published editor in the field of nano and biostructures. He is the Editor-in-Chief of 2 international open access journals: Biointerface Research in Applied Chemistry, Letters and Applied NanoBioScience. Dr. Grumezescu has published ~200 peer-reviewed papers, ~50 book chapters, and has co-authored nine books and 50 edited books.
Affiliations and Expertise
Assistant Professor, Department of Science and Engineering of Oxide Materials and Nanomaterials, Faculty of Applied Chemistry and Materials Science and Faculty of Medical Engineering, Politehnica University of Bucharest, Romania
Alina-Maria Holban is a Lecturer in Microbiology and Immunology, at the Faculty of Biology, University of Bucharest; and associate Researcher at the University Politehnica of Bucharest, Romania, working on the field of bionanomaterials with antimicrobial applications. The contribution of Dr Holban in her research field is supported by the publication of 75 papers in peer-reviewed journals, 42 conference/symposia proceedings (posters and oral presentations, from which 29 were presented in International scientific meetings), 21 edited books, 20 book chapters in international books and 2 GenBank original sequences (patents). More than 50% of the published papers are investigating the applications of nanomaterials on biomedical fields.
Affiliations and Expertise
Microbiology Department, Faculty of Biology, University of Bucharest, Bucharest, Romania
Tax Exemption
We cannot process tax exempt orders online. If you wish to place a tax exempt order please
contact us
.