Materials for Biomedical Engineering: Bioactive Materials for Antimicrobial, Anticancer and Gene Therapy
1st Edition
Editors:
Alexandru Grumezescu
Alina Maria Holban
Paperback ISBN: 9780128184356
Published Date: 1st July 2019
---
Materials for Biomedical Engineering: Bioactive Materials for Antimicrobial, Anticancer and Gene Therapy offers an up-to-date perspective on recent research findings made in the application and use of these materials for disease treatment and prevention. Various types of currently investigated bioactive materials including therapeutic nanostructures, and antimicrobial hydrogels are discussed, as well as their properties and impact in bio-medical sciences. The future role of these materials in therapeutic applications is also covered in detail. The book will be extremely useful for either the new researcher that would like to explore more information on the use of bioactive materials in biomedicine or for the more experienced researcher to search for new trends and specific applications.
Provides a knowledge of the range of bioactive materials available, enabling the reader to make optimal materials selection decisions
Detailed information about current and proposed applications of the latest bioactive materials empowers readers to design innovative products and processes
Strong emphasis on chemistry and physico-chemical characterization of these materials and application in antimicrobial, anticancer and gene therapy
Researchers and postgraduate students, industrial R&D, working in biomaterials, biomedical engineering, materials science, nanotechnology and biomaterials, medical and pharmaceutical companies
Therapeutic nanostructures: novel approaches
2. Biodegradable antimicrobial hydrogels
3. Biomedical Applications of Microbial Engineered Polyhydroxyalkanoate Bioplastics: Recent Progress, Prospects and Challenges Ahead
4. Antimicrobial fibers and fabrics obtained by electro/melt spinning
5. Electro-hydrodynamics techniques as novel approaches for obtaining antibacterial composite biopolymeric fibers
6. Sustainable hybrid films based on silicone non-isocyanate urethanes with antimicrobial activity
7. Antimicrobial activity of green synthesized plasmonic nanoparticles
8. Metallic nanoparticles as potential antimicrobial for catheter and prosthesis
9. Incorporated plant extract fabricated silver/poly-D,L-lactide-co-glycolide nanocomposites: A promising antimicrobial wound dressing agent
10. Nanobiomaterials used in cancer therapy
11. Multi-functional Mesoporous Silica Nanoparticles as a Theranostic Platform for Tumor Therapy
12. Gold nanostructures as cancer theranostic probe: Promises and hurdles
13. Fe3O4 Magnetic-Fluorescent Nanoparticles for Modern Biomedical Applications
14. Gene therapy: recent progress and perspectives
15. Development of Plasmid DNA Nanoparticles for Mitochondrial Gene Therapy
No. of pages:

450
Language:

English
Copyright:

© Elsevier

2019
Published:

1st July 2019
Imprint:

Elsevier
Paperback

ISBN:

9780128184356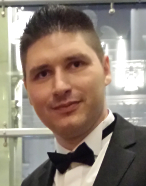 is a lecturer in the Department of Science and Engineering of Oxide Materials and Nanomaterials, at the Faculty of Applied Chemistry and Materials Science, Politehnica University of Bucharest, Romania. He is an experienced researcher and editor in the field of nano and biostructures. He is the editor-in-chief of two international open access journals: Biointerface Research in Applied Chemistry, Letters, and Letters in Applied NanoBioScience . Dr. Grumezescu has published more than 200 peer-reviewed papers, authored nine books and has served as editor on more than 50 scholarly books.
Affiliations and Expertise
Assistant Professor, Department of Science and Engineering of Oxide Materials and Nanomaterials, Faculty of Applied Chemistry and Materials Science and Faculty of Medical Engineering, Politehnica University of Bucharest, Romania
is a lecturer in Microbiology and Immunology, at the Faculty of Biology, University of Bucharest; and associate researcher at the University Politehnica of Bucharest, Romania. Her primary area of research is the development of bionanomaterials with antimicrobial applications. Dr. Holban has published of 75 papers in peer-reviewed journals, 42 conference/symposia proceedings, and has edited 22 books.
Affiliations and Expertise
Botany and Microbiology Department, Faculty of Biology, University of Bucharest, Romania
Tax Exemption
We cannot process tax exempt orders online. If you wish to place a tax exempt order please
contact us
.