The Lateralized Brain
1st Edition
The Neuroscience and Evolution of Hemispheric Asymmetries
Authors:
Sebastian Ocklenburg
Onur Gunturkun
eBook ISBN: 9780128034538
Hardcover ISBN: 9780128034521
Published Date: 16th November 2017
---
The Lateralized Brain: The Neuroscience and Evolution of Hemispheric Asymmetries is an up-to-date teaching resource for neuroscience faculty members that teach courses concerning hemispheric asymmetries. The book provides students with all relevant information on the subject, while also giving aspiring researchers in the field an up-to-date overview of relevant, previous work. It is ideal for courses on hemispheric asymmetries, that is, the functional or structural differences between the left and the right hemispheres of the brain, and also highlights how the widespread use of modern neuroimaging techniques, such as fMRI and DTI has completely changed the way hemispheric asymmetries are currently investigated.
Includes references to key articles, books, protocols and online resources for additional, detailed study
Presents classic studies that helped define the field
Covers key concepts and methods that are explained in separate call out boxes for quick overview
Provides introductory short stories (e.g. classic clinical cases) as a starting point for each chapter
Researchers, clinicians, post-doctoral fellows, and graduate students in neuroscience, as well as those in biological sciences and psychology
1. Brain asymmetries – Two millennia of speculation, research and discoveries
2. Evolution of asymmetries
3. The connected hemispheres – the role of the corpus callosum for hemispheric asymmetries
4. Language and the left hemisphere
5. Handedness and other behavioral asymmetries
6. Spatial attention, neglect, and the right hemisphere
7. Recognizing yourself and others – The role of the right hemisphere for face and self-perception
8. Hemispheric asymmetries in emotion processing
9. Structural hemispheric asymmetries
10. Hemispheric asymmetries over the lifespan
11. Sex differences in hemispheric asymmetries
12. Altered hemispheric asymmetries in neurodevelopmental, psychiatric, and neurological disorders
No. of pages:

368
Language:

English
Copyright:

© Academic Press

2018
Published:

16th November 2017
Imprint:

Academic Press
eBook

ISBN:

9780128034538
Hardcover

ISBN:

9780128034521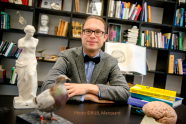 Sebastian Ocklenburg is a post-doc in the biopsychology lab at Ruhr-University Bochum in Germany. Born in Duisburg, Germany, he knew since primary school that he wanted to become a scientist. After obtaining his bachelor's and master's degree in psychology, Sebastian conducted his PhD thesis on the genetics and neurophysiology of hemispheric asymmetries. For this work, he was awarded the prestigious Heinz-Heckhausen award by the German Society for Psychology. Subsequently, he worked as a post-doc in the Bergen fMRI group in Norway, before returning to Germany. Since the very beginning of his career, Sebastian holds a deep fascination with understanding how hemispheric asymmetries develop. His work focuses on answering this question using an integrative multi-method approach including techniques from neuroimaging, electrophysiology and molecular genetics. Sebastian is member of the Global Young Faculty (GYF) and the International Society for Behavioral Neuroscience (ISBN). He authored more than 60 papers on hemispheric asymmetries and other topics in international peer-reviewed journals, including top journals like Neuron or eLife.
Affiliations and Expertise
Ruhr-Universität Bochum, Bochum, Germany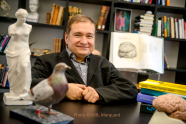 Onur Gunturkun is a Turkish-born Professor for Biopsychology at Ruhr-University Bochum in Germany. He once came to Germany with the aim to study Psychology and to learn about the science of the mind. Onur is kept awake with questions like: "why do humans and other animals have asymmetrically organized brains?", "can different kinds of brains produce the same cognition?" or "what is the neural substrate of thought?". He spent years of his life in different universities in Germany, the USA, Australia, Turkey, Belgium, and South Africa. He mostly uses humans and pigeons as his experimental subjects but also loves to do science with dolphins and magpies. Onur Güntürkün works with all kinds of research approaches that reach from simple field work, via behavioral experiments, neuroanatomical approaches, single unit recordings up to brain imaging at ultrahigh magnetic fields. He is a member of the German National Academy of Sciences, holds two honorary doctorates, and received numerous major national and international scientific awards, among them both the highest German and Turkish science award. Onur authored more than 300 papers with more than 8000 citations in top Journals like Nature, Science, Nature Reviews Neuroscience, TICS, Neuron, PNAS, Current Biology, PLoS Biology, and eLife. Onur serves as reviewer or as member of editorial boards in a large number of journals and also reviews applications of scientific agencies of more than 15 different countries.
Affiliations and Expertise
Ruhr-Universität Bochum, Bochum, Germany
Tax Exemption
We cannot process tax exempt orders online. If you wish to place a tax exempt order please
contact us
.