Heterogeneous Catalysis
1st Edition
Fundamentals and Applications
eBook ISBN: 9780080956848
Hardcover ISBN: 9780444533630
Paperback ISBN: 9780444638403
Published Date: 16th September 2011
---
Heterogeneous catalysis plays a part in the production of more than 80% of all chemical products. It is therefore essential that all chemists and chemical engineers have an understanding of the fundamental principles as well as the applications of heterogeneous catalysts. This book introduces the subject, starting at a basic level, and includes sections on adsorption and surface science, catalytic kinetics, experimental methods for preparing and studying heterogeneous catalysts, as well as some aspects of the design of industrial catalytic reactors. It ends with a chapter that covers a range of examples of important catalytic processes.
The book leads the student to carrying out a series of "tasks" based on searches of the internet and also on the use of web-based search tools such as Scopus or Web of Science. These tasks are generally based on the text; they can be used entirely for self-study but they can also be tailored to the requirements of a particular course by the instructor/lecturer giving the course.
The author has had over 40 years of experience in catalytic research as well as in lecturing on the principles of catalysis. He was for more than 20 years the Editor of Catalysis Today.
Coverage of all aspects of catalysis in carefully organised text
Inclusion of material on the historical development of the subject and the personalities involved
All concepts illustrated by practical examples
Inclusion of a wide range of problems and solutions, case studies, and supplementary web based material which will be regularly updated
Author has over 40 years research experience of almost all covered subjects
Provides companion materials webiste
Chemists, Physical Chemists, Chemical Engineers. Graduate and Post graduate students in Catalysis and Reaction Engineering
Preface
Chapter 1. Heterogeneous Catalysis – Chemistry in Two Dimensions

1.1. Introduction
1.2. Historical Background to Catalysis

Chapter 2. Surfaces and Adsorption

2.1. Introduction
2.2. Clean Surfaces
2.3. Langmuir's Work on Adsorption
2.4. The Langmuir Isotherm
2.5. The Chemisorption of Hydrogen
2.6. The Chemisorption of More Complex Molecules
2.7. Non-homogeneous Surfaces
2.8. Non-equilibrium Adsorption
2.9. The Process of Adsorption
2.10. Some Generalizations on Chemisorption
2.11. Physical Adsorption
2.12. Behaviour of Physical Adsorption Isotherms at Values of P/Po ≥ 0.3

Chapter 3. How Does a Catalyst Work?

3.1. Introduction
3.2. The Catalytic Process
3.3. The Catalyst and the Catalytic Site
3.4. Catalysis by Metals
3.5. Oxides
3.6. Sulfides
3.7. Conclusions

Chapter 4. Catalyst Preparation

4.1. Importance of Active Surface Area and of Catalyst Structure
4.2. Catalyst Preparation
4.3. Catalyst Supports
4.4. Supported Catalysts
4.5. Catalyst Characterization

Chapter 5. Catalytic Reactors and the Measurement of Catalytic Kinetics

5.1. Introduction
5.2. Static Reactors
5.3. Stirred and Recirculation Reactors
5.4. Flow Reactors
5.5. Fluidized Bed Reactors
5.6. Pulse Reactors
5.7. The TAP Reactor
5.8. SSITKA
5.9. "In Situ/Operando" Methods
5.10. Microreactor Methods
5.11. Conclusions

Chapter 6. The Kinetics and Mechanisms of Catalytic Reactions

6.1. Introduction
6.2. Unimolecular Reaction of Reactant A to Give Products
6.3. Bimolecular Reactions – Langmuir–Hinshelwood Kinetics
6.4. Bimolecular Reactions – Eley–Rideal Kinetics
6.5. The Mars–Van Krevelen Mechanism
6.6. Practical Examples of Mechanistic Kinetic Expressions

Chapter 7. Large-Scale Catalytic Reactors

7.1. Introduction
7.2. Catalyst Geometries
7.3. The Importance of Mass Transfer in Catalysis
7.4. Heat Transfer in Catalysis

Chapter 8. Some Catalytic Reactions

8.1. Introduction
8.2. Catalysis in the Conversion of Natural Gas
8.3. Catalysis in the Conversion of Crude Oil
8.4. Petrochemicals and Industrial Organic Chemistry
8.5. Environmental Catalysis
8.6. Catalysis in Biomass Conversion
8.7. Conclusions

Index
No. of pages:

232
Language:

English
Copyright:

© Elsevier

2012
Published:

16th September 2011
Imprint:

Elsevier
eBook

ISBN:

9780080956848
Hardcover

ISBN:

9780444533630
Paperback

ISBN:

9780444638403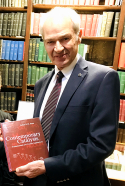 Julian Ross has been actively involved in research on surface chemistry and catalysis for more than 50 years. Although he has always worked in an academic environment (UK, The Netherlands, and Ireland), he has throughout his career been closely associated with industrial catalysis companies and has acted as a consultant to many of those active in the field. He is author of more than 200 publications as well as of a significant number of patents on catalysts and processes; his work has been highly cited, his h-index in 2018 being 48 (Scopus). He has supervised more than 50 PhD theses and some 20 post-doctoral researchers working on topics such as natural gas conversion, selective oxidation, membrane catalysis, zirconia as a catalyst support, environmental catalysis, and biomass conversion. He was editor of Catalysis Today (Elsevier) for more than 25 years; in that capacity, he was responsible for commissioning and supervising the production of specialised issues reporting research on most modern areas of catalysis. His book, "Heterogeneous Catalysis – Fundamentals and Applications" was published by Elsevier in 2012; the current volume is a modified and much expanded version. A blog giving details of the content and related material is to be found at: www.contemporarycatalysis.wordpress.org.
Affiliations and Expertise
Emeritus Professor, University of Limerick, Ireland; Member of the Royal Irish Academy (MRIA); Fellow of the Royal Society of Chemistry (FRSC)
"The author's motivation for writing a textbook on heterogeneous catalysis was to provide the experience of a recognized expert for the young generation of chemists in a form that they would best appreciate, by making full use of the tools offered by the internet for learning and for literature work: Wikipedia, e-journals, searching into the past and towards the presence, the rating of publications through citation indices, etc. A variety of student tasks requiring literature work on various topics is an integral part of the book, which makes its structure very open. An experienced teacher who might disagree with the author about details of emphasis can nevertheless use the book for a course with his or her own priorities. This is new and a real achievement. However, the book certainly reflects the author[1]s teaching priorities, because it has to be useful also in the hands of less advanced tutors or of the students themselves." --Angewandte Chemie Int. Ed. 2012
Tax Exemption
We cannot process tax exempt orders online. If you wish to place a tax exempt order please
contact us
.