Handbook of Biopolymers and Biodegradable Plastics
1st Edition
Properties, Processing and Applications
eBook ISBN: 9781455730032
Hardcover ISBN: 9781455728343
Published Date: 19th September 2012
---
Series Page
Preface
1. Overview of Plant Polymers: Resources, Demands, and Sustainability
1.1 Plant Proteins
1.2 Plant Oils
1.3 Plant Starches
1.4 Agricultural Fibers and Cellulose
1.5 Market Potential for Plant Polymers
1.6 Sustainable Agriculture Industry of the Future
1.7 Conclusion
Acknowledgment
References
2. Overview of Poly(lactic Acid)
2.1 Background to Biodegradable Polymers
2.2 Market Potential of Biodegradable Polymers and PLA
2.3 General Properties and Applications of PLA
2.4 Environmental Profile of PLA
2.5 Eco-profile of PLA in Mass Production
2.6 Environmental Impact of PLA at the Postconsumer Stage
2.7 Conclusion
References
3. Applications of Poly(lactic Acid)
3.1 Introduction
3.2 Poly(lactic Acid) for Domestic Applications
3.3 Poly(lactic Acid) for Engineering and Agricultural Applications
3.4 Poly(lactic Acid) for Biomedical Applications
3.5 Conclusion
References
4. The State of the Art of Polymers from Renewable Resources
4.1 The Context
4.2 Vegetable Resources
4.3 Animal Resources
4.4 Bacterial Polymers
4.5 Conclusions
References
5. Polymeric Biomaterials
5.1 Introduction
5.2 Polymeric Biomaterials in Ophthalmology
5.3 Polymeric Biomaterials in Orthopedics
5.4 Polymeric Biomaterials in Cardiovascular Diseases
5.5 Polymeric Biomaterials for Wound Closure
5.6 Polymeric Biomaterials in Extracorporeal Artificial Organs
5.7 Polymeric Biomaterials for Nerve Regeneration
5.8 Conclusions and Future Outlook
References
6. Biodegradable Polymers and Polymer Blends
6.1 Introduction
6.2 Naturally Occurring Biodegradable Polymers
6.3 Biodegradable Polymers Derived from Renewable Resources
6.4 Biodegradable Polymers Derived from Petroleum
6.5 Biobased Polymers Derived from Plant Oil
6.6 Rosin-Based Epoxy Curing Agents
6.7 Concluding Remarks
References
7. Starch: Major Sources, Properties and Applications as Thermoplastic Materials
7.1 Introduction
7.2 Main Sources of Starch
7.3 Structure of Starch Granules
7.4 Disruption of Starch Granules
7.5 Applications of Starch as a Raw Material for Plastic Production
7.6 Thermoplastic Starch
7.7 Conclusions
Acknowledgments
References
8. Cellulose-Based Composites and Nanocomposites
8.1 Introduction
8.2 Natural Fibers
8.3 Composites
8.4 Composite Processing
8.5 Composite Properties
8.6 Nanocomposites
8.7 Conclusions
References
9. Synthesis, Properties, Environmental and Biomedical Applications of Polylactic Acid
9.1 Introduction
9.2 Synthesis of PLA
9.3 PLA Properties
9.4 Degradation
9.5 Processing
9.6 Applications
References
10. Compostable Polymer Materials: Definitions, Structures, and Methods of Preparation
10.1 Biodegradable Polymers from Renewable Resources
10.2 Other Compostable Polymers from Renewable Resources
10.3 Biodegradable Polymers from Petrochemical Sources
References
11. Biodegradability Testing of Compostable Polymer Materials
11.1 Definitions Related to Biodegradation Testing
11.2 International Standards Related to Composting
11.3 Principles of Main Standards Related to Composting and Biodegradability Testing
11.4 Composting at Laboratory Scale
11.5 Biodegradability Testing Methods
11.6 Biodegradation of Biodegradable Polymers from Renewable Resources
11.7 Biodegradation of Biodegradable Polymers from Petrochemical Sources
11.8 Biodegradation of Blends
11.9 Summary of Composting
References
12. Pressure-Sensitive Adhesives, Elastomers, and Coatings from Plant Oil
12.1 Introduction to Pressure-Sensitive Adhesives
12.2 Macroemulsion and Miniemulsion Polymerization
12.3 Polymer Characterization
12.4 Polymer Properties
12.5 Polymer–Solid Adhesion Modification of PSAs
12.6 Bio-Based Elastomers
12.7 Bio-Based Coatings
References
13. Biopolymer Films and Composite Coatings
13.1 Introduction
13.2 Mechanisms of Film Formation
13.3 Obtaining a Well-Matched Coating
13.4 Film-Application Stages and Methods for Testing Films
13.5 Selecting Biopolymers for Specific Applications
13.6 Edible Protective Films
13.7 Novel Products
13.8 Nonfood Gum Coatings
13.9 Next Generation of Edible Films
References
14. Biopolymers in Controlled-Release Delivery Systems
14.1 Introduction
14.2 Drug Loading and Release
14.3 Modeling Diffusion
14.4 Higuchian Model
14.5 Swelling
14.6 Temperature-Sensitive Hydrogels
14.7 Equilibrium Swelling and the Flory–Rehner Theory
14.8 Approaches to Cross-Linking
14.9 Glutaraldehyde
14.10 Genipin
14.11 Quinones and Phenols
14.12 Polyelectrolyte Cross-Linking and Complexes
14.13 Polymer–Drug Interactions
14.14 Collagen
14.15 Gelatin
14.16 Chitin and Chitosan
14.17 Celluloses
14.18 Alginates
14.19 Summary
Acknowledgments
References
15. Hydrocolloids and Medicinal Chemistry Applications
15.1 Drug Delivery
15.2 Tissue Engineering
15.3 Future Horizons
Acknowledgments
References
16. Natural Polymers in Tissue Engineering Applications
Objectives
16.1 Introduction
16.2 Natural Polymers
16.3 Polysaccharides
16.4 Proteins
16.5 Polyhydroxyalkanoates
16.6 Future Developments
16.7 Summary
References
17. Fabrication of Tissue Engineering Scaffolds
17.1 Introduction
17.2 Tissue Engineering Scaffolds
17.3 Scaffold Manufacturing Methods
References
Index
---
Biopolymers and Biodegradable Plastics are a hot issue across the Plastics industry, and for many of the industry sectors that use plastic, from packaging to medical devices and from the construction indusry to the automotive sector.
This book brings together a number of key biopolymer and biodegradable plastics topics in one place for a broad audience of engineers and scientists, especially those designing with biopolymers and biodegradable plastics, or evaluating the options for switching from traditional plastics to biopolymers.
Topics covered include preparation, fabrication, applications and recycling (including biodegradability and compostability). Applications in key areas such as films, coatings controlled release and tissue engineering are discussed.
Dr Ebnesajjad provides readers with an in-depth reference for the plastics industry – material suppliers and processors, bio-polymer producers, bio-polymer processors and fabricators – and for industry sectors utilizing biopolymers – automotive, packaging, construction, wind turbine manufacturers, film manufacturers, adhesive and coating industries, medical device manufacturers, biomedical engineers, and the recycling industry.
Essential information and practical guidance for engineers and scientists working with bioplastics, or evaluating a migration to bioplastics.
Includes key published material on biopolymers, updated specifically for this Handbook, and new material including coverage of PLA and Tissue Engineering Scaffolds.
Coverage of materials and applications together in one handbook enables engineers and scientists to make informed design decisions.
Plastics engineers, product designers, packaging engineers and materials scientists, medical device and packaging designers and users; polymer and coatings chemists; producers and users of biopolymers; Sectors: food, beverage and pharmaceutical packaging, medical devices, chemical processing, construction, automotive
---
No. of pages:

472
Language:

English
Copyright:

© William Andrew

2013
Published:

19th September 2012
Imprint:

William Andrew
eBook

ISBN:

9781455730032
Hardcover

ISBN:

9781455728343
---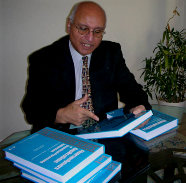 Sina Ebnesajjad is the series editor of Plastics Design Library (PDL) published in the William Andrew imprint of Elsevier. This Series is a unique series, comprising technology and applications handbooks, data books and practical guides tailored to the needs of practitioners. Sina was the editor-in-chief of William Andrew Publishing from 2005 to 2007, which was acquired by Elsevier in 2009.
He retired as a Senior Technology Associate in 2005 from the DuPont fluoropolymers after nearly 24 years of service. Sina founded of FluoroConsultants Group, LLC in 2006 where he continues to work. Sina earned his Bachelor of Science from the School of Engineering of the University of Tehran in 1976, Master of Science and PhD from the University of Michigan, Ann Arbor, all in Chemical Engineering.
He is author, editor and co-author of fifteen technical and data books including five handbooks on fluoropolymers technology and applications. He is author and co-author of three books in surface preparation and adhesion of materials, two of which are in their second editions. Sina has been involved with technical writing and publishing since 1974.
His experiences include fluoropolymer technologies (polytetrafluoroethylene and its copolymers) including polymerization, finishing, fabrication, product development, failure analysis, market development and technical service. Sina holds six patents.
Affiliations and Expertise
Fluoroconsultants Group, Chadds Ford, PA, USA
Tax Exemption
We cannot process tax exempt orders online. If you wish to place a tax exempt order please
contact us
.