Green and Sustainable Computing: Part II, Volume 88
1st Edition
Serial Volume Editors:
Atif Memon
Hardcover ISBN: 9780124077256
eBook ISBN: 9780124078291
Published Date: 1st March 2013
---
Preface
Chapter 1. Energy-Aware High Performance Computing—A Survey
Abstract
1 Introduction
2 Hardware Power Management
3 Software Aspects of Energy-Aware HPC
4 The eeClust Project
5 Conclusion
Acknowledgement
References
Chapter 2. Micro-Fluidic Cooling for Stacked 3D-ICs: Fundamentals, Modeling and Design
Abstract
Nomenclature
1 Introduction
2 Fundamental Characteristics of Fluids in Micro-Channels
3 Design Considerations of Micro-Channels in 3D-ICs
4 3D-IC with Micro-Channels: Simplified Modeling
5 Micro-Channel Design Challenges
6 Runtime Thermal Management Using Micro-Channels
7 Conclusion
Acknowledgment
References
Chapter 3. Sustainable DVFS-Enabled Multi-Core Architectures with On-Chip Wireless Links
Abstract
1 Introduction
2 Related Work
3 Proposed Architecture
4 Performance Evaluation
5 Processor-Level DVFS
6 Complete Thermal Profile
7 Conclusion
References
Chapter 4. Smart Grid Considerations: Energy Efficiency vs. Security
Abstract
1 Introduction
2 Smart Grid
3 Smart Grid Security
4 Energy Efficiency vs. Security
5 Related Work
6 Conclusion
Acknowledgments
References
Chapter 5. Energy Efficiency Optimization of Application Software
Abstract
1 Introduction
2 GreenIT and Application Energy Efficiency
3 Application-Level Optimization as a Distinct Discipline
4 Central Concepts and Principles
5 Tooling: Getting Grip on Applications Energy Behavior
6 Optimizing
7 Future Challenges
8 Conclusion
Acknowledgement
References
Author Index
Subject Index
Contents of volumes in this series
---
Since its first volume in 1960, Advances in Computers has presented detailed coverage of innovations in computer hardware, software, theory, design, and applications. It has also provided contributors with a medium in which they can explore their subjects in greater depth and breadth than journal articles usually allow. As a result, many articles have become standard references that continue to be of sugnificant, lasting value in this rapidly expanding field.
In-depth surveys and tutorials on new computer technology
Well-known authors and researchers in the field
Extensive bibliographies with most chapters
Many of the volumes are devoted to single themes or subfields of computer science
Researchers in high performance computer areas, hardware manufacturers, physics and scientific computation and computer science educational programs
---
No. of pages:

284
Language:

English
Copyright:

© Academic Press

2013
Published:

1st March 2013
Imprint:

Academic Press
eBook

ISBN:

9780124078291
Hardcover

ISBN:

9780124077256
---
"Mandatory for academic libraries supporting computer science departments." - CHOICE
---
About the
Serial Volume Editors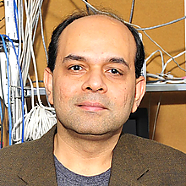 Atif Memon Serial Volume Editor
Atif M. Memon is an Associate Professor at the Department of Computer Science, University of Maryland, where he founded and heads the Event Driven Software Lab (EDSL). Researchers at the EDSL study issues of design, development, quality assurance, and maintenance of such software applications. He designed and developed the model-based GUI testing software GUITAR, which operates on Android, iPhone, Java Swing, .NET, Java SWT, UNO, MS Windows, and web systems, and leverages a resource cloud for test automation. He has published over 90 research articles on the topic of event driven systems, software testing, and software engineering. He is the founder of the International Workshop on TESTing Techniques & Experimentation Benchmarks for Event-Driven Software (TESTBEDS). He also helped develop the workshop on Experimental Evaluation of Software and Systems in Computer Science (EVALUATE). He is the Serial Editor of Advances in Computers, published by Elsevier. This series, since its first volume in 1960 and now the oldest series still being published, covers new developments in computer technology. He is an elected member of the Steering Committee of the International Conference on Software Testing, Verification and Validation ICST, the largest conference on software testing. He serves on various editorial boards, including that of the Journal of Software Testing, Verification, and Reliability. He has served on numerous National Science Foundation panels and program committees, including ICSE, FSE, ICST, WWW, ASE, ICSM, and WCRE. He is currently serving on a National Academy of Sciences panel as an expert in the area of Computer Science and Information Technology, for the Pakistan-U.S. Science and Technology Cooperative Program, sponsored by United States Agency for International Development (USAID). He has a joint appointment in the University's Institute for Advanced Computer Studies (UMIACS). He received his Ph.D. from the University of Pittsburgh in Computer Sci
Affiliations and Expertise
Univeristy of Maryland, College Park, MD, USA