Forensic Fraud
1st Edition
Evaluating Law Enforcement and Forensic Science Cultures in the Context of Examiner Misconduct
Hardcover ISBN: 9780124080737
eBook ISBN: 9780124080584
Published Date: 18th March 2013
Secure Checkout
Personal information is secured with SSL technology.
Free Shipping
Free global shipping
No minimum order.
---
Forensic Fraud is the culmination of 12 years of research by author Brent E. Turvey. A practicing forensic scientist since 1996, Turvey has rendered this first of its kind study into the widespread problem of forensic fraud in the United States. It defines the nature and scope of the problem, the cultural attitudes and beliefs of those involved, and establishes clear systemic contributors. Backed up by scrupulous research and hard data, community reforms are proposed and discussed in light of the recently published National Academy of Sciences report on forensic science.
An adaptation of Dr. Turvey's doctoral dissertation, this volume relentlessly cites chapter and verse in support of its conclusions that law enforcement cultural and scientific values are incompatible, and that the problem of forensic fraud is systemic in nature. It begins with an overview of forensic fraud as a sub-type of occupational fraud, it explores the extent of fraud in both law enforcement and scientific employment settings, it establishes and then contrasts the core values of law enforcement and scientific cultures and then it provides a comprehensive review of the scientific literature regarding forensic fraud. The final chapters present data from Dr. Turvey's original research into more than 100 fraudulent examiners between 2000 and 2010, consideration of significant findings, and a review of proposed reforms to the forensic science community based on what was learned. It closes with a chapter on the numerous crime lab scandals, and closures that occurred between 2010 and 2012 – an update on the deteriorating state of the forensic science community in the United States subsequent to data collection efforts in the present research.
Forensic Fraud is intended for use as a professional reference manual by those working in the criminal system who encounter the phenomenon and want to understand its context and origins. It is intended to help forensic scientist and their supervisors to recognize, manage and expel it; to provide policy makers with the necessary understaffing for acknowledging and mitigating it; and to provide agents of the courts with the knowledge, and confidence, to adjudicate it. It is also useful for those at the university level seeking a strong secondary text for courses on forensic science, law and evidence, or miscarriages of justice.

First of its kind overview of the cultural instigators of forensic fraud
First of its kind research into the nature and impact of forensic fraud, with data (2000-2010)
First of its kind typology of forensic fraud, for use in future case examination in research
Numerous profiles of forensic fraudsters
Review of major crime lab scandals between 2010 and 2012

Forensic science professionals, legal practitioners, laboratory supervisors, forensic science students and academicians
Dedication
Acknowledgments
Chapter 1. Introduction
Background
Definitions of Key Terms
Rationale
Scope and Originality
Thesis Statements and the Prevailing Wisdom
Approach Overview
Chapter 2. Occupational Fraud
Fraud as a Statutory Violation
Differentiating Fraud and Negligence
Occupational Fraud
The Fraud Triangle
Traits of Occupational Fraud Perpetrators
Summary
Chapter 3. Forensic Science: A Primer
Forensic Science—Defined
Criminalistics: Some Relevant Background
"Real" Forensic Scientists
The Role of Forensic Examinations
Cardinal Traits of the Forensic Examiner
A Tale of Two Cultures
Summary
Chapter 4. Fraud in Law Enforcement Culture
Law Enforcement Duties and Obligations
Law Enforcement Discretion and Integrity
Cardinal Traits of Law Enforcement Culture
Noble Cause and Corruption
The Blue Wall of Silence
The Use of Deception
Internal Tolerance for Criminality
Fraud Diamond Theory: Assessing Common Forms of Law Enforcement Fraud
Summary
Chapter 5. Fraud and Scientific Culture
Science, Scientific Knowledge, and the Scientific Method
Science as Falsification
The Cardinal Traits of Scientific Culture
Scientific Fraud: Terms and Definitions
The Babbage Typology
Scientific Fraud: From High Profile to Mundane
The Frequency of Scientific Fraud
Fraud Diamond Theory and Scientific Misconduct
Summary
Chapter 6. Contrasting Scientific Integrity with Law Enforcement Culture
Dispensing with "Bad Apple" Theory
Relevant Criminological Theory: Routine Activities Theory, Differential Association Theory, and Role Strain
Overt Pressure to Conform
Contrasting Scientific Values and Law Enforcement Culture
Summary
Chapter 7. Forensic Fraud: Prior Research
Background: Public Employee Restrictions and Fear of Retaliation
Ideographic Research: Loosely Referenced Case Studies
Monographs: Case Studies with a Theme
Nomothetic Research: Group Studies
Summary
Chapter 8. Forensic Fraud, 2000–2010: Data and Frequency
Sources of Data
Parameters for the Current Data Set
Excluded Cases
Variables and Frequency Results
Summary
Chapter 9. Multivariate Analysis of Forensic Fraud, 2000–2010
Statistical Methods
Correlation Matrices
Hierarchical Multiple Regression Analysis and Discussion
Immediate Recommendations for Related Research
Limitations
Chapter 10. Conclusions and Recommendations
Significant and Relevant Findings: A Summary
Pre-NAS Report Reform in the Literature
The NAS Report: Lack of Science and Error over Fraud
Forensic Reform Suggested by the Current Research
Future Research
Summary
Chapter 11. Crime Labs in Crisis, 2011–2012: Update and Discussion
Lab Crisis #1: Austin Police Department Crime Laboratory (APDCL), Texas
Lab Crisis #2: Connecticut Department of Emergency Services & Public Protection (DESPP), Division of Scientific Services Laboratory
Lab Crisis #3: Detroit Police Department Forensic Services Laboratory, Michigan
Lab Crisis #4: El Paso Police Department Crime Laboratory (EPDCL), Texas
Lab Crisis #5: Department of Public Safety (DPS) Crime Laboratory, Houston, Texas
Lab Crisis #6: Idaho State Police Forensic Services Laboratory, Pocatello
Lab Crisis #7: Indiana State Department of Toxicology
Lab Crisis #8: Portland Metropolitan Police Crime Laboratory, Oregon
Lab Crisis #9: St. Paul Police Department Crime Laboratory, Minnesota
Lab Crisis #10: Stark County Crime Laboratory, Ohio
Lab Crisis #11: U.S. Army Criminal Investigation Laboratory (USACIL), Ft. Gillem, Georgia
Lab Crisis #12: Department of Public Health Drug Lab, Jamaica Plain, MA
Summary
References
Index
No. of pages:

296
Language:

English
Copyright:

© Academic Press

2013
Published:

18th March 2013
Imprint:

Academic Press
Hardcover

ISBN:

9780124080737
eBook

ISBN:

9780124080584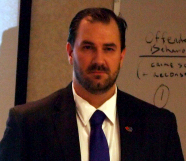 Brent E. Turvey spent his first years in college on a pre-med track only to change his course of study once his true interests took hold. He received a Bachelor of Science degree from Portland State University in Psychology, with an emphasis on Forensic Psychology, and an additional Bachelor of Science degree in History. He went on to receive his Masters of Science in Forensic Science after studying at the University of New Haven, in West Haven, Connecticut.
Since graduating in 1996, Brent has consulted with many agencies, attorneys, and police departments in the United States, Australia, China, Canada, Barbados and Korea on a range of rapes, homicides, and serial/ multiple rape/ death cases, as a forensic scientist and criminal profiler. He has also been court qualified as an expert in the areas of criminal profiling, forensic science, victimology, and crime reconstruction. In August of 2002, he was invited by the Chinese People's Police Security University (CPPSU) in Beijing to lecture before groups of detectives at the Beijing, Wuhan, Hanzou, and Shanghai police bureaus. In 2005, he was invited back to China again, to lecture at the CPPSU, and to the police in Beijing and Xian - after the translation of the 2nd edition of his text into Chinese for the University. In 2007, he was invited to lecture at the 1st Behavioral Sciences Conference at the Home Team (Police) Academy in Singapore, where he also provided training to their Behavioral Science Unit. In 2012 Brent completed his PhD in Criminology from Bond University in Gold Coast, Australia.
He is the author of Criminal Profiling: An Introduction to Behavioral Evidence Analysis, 1st, 2nd, 3rd and 4th Editions (1999, 2002, 2008, 2011); co- author of the Rape Investigation Handbook, 1st and 2nd Editions (2004, 2011), Crime Reconstruction 1st and 2nd Editions (2006, 2011), Forensic Victimology (2008) and Forensic Fraud (2013) - all with Elsevier Science. He is currently a full partner, Forensic Scientist, Criminal Profiler, and Instructor with Forensic Solutions, LLC, and an Adjunct Professor of Justice Studies at Oklahoma City University. He can be contacted via email at: bturvey@forensic-science.com.
Affiliations and Expertise
Director, Forensic Criminology, The Forensic Criminology Institute, Sitka, AK, USA. Senior Parter, Forensic Criminology, Forensic Solutions, LLC, Sitka, AK, USA
"The enabling conditions and motivations behind forensic fraud are presented, with the argument that systematic incompatibilities between law enforcement culture and scientific culture are largely to blame, along with institutional negligence, rather than unavoidable 'bad apple' outliers."--Reference & Research Book News, October 2013
Forensic science involves the systematic analysis of materials, information and data from different sources with a view to determining facts or an evidence-based conclusion.
Fictional portrayal of forensic science by Sherlock Holmes and popular television dramas such as Crime Scene Investigation (CSI) has nurtured public interest. However, there is growing evidence of miscarriage of justice based on misleading forensic evidence. Corruption and fraud in forensic activity can have distortive effects on the truth and devastating impacts such as destroying the lives of innocent defendants, the careers of the forensic examiners involved and the costs of retesting evidence. Evidence endorsed by "expert opinion" carries an implicit assumption that it is a credible reflection of findings. This book sheds light on FRAUD, a recognised but poorly investigated aspect of forensic science.
Each chapter starts with an interesting quote from literature, forensic scientists and even Shakespeare. The chapters are well illustrated with real cases demonstrating the impact and consequences of fraud. Chapters conclude with summary points.
The layout and colour differentiation of the book allows for easy reading.
The introductory chapter gives a background to forensic fraud across practice settings with a predominantly American historical context. Definitions of terms, like scientific misconduct, forensic examiners, forensic fraud, perjury and "ghost authorship" ensure readers are grounded in the principles of the book. Fraud is a dark topic in the forensic community with complex interplay of motivations and consequences. The author states, "anyone can commit a fraud", therefore likely perpetrators are difficult to predict.
In the second chapter, Occupational Fraud is explored using the triangle of "opportunity, pressure and rationalisation" recognising that organisational cultures may be behind fraud. Readers are reminded fraud is distinct from error and negligence by virtue of intent. The wide variability across forensic science disciplines and practice with regards to methodologies, techniques, reliability, and the types and numbers of potential sources of error are acknowledged. In some areas, there are no "gold standard" forensic methods and there may be competing cultures between scientists and law enforcement agencies.
The chapter on Fraud and Scientific Culture, opens with the quote "The scientific endeavour is based on vigilance, not trust" which summarises aptly core Popperian theories. Readers are introduced to differences between falsification, fabrication, plagiarism and research misconduct. Prevalence of these issues are concluded as much higher than often reported and just the "tip of the iceberg".
The differences and similarities between the values and cultures of forensic scientists and law enforcement agencies are explored with the "bad apple" hypothesis challenged. Readers are also introduced to the inherent loyalty challenges experienced by scientists embedded in law enforcement agencies struggling to conform to institutional cultures. This includes committing, tolerating, concealing or defending acts of overt misconduct – often for years. While there is a dearth of data on the actual frequency of forensic fraud, a series of case studies and reports shed light on the ease in which this can permeate forensic culture.
In chapter 8, data from 2000 to 2010 are also presented to buttress the point and qualitative sources from courts, agencies, print and electronic media considered other than solely published peer literature. While the data tables and charts could be better presented, they only slightly detract from the core information. The subsequent chapter presents more detailed multivariate analysis of the preceding one and may be found over inclusive to the less data analytic reader. The sample size is small and there are numerous limitations to the study cited which are instructive.
In concluding, the author suggests some useful reforms to the recruitment process, education, organisational culture, and understanding of role conflict in forensic science. These suggestions would also benefit new services. The book ends with a rich collection of case studies, which encourage readers to think analytically about contexts of fraud. The book is well indexed and references are current and usefully include web-based material.
While this book has a predominantly American slant, the lessons are rich and transferable to western and less industrialised or less forensically developed countries. It can be argued that the book actually sets a governance framework for developing forensic organisations globally. Apart from the forensic community, historians, scientific researchers, expert witnesses, organisational behaviour specialists and psychologists and occupational health practitioners may also find this an important reference text on their shelves. —Grace Y. Edozien, MRCGP, MFFLM Forensic Physician, St Mary's Sexual Assault Referral Centre
Tax Exemption
We cannot process tax exempt orders online. If you wish to place a tax exempt order please
contact us
.
Elsevier.com visitor survey
We are always looking for ways to improve customer experience on Elsevier.com.
We would like to ask you for a moment of your time to fill in a short questionnaire, at the end of your visit.

If you decide to participate, a new browser tab will open so you can complete the survey after you have completed your visit to this website.

Thanks in advance for your time.
Accept
Decline