Fish Physiology: Organic Chemical Toxicology of Fishes, Volume 33
1st Edition
Editors:
Keith Tierney
Anthony Farrell
Colin Brauner
Hardcover ISBN: 9780123982544
eBook ISBN: 9780123982551
Published Date: 17th December 2013
Secure Checkout
Personal information is secured with SSL technology.
Free Shipping
Free global shipping
No minimum order.
---
Dedication
Contributors
Abbreviations and Acronyms
Preface
1. Organic Contaminants and Fish
1 Contaminants: A Short Historical Preamble
2 Contaminant Toxicokinetics in Fishes
3 Predicting Contaminant Movement in the Environment and Fish
4 Quantifying Contaminants and Exposures
5 Conclusion
Acknowledgment
References
2. Effects of Legacy Persistent Organic Pollutants (POPs) in Fish—Current and Future Challenges
1 Introduction
2 Transformations of POPs in the Aquatic Environment
3 Endocrine Disruption
4 Effects on Early Development
5 Transgenerational Effects
6 Effects on Growth, Condition, and Energy Reserves
7 Effects on Reproduction
8 Immunotoxicity
9 Neoplasia and Related Pathological Conditions
10 Effects on Behavior, Including Foraging, Aggression, and Predator Avoidance
11 Risk Assessment Challenges
Acknowledgments
References
3. Organometal(loid)s
1 Introduction
2 Organic Mercury
3 Organoselenium
4 Organoarsenicals
5 Organotin Compounds
6 Other Organometal(LOID)S
7 Conclusions
References
4. Effects on Fish of Polycyclic Aromatic HydrocarbonS (PAHS) and Naphthenic Acid Exposures
1 Introduction
2 Transformations of PAHs in the Aquatic Environment
3 Hepatic Neoplasia and Related Lesions in Wild Fish
4 Effects on Reproduction
5 Effects on Embryonic and Larval Development
6 Transgenerational Effects
7 Other Effects with Consequences for Survival of Postlarval Stages
8 Naphthenic Acids as a New Concern
9 Future Directions
Acknowledgment
References
5. Estrogenic Endocrine Disrupting Chemicals in Fish
1 Introduction
2 EDC
3 Toxicokinetics
4 Mechanisms of Toxicity
5 Xenoestrogen Effects
6 Interactions with Other Toxic Agents
7 Knowledge Gaps and Future Directions
References
6. Insecticide Toxicity in Fish
1 Abstract/Introduction
2 Background
3 Insecticide Classes
4 Organophosphates
5 Carbamates
6 Pyrethroids
7 Neonicotinoids
8 Phenylpyrazoles
9 Microbial-Based Insecticides
10 Insect Growth Regulators
11 Mixtures
12 Data Gaps
13 Summary
References
7. Effects of Herbicides on Fish
1 Introduction
2 Classification of Herbicides
3 Acute Lethality of Herbicides to Fish
4 Sublethal Effects of Herbicides in Fish
5 Indirect Effects of Herbicides on Fish
6 Conclusions
Acknowledgments
References
8. Personal Care Products in the Aquatic Environment: A Case Study on the Effects of Triclosan in Fish
1 Introduction
2 Physical and Chemical Properties of Triclosan, and Its Use as a Personal Care Product
3 Exposure in the Aquatic Environment
4 Kinetics and Metabolism of Triclosan
5 Toxicity of Triclosan
6 Reproductive and Developmental Effects
7 Effects of Triclosan on the Thyroid Axis
8 Interactions of Triclosan with Aryl Hydrocarbon and Ryanodine Receptors
9 Future Use of Triclosan and Related Environmental Issues
10 Conclusions and Knowledge Gaps
11 General Lessons Learned from the Case Study of Triclosan
Acknowledgment
References
9. Emerging Threats to Fishes: Engineered Organic Nanomaterials
1 Introduction
2 The Environmental Chemistry of Engineered Nanomaterials and Bioavailabily to Fishes
3 Acute Toxicity of Organic ENMs
4 Uptake Routes and Target Organs for Organic ENMs
5 Effects of Organic ENMs on the Physiological Systems of Fishes
6 Studies on Organic ENMs and Capping Agents
7 Nanocrystalline and Nanofibrillar Cellulosic Materials
8 Polymer-Coated ENMs in the Agricultural Sector
9 Key Needs in Environmental Risk Assessment of Organic ENMs
10 Conclusions and Perspectives
Acknowledgments
References
10. Handling Fish Mixture Exposures in Risk Assessment
1 Introduction
2 Fish and Mixtures
3 Principles of Risk and Impact Assessment of Chemicals and Mixtures
4 Cumulative Risk Assessment for Mixtures of Toxicants
5 Evidence for Mixture Impacts in the Field
6 Conclusions, Overview, and Summary
References
Index
Other volumes in the Fish Physiology Series
---
Fish Physiology: Organic Chemical Toxicology of Fishes discusses the different types of organic chemical contaminants and their respective toxic effects in fish. The book also covers the detection of dissolved organic compounds and methods to assess organic toxicity. Substances addressed in this book include organometallics, hydrocarbons, endocrine disrupting compounds (EDCs), insecticides, herbicides, and pharmaceuticals.
Fish are exposed to an ever-increasing array of organic chemicals that find their way into rivers and oceans. Some of these compounds are no longer being produced but nonetheless persist within the environment (persistent organic pollutants, or POPs). The exposure of fish to toxic organic compounds has potential impact on human, fish, and ecosystem health. Yet the regulations that govern environmental water quality vary worldwide, and compliance is never complete. This book provides a crucial resource on these issues for researchers in zoology, fish physiology, and related fields; applied researchers in environmental monitoring, conservation biology, and toxicology; and university-level students and instructors in these areas.
Organized by type of toxic organic chemicals
Includes metals, POPs, EDCs, herbicides, insecticides, and pharmaceuticals
Measures toxicity in a variety of ways aside from lethality
Probes the toxic effects of compound mixtures as well as single pollutants
Researchers in zoology, fish physiology, fisheries biology, comparative physiology, and ecology; applied researchers in environmental monitoring, conservation biology and toxicology; university-level students and instructors in these areas.
---
No. of pages:

574
Language:

English
Copyright:

© Academic Press

2014
Published:

17th December 2013
Imprint:

Academic Press
Hardcover

ISBN:

9780123982544
eBook

ISBN:

9780123982551
---
"...a well-written synthesis of the literature created by an impressive panel of experts. It will have longevity on the ecotoxicologist's bookshelf…" --The Quarterly Review of Biology
---
Professor Keith B. Tierney is Assistant Professor in Biological Sciences at the Environmental Toxicology Department of the University of Alberta, Edmonton, Canada. His current research interests are in environmental toxicology and physiology of fishes.
Affiliations and Expertise
Department of Biological Sciences, University of Alberta, Edmonton, AB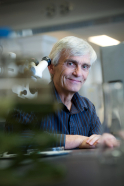 Tony Farrell is a graduate of Bath University, where he was fortunate to study with Peter Lutz. His fortunes grew further when he moved in 1974 to Canada and the Zoology Department at the University of British Columbia to complete his Ph.D. degree under the superb tutelage of Dave Randall. In 2004, Tony returned to UBC when he accepted an endowed research chair in Sustainable Aquaculture.
In between these positions at UBC, Tony was employed at the University of Southern California (PDF), the University of New Brunswick (sessional lecturer), Mount Allison University (first real job) and Simon Fraser University (moving through the ranks to a full professor). In addition to highly controlled laboratory experiments on fish cardiorespiratory physiology, Tony is committed to working on animals in their own environment. Therefore, his research on fish physiology has taken him on an Alpha Helix expedition to the Amazon, the University of Gothenburg and the Kristineberg Marine Research Station in Sweden, the Portobello Marine Biological Station in New Zealand, the University of Christchurch and Massey University in New Zealand, the Bamfield Marine Science Station and the Huntsman Marine Station in Canada, the University of Aarhus in Denmark, the University of Adelaide Charles and Darwin University in Australia, and to the Danish Arctic Marine Station on Disco Island in Greenland. These travels have allowed him to work and with many superb collaborators word-wide, as well as study the physiology of over 70 different species of fish. Tony has received a number of awards for his scientific contributions: an honorary degree from the University of Gothenburg in Sweden; Awards of Excellence from the American Fisheries Society for Fish Physiology, Conservation and Management; the Fry Medal from the Canadian Society of Zoologists; and the Beverton Medal from the Fisheries Society of the British Isles.
Affiliations and Expertise
Department of Zoology, University of British Columbia, Vancouver, Canada
The primary goal of his research program is to investigate environmental adaptations (both mechanistic and evolutionary) in relation to gas-exchange, acid-base balance and ion regulation in fish, integrating responses from the molecular, cellular and organismal level. The ultimate goal is to understand how evolutionary pressures have shaped physiological systems among vertebrates and to determine the degree to which physiological systems can adapt/acclimate to natural and anthropogenic environmental changes. This information is crucial for basic biology and understanding the diversity of biological systems, but much of his research conducted to date can also be applied to issues of aquaculture, toxicology and water quality criteria development, as well as fisheries management.
Affiliations and Expertise
Department of Zoology, University of British Columbia, Vancouver, Canada
Tax Exemption
We cannot process tax exempt orders online. If you wish to place a tax exempt order please
contact us
.
Elsevier.com visitor survey
We are always looking for ways to improve customer experience on Elsevier.com.
We would like to ask you for a moment of your time to fill in a short questionnaire, at the end of your visit.

If you decide to participate, a new browser tab will open so you can complete the survey after you have completed your visit to this website.

Thanks in advance for your time.
Accept
Decline