Ethics for Graduate Researchers
1st Edition
A Cross-disciplinary Approach
Editors:
Cathriona Russell
Linda Hogan
Maureen Junker-Kenny
Hardcover ISBN: 9780124160491
eBook ISBN: 9780123914842
Published Date: 25th September 2012
---
This edited collection is intended as a primer for core concepts and principles in research ethics and as an in-depth exploration of the contextualization of these principles in practice across key disciplines. The material is nested so that readers can engage with it at different levels and depths. It is unique in that it combines an analysis of complex ethical debates about the nature of research and its governance with the best of case-based and discipline-specific approaches.
It deals with the following topics in depth: in the natural sciences, it explores the scientific integrity of the researcher and the research process, human cloning as a test case for the limits to research, and the emerging ethical issues in nanotechnology; in the health sciences, it takes up the question of consent, assent and proxies, research with vulnerable groups and the ethics of clinical trials; in the social sciences, it explores the issues that arise in qualitative research, interviews and ethnography; and in the humanities, it examines contested archaeologies and research in divided societies.
Overview of Research Ethics Principles
Full text papers from experienced researchers across many disciplines
Dialogue with ethicists
Recent graduates as well as more experienced researchers
About the authors
List of Contributors
Introduction
Introduction to Section 1. Developing Ethics as a Core Competency: Integrity in Scientific Research
1. Recognising Traditions of Argumentation in Philosophical Ethics
Agency and Ethics in a Technological Culture
Traditions of Ethical Argumentation
Cultural Memory and Political Institutions as Decisive Contexts for Research Parameters and for Public Debate
Bibliography
2. Navigating the Minefields: Ethics and Misconduct in Scientific Research
Introduction
What Is Meant by Research Ethics?
Why Might Scientists Misbehave?
The Nature of Scientific Misconduct
Ethics and Authorship
Ethics and Peer Review
Plagiarism in Scientific Writing: A Plague on All Our Houses
Ethics and the Treatment of Colleagues (and Rivals)
Dealing with Error
Conclusions
Acknowledgement
Bibliography
3. Ethics and the Researcher
Introduction
The Researcher
The Research Supervisor
When Things Go Wrong
Conclusion
Acknowledgement
Bibliography
Introduction to Section 2. Research Ethics Governance in the EU; the Role of Civic Debate, the Question of Limits in Research
Questions by Ethicists to their Role in the Public Realm
Recognition of the Precautionary Principle
Transparency of Research
4. Bioethics and Biolaw in the European Union: Bridging or Fudging Different Traditions of Moral and Legal Argumentation?
Two Traditions of Thinking: Self-Determination and Dignity
Controversies Between Different Traditions of Interpretation of Moral and Legal Concepts
The Demand for Transparency in Research
Bibliography
5. Ethics as Consensus Management in Expert Cultures – or Through Civic Debate in the Public Sphere?
Dilemmas Between Science and
No. of pages:

266
Language:

English
Copyright:

© Elsevier

2013
Published:

25th September 2012
Imprint:

Elsevier
eBook

ISBN:

9780123914842
Hardcover

ISBN:

9780124160491
Affiliations and Expertise
Cathriona Russell is Adjunct Assistant Professor in the School of Religions and Theology at Trinity College Dublin and Director of the Masters in Ecology and Religion at All Hallows College, Dublin City University.
Affiliations and Expertise
Linda Hogan is Vice-Provost and Chief Academic Officer at Trinity College Dublin, where she also holds the Chair in Ecumenics.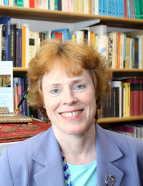 Affiliations and Expertise
Maureen Junker-Kenny is Associate Professor of Theology in the Department of Religions and Theology, Trinity College Dublin.